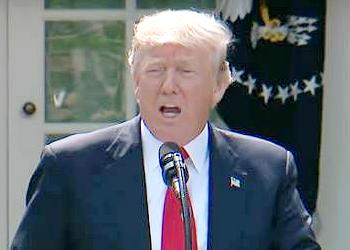 WASHINGTON, DC, June 2, 2017 (ENS) – President Donald Trump has decided to pull the United States out of the Paris Agreement on Climate, signed by 195 nations and formally joined by 147 of them, including the United States.
The United States now joins Syria and Nicaragua as the only nations in the world not supporting the accord, reached in 2015 at the United Nations annual climate summit in Paris.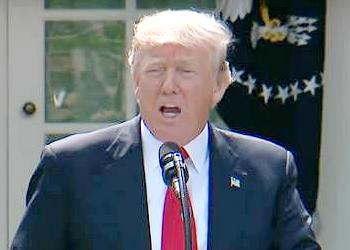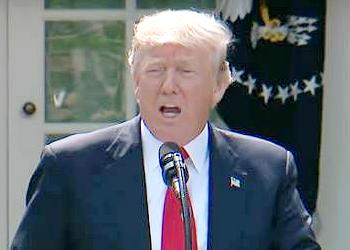 In a speech announcing his decision at the White House Thursday, Trump said, "The Paris Climate Accord is simply the latest example of Washington entering into an agreement that disadvantages the United States to the exclusive benefit of other countries, leaving American workers – who I love – and taxpayers to absorb the cost in terms of lost jobs, lower wages, shuttered factories, and vastly diminished economic production."
Hitting its requirement to take effect in record time, the agreement to limit global climate warming to 2°C above pre-industrial levels came into force on November 4, 2016, just days before Trump was elected.
Each country sets its own commitments under the Paris accord. The United States, second-largest emitter on the planet after China, committed to reducing its carbon emissions by 26 percent to 28 percent within a decade.
Trump justified his decision by claiming that complying with the agreement would hurt the American economy, and by blaming former President Barack Obama for negotiating a deal that is bad for the United States.
"As of today, the United States will cease all implementation of the non-binding Paris Accord and the draconian financial and economic burdens the agreement imposes on our country. This includes ending the implementation of the nationally determined contribution and, very importantly, the Green Climate Fund which is costing the United States a vast fortune," said Trump.
President Obama contributed $3 billion to the Green Climate Fund, a dedicated climate fund for developing markets backed by nearly all governments. The GCF now holds assets of $10 billion and has invested $2.2 billion in first-mover funding to leverage private sector investments in climate finance.
Obama Says American Leadership Is Key
President Obama commented on Trump's decision, without mentioning him by name. "A year and a half ago, the world came together in Paris around the first-ever global agreement to set the world on a low-carbon course and protect the world we leave to our children," Obama said. "It was steady, principled American leadership on the world stage that made that achievement possible."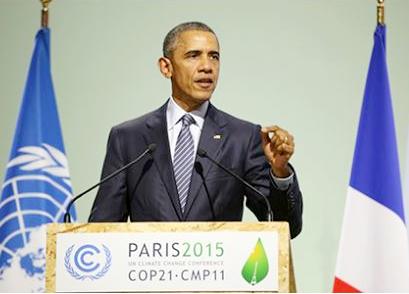 Obama said, "It was bold American ambition that encouraged dozens of other nations to set their sights higher as well. And what made that leadership and ambition possible was America's private innovation and public investment in growing industries like wind and solar — industries that created some of the fastest new streams of good-paying jobs in recent years, and contributed to the longest streak of job creation in our history."
He said the private sector had already chosen a low-carbon future. "And for the nations that committed themselves to that future, the Paris Agreement opened the floodgates for businesses, scientists, and engineers to unleash high-tech, low-carbon investment and innovation on an unprecedented scale."
"The nations that remain in the Paris Agreement will be the nations that reap the benefits in jobs and industries created. I believe the United States of America should be at the front of the pack," said Obama.
"But even in the absence of American leadership; even as this Administration joins a small handful of nations that reject the future; I'm confident that our states, cities, and businesses will step up and do even more to lead the way, and help protect for future generations the one planet we've got."
To justify his decision, Trump returned to the reasoning of the early years of this century, claiming that China and India are not bound to reduce their heat-trapping greenhouse gas emissions, but the United States must do so, a statement contradicted by the International Energy Agency.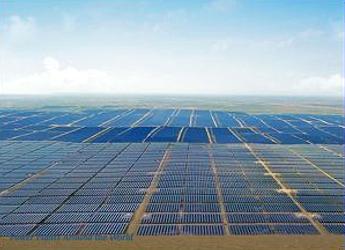 "Utilisation rates of coal-fired power plants in China are falling rapidly, as new plants enter an electricity system in which renewables have expanded fast and demand has slowed markedly," IEA wrote in its 2016 World Energy Outlook.
Trump said Thursday, "Under the Accord, China will actually increase emissions until 2030."
But China's CO2 emissions may have already peaked, a decade ahead of its Paris Agreement commitment, due to falling coal consumption, according to the Climate Action Tracker, a scientific analysis produced by three research organizations.
The ongoing advance of renewable energy and storage systems globally indicates that markets in the United States that prefer cleaner energy solutions such as wind, solar and natural gas will not support Trump's desire to expand the coal industry.
Many analysts predict that the United States will fall behind renewable energy market leaders such as the European Union and China as they move towards a clean energy economy.
Trump said he might re-enter the Paris Agreement or make a new deal on climate. "I'm willing to immediately work with Democratic leaders to either negotiate our way back into Paris, under the terms that are fair to the United States and its workers, or to negotiate a new deal that protects our country and its taxpayers," he said.
United Nations Disappointed
The Paris Agreement is part of the United Nations Framework Convention on Climate Change, UNFCCC, to which the United States is a Party.
The UNFCCC said today it "regrets" Trump's withdrawal decision from the "historic treaty" but "it cannot be renegotiated based on the request of a single Party."
"The Paris Agreement is aimed at reducing risk to economies and lives everywhere, while building the foundation for a more prosperous, secure and sustainable world. It enjoys profound credibility, as it was forged by all nations and is supported by a growing wave of business, investors, cities, states, regions and citizens," the UNFCC Secretariat stated.
The U.S. decision to exit the Paris climate accord is a "major disappointment," a spokesman for UN Secretary-General Antonio Guterres said Thursday.
Saying America must remain a "leader on environmental issues," the spokesman, Stephane Dujarric, also said Guterres remained confident that U.S. cities, states and businesses would "continue to demonstrate vision and leadership" by working for a low-carbon future."
Trump says he will withdraw the United States from this agreement, but actual withdrawal is a long and complex process that cannot be completed until after the next U.S. presidential election.
Environmental Law Institute Vice President John Pendergrass outlined the process in a blog last November from his Washington, DC office.
"The Paris Agreement allows a party to withdraw by providing written notice, but it must wait to send such a notice until three years after the Agreement enters into force. Even then, the withdrawal will not be effective until one year after the notice is received by the proper office," wrote Pendergrass.
"Here, the United States is a party to the Agreement, having submitted its acceptance of the Paris Agreement to the official UNFCCC depository on September 3, 2016. The Agreement itself entered into force on November 4, 2016. As such, if President-elect Trump opted to formally withdraw, his decision would not go into effect until November 5, 2020, two days after the next presidential election."
UN Environment chief Erik Solheim condemned Trump's decision. "The science on climate change is perfectly clear: we need more action, not less," Solheim said. "This a global challenge. Every nation has a responsibility to act and to act now."
Trump is removing the United States from world leadership in the climate and clean energy field, but the gap is already being filled by other countries.
"The U.S. decision to leave Paris in no way brings an end to this unstoppable effort. China, India, the European Union and others are already showing strong leadership," Solheim said. He pointed to the 190 nations that are "showing strong determination to work with them to protect this and future generations."
"There is incredible momentum on climate action from individual states, cities, the private sector and citizens," Solheim said. "A single political decision will not derail this unparalleled effort. UN Environment urges all parties to redouble their efforts. We will work with everyone willing to make a difference."
U.S. Environmental Leaders Outraged
Across the United States, environmental leaders condemned Trump's decision, but predicted that civil society would not abandon the goals of the Paris Agreement.
Former Vice President Al Gore, founder and chairman of the Climate Reality Project, said, "Removing the United States from the Paris Agreement is a reckless and indefensible action. It undermines America's standing in the world and threatens to damage humanity's ability to solve the climate crisis in time."
"But disappointment is not despair," said Gore. "Make no mistake: if President Trump won't lead, the American people will. Civic leaders, mayors, governors, CEOs, investors and the majority of the business community will take up this challenge."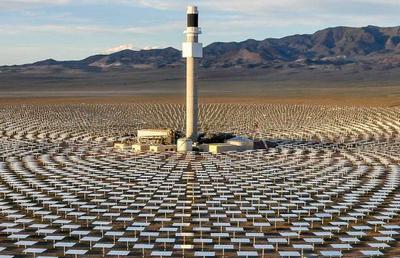 "We are in the middle of a clean energy revolution that no single person or group can stop. President Trump's decision is profoundly in conflict with what the majority of Americans want from our president; but no matter what he does, we will ensure that our inevitable transition to a clean energy economy continues," Gore said.
"This is a grave mistake that hurts our country – starting now," said Natural Resources Defense Council President Rhea Suh. "Withdrawing the United States from the climate agreement will turn us into a global pariah and destroy our international credibility, threatening not just our environment but also our national security. At home, our economy also stands to take a hit: Trump's decision puts more than a million clean energy jobs at risk."
"And he's abandoned our children to climate catastrophe, Suh said. "It's on us now – state and local officials, business leaders, educators, consumers, and moms and dads – to help keep the promise of Paris alive."
President and CEO, World Resources Institute Andrew Steer called the decision "a colossal mistake" that "shows a stunning disregard for the well-being of people and the planet. President Trump will now have to answer for walking away from one of the most hard-fought and popular global achievements in recent memory."
"Climate change presents a clear, urgent and undeniable threat," said Steer. "Vulnerable communities are already suffering from sea level rise, flooding, droughts, and heat waves. Climate refugees are increasingly a destabilizing force in many countries. These are the realities the U.S. must face."
"New coalitions of states, cities and businesses will help fill the void, but people will not forget that the Trump administration let them down at this critical moment," said Steer. "Meanwhile, China, India, the EU and many others have made it clear that they are eager and unwavering in their pursuit of a low-carbon future."
"Trump has made it abundantly clear that his primary focus is enriching his fellow billionaires, so it is no surprise that he is withdrawing from an agreement that is hitting the poorest first and worst globally with extreme weather events, crop failure, and diseases," said Daphne Wysham, director of the Climate Justice Program at the Center for Sustainable Economy in Portland, Oregon.
David Arkush, managing director of Public Citizen's Climate Program, called Trump's decision "an epic blunder," saying, "Trump is out of touch not only with the global scientific consensus, but also the global political consensus. The rest of the world will move on without us."
"We should move aggressively to convert our transportation and electricity infrastructure to readily available renewable technologies as quickly as possible," said Arkush. "In doing so, we not only would stave off the most terrible climate outcomes, but we also would lower electricity bills, put millions of people back to work, boost the economy, make Americans healthier and reclaim the mantle of global leadership."
Peter Seligmann, co-founder, chairman and CEO of Conservation International, called Trump's decision "a setback for the national and economic security of the United States."
"It prevents our nation from having a seat at the table as the global community creates solutions for addressing climate change," Seligmann said. "This decision isolates the United States, just as our allies and our citizens most need to come together to design new technologies and new ways to manage the ecological health of our extraordinary home, Earth."
Copyright Environment News Service (ENS) 2017. All rights reserved.
Environment News Service (ENS) © 2017 All Rights Reserved.