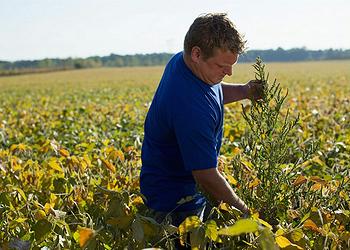 WASHINGTON, DC, November 25, 2015 (ENS) – The U.S. Environmental Protection Agency says it will vacate its approval of the Dow AgroSciences herbicide Enlist Duo after determining that its combination of chemicals could be more harmful than initially believed.
Responding to a lawsuit by conservation groups, in the Ninth Circuit Court of Appeals on Tuesday, the EPA moved for voluntary vacatur and remand of EPA's registration of Dow AgroSciences' Enlist Duo herbicide under the Federal Insecticide, Fungicide, and Rodenticide Act, FIFRA.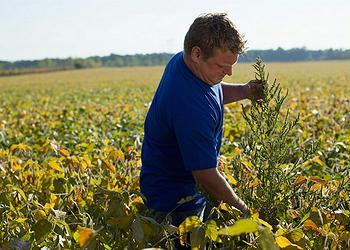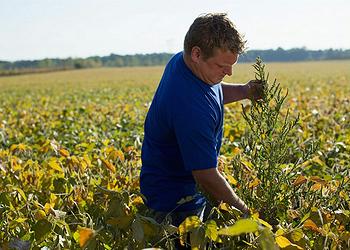 Approved by the agency in October 2014, Enlist Duo is an herbicide developed for use on corn and soybean crops that are genetically engineered to be resistant to the two active ingredients in Enlist Duo, glyphosate and 2,4-D.
The EPA told the court that it has "new information regarding potential synergistic effects between the two ingredients on non-target plants," so the agency wants to "reconsider the Enlist Duo registration in light of the new information."
"EPA cannot be sure, without a full analysis of the new information, that the current registration does not cause unreasonable effects to the environment, which is a requirement of the registration standard under FIFRA."
While the plaintiff conservation groups do not oppose the EPA's motion to vacate Enlist Due's registration, counsel for Dow told the court the company intends to file a response to the motion.
Just after the agency approved Dow's herbicide, EPA discovered that Dow made claims of "synergistic herbicidal weed control" in its provisional patent application for Enlist Duo.
Dow filed its final patent application on December 11, 2014, a month after EPA approved the herbicide.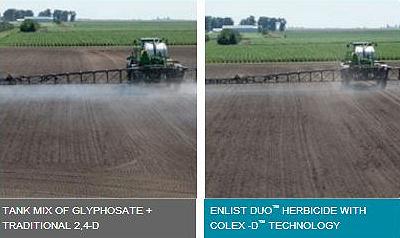 EPA told the court on Tuesday that "the claimed 'synergism' could affect the agency's assessment of drift reduction measures for avoiding impacts to non-target organisms, including those listed as endangered…"
Concern for endangered species exposed to the herbicide is what caused conservation groups to sue the agency.
The groups challenged EPA's failure to consider the impacts of Enlist Duo on threatened and endangered plants and animals protected under the Endangered Species Act.
The EPA approval was challenged by Earthjustice and Center for Food Safety, on behalf of Center for Food Safety, Beyond Pesticides, the Center for Biological Diversity, Environmental Working Group, the National Family Farm Coalition and Pesticide Action Network North America.
The Endangered Species Act requires that every federal agency consider the impacts of its actions on America's most imperiled plants and animals and seek input from expert wildlife agencies before acting.
"With this action, EPA confirms the toxic nature of this lethal cocktail of chemicals, and has stepped back from the brink," said Earthjustice Managing Attorney Paul Achitoff.
"Glyphosate is a probable carcinogen and is wiping out the monarch butterfly, 2,4-D also causes serious human health effects, and the combination also threatens endangered wildlife," Achitoff said. "This must not, and will not, be how we grow our food."1:02 PM 11/25/2015
Judy Hatcher, executive director of Pesticide Action Network North America, said, "EPA is taking a step in the right direction, but Enlist Duo shouldn't have been given the green light in the first place."
"Too often, GE seeds and the herbicides designed to accompany them are rushed to market without thorough evaluation of their real-world impacts on community health and farmer livelihoods, said Hatcher.
The Enlist Duo label states, "This pesticide is toxic to fish and aquatic invertebrates. Do not apply directly to water, to areas where surface water is present, or to intertidal areas below the mean high water mark. Drift or runoff may adversely affect aquatic invertebrates and non-target plants. Drift and runoff may be hazardous to aquatic organisms in water adjacent to treated areas."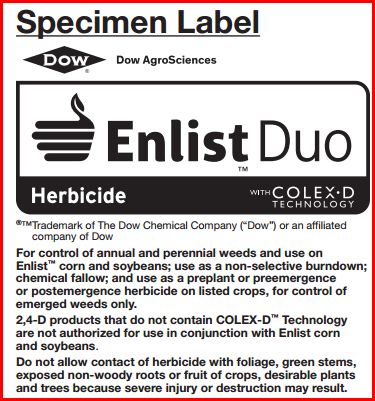 The EPA had approved use of Enlist Duo in Illinois, Indiana, Iowa, Ohio, South Dakota, Wisconsin, Arkansas, Kansas, Louisiana, Minnesota, Missouri, Mississippi, Nebraska, Oklahoma and North Dakota, and had intended to approve it in additional areas in the near future.
"The decision by EPA to withdraw the illegally approved Enlist Duo crops is a huge victory for the environment and the future of our food," said George Kimbrell, Center for Food Safety's senior attorney.
"This Thanksgiving, I'm thankful for the EPA taking this important action to protect people, rare plants and animals from Enlist Duo," said Lori Ann Burd, environmental health director at the Center for Biological Diversity. "As we gather with our families for the holiday feast, we can all breathe a little bit easier knowing that the EPA has protected our food from being drenched with this poisonous pesticide cocktail."
Copyright Environment News Service (ENS) 2015. All rights reserved.