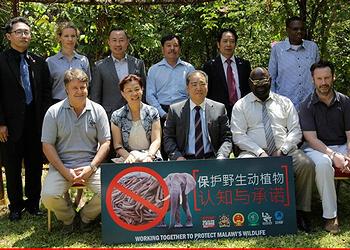 By Charles Mkoka
LILONGWE, Malawi, November 25, 2015 (ENS) – The Chinese Embassy in the central African country of Malawi has thrown its full weight behind the "Stop Wildlife Crime" campaign by sealing a robust partnership with pioneer campaigners Lilongwe Wildlife Trust and the Department of National Parks and Wildlife against illicit ivory trafficking that is pushing iconic species to extinction.
Zhang Qingyang, China's ambassador to Malawi, said the purpose of the gathering held under the theme, "Protect Wildlife: Awareness and Commitment" was for the embassy to join stop wildlife crime campaign to help raise awareness on protection of wildlife among its nationals.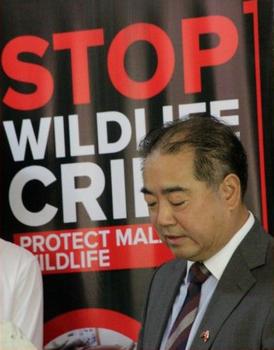 Zhang told the gathering at the Lilongwe Nature Sanctuary, "When it comes to smuggling of wildlife, particularly ivory and its products in Africa, our nationals are always targeted and thought to be to blame. There are lots of misunderstandings and preconceptions. I don't intend to deny the fact that ivory smuggling sometimes involves Chinese people. What I want to point out, however is that the Chinese government has always been opposed to such crimes."
Zhang added that China has put into force a number of laws and regulations and consistently educated its people to comply with international regulations and local laws and to resist illegal trade in wildlife and its products.
"Today's function is meant to further raise awareness of wildlife protection among the Chinese community in Malawi, so that nobody will be tricked into buying even a small ivory carving," the ambassador said.
"The government has regarded ecological civilization as an important pillar of the overall layout of national development, enacted relevant laws and regulations and worked in close cooperation with the international community to fight against illegal ivory trade," Zhang said.
"China has imposed an import ban on ivory for one year since October of this year, said Zhang.
Among the high profile officials present were British High Commissioner Michael Nevin, Malawi's Principal Secretary for Natural Resources, Energy and Mining Ben Botolo and DNPW Director Brighton Kunchedwa.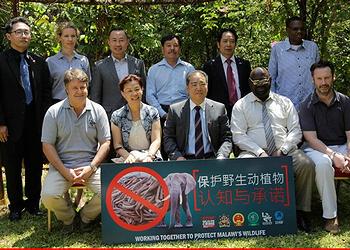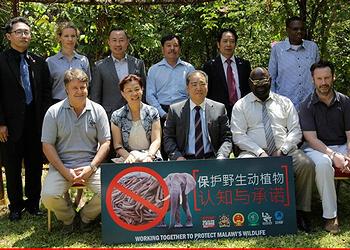 Kumchedwa expressed worry that there are challenges in conserving key iconic species such as elephants and black rhinoceros, species that are under immense pressure from traffickers.
"We are not sitting idle, but like today we are forging partnerships with key stakeholders in the fight against wildlife crime," explained Kumchedwa in an interview.
"Collaboration with partners is crucial and the three main areas we are addressing are poaching, trafficking and demand for wildlife," he said.
In a related development the Lilongwe Wildlife Trust got a boost with a cheque for MK 1 million courtesy of the Chinese embassy to scale up its wildlife conservation campaign.
LWT Programme Director Kate Moore said conservation messages will now be produced in a range of languages so that Chinese nationals and people from other countries can understand them. Messages have been placed strategically at the Kamuzu International Airport in a bid to curb smuggling.
Mark Sprong, who chairs the LWT Board of Trustees, said the embassy's cheque will be put to good use – engaging the Chinese community to understand what Malawi wants to achieve in wildlife conservation.
Sprong explained that in this age of information technology it is not right to remain ignorant of the importance of habitat protection.
The "Stop Wildlife Crime" campaign was launched in February 2014 as a joint initiative of the Department of National Parks & Wildlife and Lilongwe Wildlife Trust.
In March, the German Federal Ministry for Economic Co-operation and Development (BMZ) and German Agency for International Co-operation (GIZ), via the Polifund, commissioned a technical assessment of the illegal Wildlife trade in Malawi on behalf of the Department of National Parks and Wildlife.
The detailed study suggests that Malawi is being used as a major transit hub for illegal wildlife products, which are being imported, processed, packaged, sold and exported through its porous borders.
The report gave an example of the serious nature of Malawi's problems relating to wildlife crime data collection – the case of the man with three names.
A case of ivory trafficking heard in the Senior Resident's Magistrate's Court in Lilongwe involved the discovery of 50 kg of ivory at the airport in September 2014.
A Chinese national was tried, found guilty, handed a MK1 million fine and deported from Malawi. But the name of the criminal is impossible to know. On the court records his name was recorded as Axin Shang, on the INTERPOL report it was Axan Veniine Namtha Lao, while on the Immigration Deportation Notice it was Fucong Zhung.
This example of one man who appears to have so easily lied to and confused the enforcement and prosecution system of Malawi indicates that without proper data collection, storage and analysis, and without communication of such data between agencies, criminals who have been convicted and deported can continue to traffic wildlife products and potentially move freely into and out of the country.
The report also faulted the current wildlife law enforcement system, which it said is of no deterrent whatsoever to the crime networks and organizations that are using Malawi to profit from illegal wildlife trade.
The German report recommended that the Inter Agency Committee to Combat Wildlife Crime establish focal points and develop communication protocols for the distribution of information to agencies and private organizations not represented on the IACCWC, but still considered important stakeholders in the fight against wildlife crime.
Copyright Environment News Service (ENS) 2015. All rights reserved.