Tokyo Tap Water Too Radioactive for Babies
TOKYO, Japan, March 23, 2011 (ENS) – Japanese health authorities are warning Tokyo residents not to allow babies less than a year old to drink tap water, following detection of high radiation levels in the water.
Tokyo is roughly 200 kilometers south of Fukushima prefecture where Tokyo Electric Power's Fukushima Daiichi nuclear power plant has been emitting radiation since it was struck by the earthquake and tsunami on March 11 and continuing aftershocks. High levels of radiation have been measured in air, seawater and soil near the damaged plant.
Radiation has been released since the nuclear fuel rods at reactor Units 1, 2, 3 were damaged by exposure to air when outside power to cooling systems was lost. A fire in Unit 4's spent fuel pool added to the radioactive release. In addition, workers have drilled holes in roofs of the reactor buildings at Units 5 and 6, to prevent hydrogen gas from accumulating within the buildings and causing further explosions.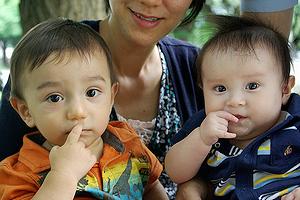 These 10-month old Tokyo residents would receive too much radiation if they are given tap water. (Photo by B. Hollar)
The Prime Minister's Office said Wednesday that radioactive iodine more than two times the limit for infants was detected in water at a purification plant in Tokyo.
The Tokyo Metropolitan government said 210 becquerels of iodine-131 were detected on Tuesday in one liter of water at one of its purification plants in northern Tokyo. A sampling Wednesday showed 190 becquerels per liter.
These levels are below the 210-becquerel per liter limit for children and lower than the 300-becquerel per liter limit for adults, but they are far above the 100-becquerel limit for infants.
As a result, parents of infants in Tokyo's 23 wards and five other nearby cities are directed not to give their babies tap water.
The Tokyo Metropolitan government is also urging firms and facilities, including child daycare centers in these areas, not to use tap water when making drinks or baby food for infants.
"Even if people other than infants drink water that exceeds the legal limit temporarily, it would be very unlikely to affect human health. There is no problem with drinking the water in question in case you have no other drinkable water," the PMO's office advised.
Many Tokyo residents are in panic mode and are trying to buy bottled water, which is in short supply. Chief Cabinet Secretary Yukio Edano said in a news conference today that the government is trying to help.
"Some people began panic buying drinking water since the radioactive iodine exceeding the provisional standard values was detected in tap water," Edano said. "The government is making utmost efforts to send bottles of drinking water as much as possible to the quake-hit areas. I would like to call on people in Tokyo to avoid panic buying of water."
The Metropolitan government plans to provide more water to families of infants and is asking mineral water bottlers to increase production.
Washing hands and bathing with Tokyo tap water is "no problem," authorities said.
Across Fukushima prefecture, four other cities tested iodine levels above the 100-becquerel per liter safety limit for infants as of Monday.
The Water Supply Division of Japan's Health Service Bureau also said Monday that high radiation levels have been measured in Iitate-mura village and seven other locations, including the town of Kawamata-machi, where levels are so high the government has advised residents to avoid intake of local food and beverages if possible.
Japan's science ministry has been monitoring radiation levels in all 47 prefectures, and prefectural governments in Niigata, Kanagawa, Ibaraki and Gunma have been taking their own measurements. But none have reported radiation levels above the government safety limit.
The health ministry ordered all prefectural governments on Sunday to test their tap water.
Copyright Environment News Service (ENS) 2011. All rights reserved.