U.S. Lakes Expert Stephen Carpenter Earns Stockholm Water Prize
MADISON, Wisconsin, March 23, 2011 (ENS) – University of Wisconsin-Madison limnologist Stephen Carpenter has been awarded the 2011 Stockholm Water Prize, it was announced in Stockholm, Sweden on March 22, World Water Day.
Professor Carpenter is one of the world's most distinguished authorities on lakes and fresh water ecosystems, including eutrophication, long-term ecological change, lake food web dynamics, and the economic and social aspects of fresh water ecology.
The Stockholm Water Prize, which comes with $150,000 and a crystal sculpture, honors individuals and organizations "whose work contributes broadly to the conservation and protection of water resources and to improved health of the planet's inhabitants and ecosystems."
The award will be conferred on August 25 by King Carl XVI Gustaf of Sweden in a royal award ceremony at Stockholm City Hall during World Water Week.
"It s a great honor to be selected," says Carpenter, the Stephen Alfred Forbes Professor of Zoology at UW-Madison. "So many great people have received this award, and there are so many great people who could have received it. I am surprised."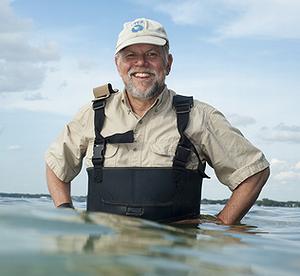 Professor Stephen Carpenter waist deep in his favorite element (Photo by Jeff Miller courtesy U. Wisconsin-Madison)
The Stockholm water Prize was first presented in 1991. Past recipients include such luminaries as Rita Colwell, a former director of the U.S National Science Foundation.
Carpenter, who directs the UW-Madison Center for Limnology, is a member of the U.S. National Academy of Sciences and a foreign member of the Royal Swedish Academy of Sciences.
"My limnological research focuses on the interaction of biogeochemistry and food web processes in lakes," Carpenter says on the university website. "I am especially interested in prediction of lake characteristics from land-water interactions and food web processes, including human effects such as fishing and introduction of exotic species."
In one of Professor Carpenter's most popular university courses, students play an eco-game that he co-authored. The Northern Highlands Adaptive Management Game allows the player to make decisions about the future of a social-ecological system based on the Northern Highland Lake District of Wisconsin. The scenarios that are simulated by the game are online at: http://lakefutures.wisc.edu.
He is a former president of the Ecological Society of America and his research, documented in five books and nearly 300 scientific papers, is among the most cited in all of environmental science. He has received numerous awards and honors, including a Pew Fellowship in Conservation and Environment, the G. Evelyn Hutchinson Medal of the American Society of Limnology and Oceanography, and the Robert H. MacArthur Award from the Ecological Society of America.
As the Stockholm Water Prize citation says, "Carpenter is best known for his research on trophic cascades in lakes, a concept which describes how impacts on any species in an ecosystem will cascade down, or up, the food chain."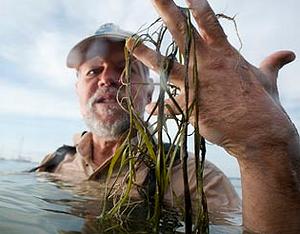 Professor Stephen Carpenter says beneficial pondweed is recovering after being nearly wiped out in the 1980s. (Photo by Jeff Miller courtesy U. Wisconsin-Madison)
That means, for instance, that overfishing large fish in a lake can result in an increase of smaller fish, decreasing the abundance of zooplankton further down the food chain. This, in turn, would increase the growth of algae and amplify the effects of eutrophication.
Those findings have influenced strategies for dealing with eutrophication and have provided a practical framework for the management of freshwater resources. It might not be enough to reduce the emissions of nutrients to a lake in order to overcome the problems, but that one might need to change the composition of the fish community as well.
Professor Carpenter's research has proved to have broad applicability to other ecosystems than lakes, the citation says.
Known amongst his peers in the scientific community for his creativity and enthusiasm, Professor Carpenter's work combines different scientific disciplines and approaches.
By seeking collaboration outside of academia, he has managed to link research to both policy and practice. He has supervised numerous students throughout the years, and has helped many in developing innovative field research experiments.
One of those students, Garry Peterson, wrote today on the Resiliance Science blog, that the prize "is well deserved as Steve has done a huge amount of really innovative work on ecosystem dynamics, ecological economics, large scale ecosystem experiments, and environmental management."
Says Carpenter, "The prize increases my resolve and sense of obligation to work on emerging issues of fresh water, such as climate change and the connections of food and water security."
Copyright Environment News Service (ENS) 2011. All rights reserved.