Bee Scientist Overcomes Childhood Fear to Win Prestigious Tyler Prize
CHAMPAIGN, Illinois, March 23, 2011 (ENS) – Bee expert May Berenbaum, who was afraid of insects as a child, has been awarded the 2011 Tyler Prize for Environmental Achievement for her original work on the science behind the bee population collapse and on the evolutionary relationship between insects and plants.
The Tyler Prize, consisting of a $200,000 cash prize and a gold medal, honors exceptional foresight and dedication in the environmental sciences.
Since 1973 when John Tyler, co-founder of Farmers Insurance Group, and his wife, Alice Tyler, established the prize as one of the world's first international environmental awards, it has been given to those who confer great benefit upon humankind through environmental restoration and achievement.
"I'm absolutely humbled to receive the Tyler Prize," said Berenbaum, the head of the entomology department at the University of Illinois at Urbana-Champaign. "All of my scientific heroes are Tyler Prize alumni."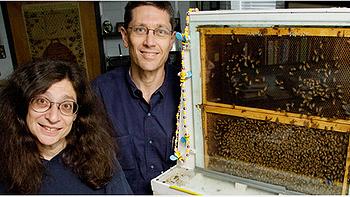 University of Illinois entomology professor and department head May Berenbaum and entomology and neuroscience professor Gene Robinson have identified a mechanism that could explain colony collapse disorder. (Photo by Brian Stauffer courtesy U. Illinois)
Dr. Berenbaum's interest in bees and other insects grew out of her wish to overcome her childhood fear.
"I was afraid of insects and didn't fall in love with them until college. I placed out of introductory biology and the only course that fit my schedule was Terrestrial Arthropods, and I figured, fear stems from ignorance, so here I go," recalls Berenbaum. "That's one reason I do so much outreach and public understanding because I know what it's like to fear insects."
Berenbaum's research has also been central to understanding the decline of bee populations in North America and around the world, known as colony collapse disorder.
"Bees serve a unique role as partners to plants because they are pollinators and required for reproduction," explains Berenbaum. "With roughly one third of the U.S. diet dependent on one species of bee for pollination, it's essential to understand what is happening to bees and correct course."
Through a combination of genetic analysis and experimentation, Berenbaum has shown that plants evolve to create natural defenses, like chemical toxins to ward off pests, and that insects in turn evolve to overcome these defenses.
She says that understanding this coevolution, or "arms race," between plants and insects is fundamental to a better understanding of pesticide resistance, insects and genetically modified crops.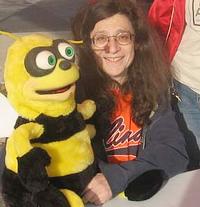 Professor May Berenbaum promotes her new cookbook at the Urbana Farmers Market, October 2010.
As an author of numerous research studies and articles, and of six books for the general public, Berenbaum has focused on engaging the public and increasing understanding of insects and the valuable role they play.
Her most recent book is a cookbook called "Honey, I'm Homemade: Sweet Treats from the Beehive across the Centuries and around the World," aims to inform people about the importance of bees in an interesting and engaging way.
In 1984, Berenbaum founded the annual Insect Fear Film Festival, a popular campus event that combines insect horror movies with basic education about the creatures portrayed in the films.
In 2007, she initiated the BeeSpotter website, a tool for collecting information about the abundance and diversity of wild bees in the United States. The website helps people identify local wild bees and post photographs and enter geographic information about them.
Berenbaum also founded the campus Pollinatarium, a free-standing museum dedicated to broadening public understanding of flowering plants and their pollinators.
"Someone has got to stick up for the little guy," said Berenbaum. "This world, this planet, would not function without insects. Our lives would be miserable without insects and people don't realize that."
"Professor Berenbaum has done more to advance the field of entomology and explain its significance than nearly any other researcher today," said Tyler Prize Executive Committee Chair Owen Lind, professor of biology at Baylor University. "Her expertise on bees and the causes behind declining bee populations has further positioned her as a leading resource for the media, policymakers and peers."
Previous Tyler Prize laureates include Edward O. Wilson, recognized for his early work on the theory of island biogeography; Jane Goodall, selected for her seminal studies on the behavior and ecology of chimpanzees and her impact on wildlife awareness and environmental conservation; Jared Diamond, a renowned author who gave birth to the discipline of conservation biology; and Thomas Lovejoy, a central figure in alerting the world to the critical problem of dwindling tropical forests.
On April 14 at 2 pm, Berenbaum will deliver a public lecture at the Davidson Conference Center of the University of Southern California, which administers the prize.
Copyright Environment News Service (ENS) 2011. All rights reserved.