Thailand's Tiger Temple Sues Conservationists Over Abuse Allegations
KANCHANABURI, Thailand, February 3, 2010 (ENS) – Three advocates for wildlife conservation and welfare appeared in a Kanchanaburi court this morning to answer charges of defamation brought by the Tiger Temple, a tourist attraction in Kanchanaburi.
Edwin Wiek, founder and director of Wildlife Friends of Thailand, a wildlife rescue center near Hua Hin, has been charged along with two other conservationists over remarks in an April 2009 article published in the "Thai Post," a daily Thai-language newspaper. In the report, accusations were made concerning illegal possession of and trade in tigers at the temple, and abuse of the animals.
The other two defendants are Sawan Sangbunlang of the Thai Society for the Prevention of Cruelty to Animals and Dr. Surapon Duangkae of the Wildlife Fund Thailand under Royal Patronage. This organization closed in July 2009 due to lack of funds.
If convicted, they could face jail sentences.
Hundreds of foreign tourists daily visit the Tiger Temple to see and take pictures with the tigers. It is a lucrative business. The entrance fee is 500 baht (US$15) per person while making "special photos" costs 1,000 baht (US$30) extra. For a morning experience, people pay 4,500 baht (US$120) per person to feed the cubs and watch the cub exercise session.
The Tiger Temple's success is based around claims that its tigers were rescued from poachers and live and move freely and peacefully amongst the temple's monks, who are actively engaged in conservation and rescue work.
However, undercover investigations by the British wildlife charity Care for the Wild International, conducted from 2005-2008, revealed evidence of tigers at the facility being regularly beaten with wooden sticks and clubs, being forced to sit in direct sunshine for hours, and being kept in poor conditions with inadequate food.
The CWI investigators observed that when tigers are not obedient before, during or after the photo-sessions they are sprayed by the keepers with urine from bottles in their eyes and faces and/or hit with wooden sticks on their backs and heads.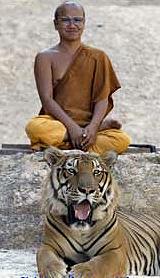 Tiger Temple abbot in a publicity photo on the facility's website (Photo by Tiger Temple)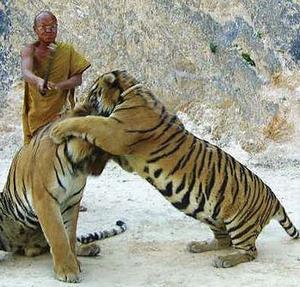 Abbot of the Tiger Temple, Pra Acharn Phusit (Chan) Khantitharo caught on film beating tigers with a stick. (Photo courtesy CWI)
Tigers are reported to be extremely lethargic during photo sessions, leading to concerns they may be drugged.
A British tourist, visiting the Tiger Temple on a tourist day trip from Bangkok in December 2009 wrote in an unsigned letter posted on the website Tiger Temple Truths, "The tigers heads were picked up and dropped heavily into our laps for us to pose with, but the tiger I was with didn't make a sound or move a muscle, it's like he had no idea where he was, or what was happening to him. … I don't believe a tiger can sleep so deeply without being sedated in some way."
This tourist also observed abuse of the animals. "The Tiger Temple Thai staff were on hand to keep the tigers away from us," she wrote. "They did this by banging the ground and shoving the tigers away with tools such as spades, pickaxes and long metal poles. One Thai temple staff member went to hit the ground in front of one of the tigers with his pickaxe, in order to keep him from coming too close to us, but the pickaxe hit the tiger in the paw instead, and the tiger made a small noise of pain and leapt away to lick his paw."
Care for the Wild International's 2008 report "Exploiting the Tiger" uncovered evidence of illegal trade and breeding of tigers at the facility. A copy of a contract was found in 2008 where the Tiger Temple agreed to send tigers to an illegal tiger farm in Laos, signed by the tiger farmer, the abbot of the temple and a member of the temple board.
The CWI report states, "Whilst the Tiger Temple claims it received its first tigers legitimately as animals rescued from poachers, CWI has obtained evidence that, rather than continuing as a rescue centre, the Temple now operates as a breeding facility and is involved in the clandestine exchange of tigers with the owner of a tiger farm in Laos. These actions contravene Thai, Laos and international law (Convention on International Trade in Endangered Species in Wild Fauna and Flora – CITES)."
Breeding tigers in Thailand requires a government license under the Thai Wild Animals Reservation and Protection Act 1992. The temple does not have such a license but has, by its own records, bred at least 10 cubs from its original animals.
To be part of a conservation breeding program, the genetic make-up and history of an animal's parents must be known. But the original animals at the temple are of unknown origin, nor have they been DNA-tested to identify their sub-species, according to the CWI report. With this background, the temple cannot participate in any recognized conservation breeding program.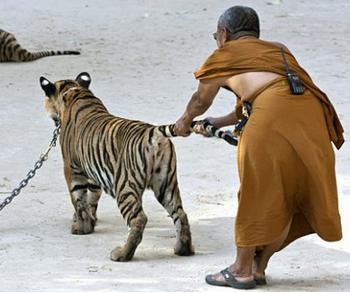 Monk at the Tiger Temple pulls a tiger by the tail to position it for tourist photos. (Photo courtesy Tiger Temple Truths)
Wiek disputes the Tiger Temple's claims that it can release its tigers back into the wild, because he says the tigers in its care are hybrid animals resulting from the breeding of two different sub-species and have no conservation value.
"All tigers at the Tiger Temple are hybrid tigers that originated from a commercial tiger farm in Ratchburi province. The value to conservation of hybrid wildlife is zero," Wiek says. "They don't have any value for conservation because they don't boost the gene pool and they can't interbreed with wild tigers."
"The release of hybrid wildlife back to the wild is considered a biological crime by conservation experts worldwide," said Wiek in a posting February 2 to an email list about animals in Asia. "In the past years, several tigers from the tiger temple have mysteriously disappeared once mature, and some when there were excess cubs."
Care for the Wild International says, "There is consensus amongst conservationists that releasing captive-bred tigers is almost never a viable option because of shortage of natural habitat and, in the case of animals that are used to human proximity, such as the tigers at the temple, release is potentially fatal to tigers, humans and livestock."
Click here to read Care for the Wild's report, "Exploiting the Tiger: Illegal Trade, Animal Cruelty and Tourists at Risk at the Tiger Temple, An investigation at Wat Pa Luangta Bua Yannasampanno Forest Monastery, Kanchanaburi, Thailand."
Copyright Environment News Service (ENS) 2010. All rights reserved.