Federal Council Links Wildlife Conservation, Hunting, But Conflicts Persist
WASHINGTON, DC, February 4, 2010 (ENS) – Hunting and conservation are linked in the newly created Wildlife and Hunting Heritage Conservation Council announced today in Washington by Secretary of the Interior Ken Salazar and Secretary of Agriculture Tom Vilsack and Montana Governor Brian Schweitzer.
While the federal government officials may link hunting and conservation, many animal conservation groups do not. Bitter regulatory and legislative battles are often fought over the hunting of apex predators, battles such as those over bears and wolves happening this week in the West.
The officials annouced the new council at a ceremony at the Theodore Roosevelt Memorial in Washington, that pays tribute to the 26th President of the United States, a Republican who served from 1901 to 1909. A hunter, outdoorsman and naturalist, he promoted the conservation movement.
"In the spirit of Theodore Roosevelt," said Secretary Salazar, "we are enlisting the help of hunters and anglers to help us confront the conservation challenges of our time so that our children and grandchildren can have the same opportunities to experience wildlife and the great outdoors that have been passed along, generation to generation."
A replacement for the Sporting Conservation Council, the new council expands membership to include the archery, hunting and shooting sports industries, and includes broader representation from major hunting organizations.
Salazar noted that the revenue generated from hunting licenses, duck stamps and excise taxes on firearms, ammunition and archery equipment provides billions of dollars to purchase and maintain habitat for wildlife across the nation. Revenues also provide the principal source of funding for state wildlife agency conservation work.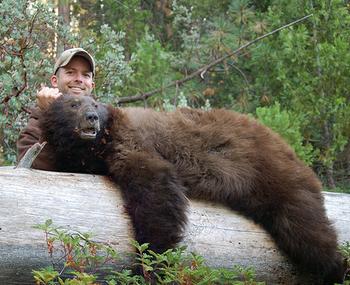 Hunter with his kill in California, October 2009 (Photo by Cowgirl Jules)
The new council is intended to provide a forum for sports men and women to advise the federal government on policies related to wildlife and habitat conservation endeavors that benefit recreational hunting; benefit wildlife resources; and encourage partnership among the public, the sporting conservation community, the shooting and hunting sports industry, wildlife conservation organizations, the states, Native American tribes, and the federal government.
"Today's conservation challenges demand that we all step forward and embrace the important work necessary to maintain and conserve the wildlife habitat and water resources that are so important to America's hunting and angling heritage," said Secretary Vilsack. "The Wildlife and Hunting Heritage Conservation Council represents an opportunity to expand our partnership with conservation organizations that will improve the health and management of America's public and private lands."
As the lead federal agency responsible for wildlife and habitat management, the U.S. Fish and Wildlife Service will provide coordination and administrative support for the Council.
Four additional federal agencies will appoint organizational members to the Council – the Bureau of Land Management, U.S. Forest Service, Natural Resource Conservation Service, and the Farm Service Agency.
More people spent time hunting in 2009 than in the previous year, according to a report released Monday by the National Shooting Sports Foundation, the trade association for the firearms industry.
Hunting license sales rose by 3.5 percent in 2009 in the 12 states from four regions that make up NSSF's Hunting License Sales Index.
More hunters does not necessarily mean there are more conservationists. In California and Utah, battles over bears and wolves are heating up.
Wayne Pacelle, president and CEO of The Humane Society of the United States, says his membership objects to the new California Department of Fish and Game proposal to expand black bear trophy hunting and ease current restrictions. The regulatory package was presented to the California Fish and Game Commission today.
The proposal would allow an unlimited number of bears to be killed in California; expand the hunt to San Luis Obispo, Modoc and Lassen counties; and legalize the use of high-tech global positioning systems to make it easier for hunters to make their kills.
"The use of packs of dogs to pursue and harass black bears is already permitted in the state, and it is cruel and unsporting," said Pacelle. "The Department has compounded that problem by allowing hunters to use global positioning systems and 'tip switches' or 'treeing switches' in their search-and-destroy method of high-tech hunting."
GPS devices attached to dogs' collars allow hunters to monitor the chase from afar, while the treeing switch alerts hunters when a bear is cornered in a tree by sending a signal when the dogs raise their heads.
"The populations of bears in San Luis Obispo, Modoc and Lassen counties are quite small and have not been adequately studied to determine what impact a trophy hunt might have on their health and stability," said Pacelle.
Calling the proposal "unwarranted, inhumane and reckless," Pacelle said the Humane Society will work to block the proposal and to ban all hound hunting of bears in California.
In Utah, anti-wolf legislators and their allies are advancing a bill that would require officials to capture or kill all wild wolves that wander into Utah, even those in areas where they are protected by the federal Endangered Species Act.
The bill's sponsor, State Senator Allen Christensen, a North Ogden Republican, has said he is trying to strike a blow for state's rights, and says that Utah has "enough money to take it all the way to the [U.S.] Supreme Court."
The bill could pass as soon as this week and is backed by the Sportsmen for Fish and Wildlife, the same group whose Idaho chapter has been holding wolf-killing derbies to raise funds for anti-wolf litigation.
Sportsmen for Fish and Wildlife says its mission is "to promote the protection and enhancement of wildlife habitat, assist in providing quality wildlife management programs, educating the public about the role hunters play in wildlife conservation, and perpetuating the family tradition of hunting and fishing."
But the national conservation group Defenders of Wildlife is fighting to block the Utah bill from becoming law and says it is working "to build support for restoring these magnificent animals to their rightful place in the American West."
Copyright Environment News Service (ENS) 2010. All rights reserved.