EPA Faces Lawsuits Over Pesticide Harms, Soot
SAN FRANCISCO, California, February 2, 2010 (ENS) – The nonprofit Center for Biological Diversity has put the U.S. EPA on notice that it intends to sue the agency for failing to adequately evaluate and regulate nearly 400 pesticides harmful to hundreds of endangered species across the country as well as human beings.
In a second letter notifying the agency of a separate intent to sue, the Center claims EPA has failed to meet deadlines for limiting soot and dust pollution.
The conservation group alleges that the EPA has violated the Endangered Species Act by failing to consult with wildlife regulatory agencies about the impacts of pesticides on more than 800 protected species that are threatened by pesticide use.
The agency also has violated the Migratory Bird Treaty Act by registering pesticides that are known to kill and harm migratory birds, the Center alleges.
"It's time for the Environmental Protection Agency to finally reform pesticide use to protect both wildlife and people," said Jeff Miller, a conservation advocate with the Center.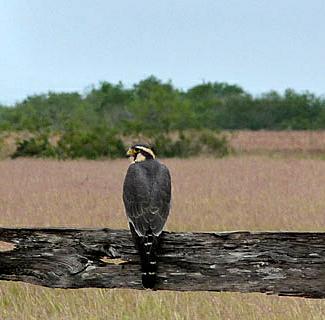 Endangered Aplomado falcon in Texas. Only about 50 pairs remain due to pesticides and habitat changes. (Photo by Hugh Powell)
"Many endangered species most affected by toxic pesticides are already struggling to cope with habitat loss and rapid climate changes," said Miller. "For too long this agency's oversight has been abysmal, allowing the pesticide industry to unleash a virtual plague of toxic chemicals into our environment."
More than a billion pounds of pesticides are used each year in the United States, and the EPA has registered more than 18,000 different pesticides for use.
The letter notifying the EPA of the Center's intent to sue names 887 endangered and threatened species that may be hurt by pesticides – species such as the Florida panther, coho salmon, California condor, Everglade snail kite, northern Aplomado falcon, mountain yellow-legged frog, California tiger salamander, arroyo toad, Indiana bat, and green sturgeon.
The letter claims that thousands of non-target animals such as mountain lions, bobcats, hawks, and owls are killed or harmed each year by poisoned baits approved by the EPA, as are endangered species such as the San Joaquin kit fox, Utah prairie dog, giant kangaroo rat, and black-footed ferret.
Application of pesticides such as carbofuran to crops can result in as many as 17 bird kills for every five acres treated, the Center says.
"Millions of pounds of toxic and poisonous chemicals, including known carcinogens and endocrine disruptors, find their way into our waterways each year, causing significant and unnecessary threats to endangered wildlife and to human health," said Miller. "The Environmental Protection Agency needs to analyze the effects of pesticides across the board on hundreds of imperiled species."
The Center also plans to sue the U.S. EPA for failing to meet numerous deadlines for limiting pollution from tiny airborne particles like soot and dust.
The conservation group claims that the EPA has violated the Clean Air Act by failing to determine whether five western states are complying with existing standards designed to protect the public from air pollution, and by failing to ensure that states are implementing legally required plans to meet the standards.
"EPA has failed to follow through on keeping the West's air clean and free from dangerous pollution," said Center attorney Kevin Bundy. "The Clean Air Act works to protect the environment and public health, but both EPA and the states need to do their part and comply with the law."
Particulate matter, PM-10, is air pollution made up of tiny particles smaller than 10 microns in diameter – about 10 times smaller than the width of a human hair.
These particles can travel deep into the lungs, posing serious risks of respiratory disease. This type of air pollution also causes regional haze that can obscure vistas in national parks and wilderness areas.
Particulate pollution also includes soot, or black carbon, a contributor to global warming and a criteria air pollutant classed as dangerous to public health and welfare under the Clean Air Act.
The Act requires EPA to set nationwide, health-based standards for PM-10. The law sets deadlines for the agency to determine if states have met the standards and deadlines for the states to develop, and for EPA to approve, plans for meeting the standards.
The Center's proposed lawsuit claims that in communities throughout Alaska, Idaho, Montana, Nevada, and Arizona, EPA has failed to meet these deadlines. In some cases, the deadline for EPA action passed more than 10 years ago.
The Center's letter demands that EPA correct these violations or face litigation.
"The Clean Air Act gives EPA and the states the tools to do what is necessary to protect clean air and public health, but EPA can't ignore its legal duty to get the ball rolling," said Bundy. "This kind of pollution is dirty and dangerous, and EPA needs to do what the law requires to get it out of our air."
Copyright Environment News Service (ENS) 2010. All rights reserved.