Super Typhoon Blasts Philippines
MANILA, Philippines, October 18, 2010 (ENS) – Torrential rains and strong winds carried by powerful Super Typhoon Megi forced evacuations of coastal residents and caused mudslides in the northern Philippines, disaster officials said Monday.
The Category 5 storm, known locally as Juan, blew across the main island of Luzon today, claiming 10 lives, forcing thousands of coastal dwellers into shelters. Most of the deaths occurred as falling trees destroyed homes.
Packing winds of 160 kph (100 mph) near the center with gusts up to 195 kph (120 mph) over land, the storm missed the storm missed the capital city of Manila, striking a path about 240 kilometers (150 miles) to the north.
"Let us all do our part to ensure that we remain focused on proactive measures to reduce risk to populations," said President Benigno Aquino III this morning, saying that the government will work with citizens "to bring out the best in all of us as we brace for the coming storm."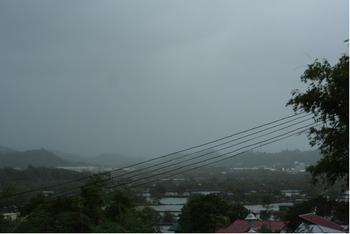 Typhoon Megi dumps rain on San Fernando City on Luzon's west coast, 5 pm local time October 18, 2010 (Photo by VoxPH)
The President's office ordered the suspension of work in government offices in Regions I, II, and the Cordillera Administrative Region on Tuesday, October 19, due to the onslaught of Typhoon Megi, known locally as "Juan."
Presidential Spokesman Edwin Lacierda said the one-day suspension of government work in the typhoon-hit regions in Northern Luzon does not extend to emergency services.
In the mountainous Cordillera Region, mudslides have closed four major roads in the provinces of Apayao and Benguet. Crews and equipment now are working to reopen the roads.
Power is out in most areas of Baguio city and the province of Benguet.
Cordillera officials have designated schools, village halls, churches and gymnasiums as evacuation centers and areas of several towns have been evacuated.
In the Cordillera town of Ifugao, Catholic Relief Services quoted Father Val Dimoc as saying that the winds have damaged farmers' rice crops.
"The rice plants are being blown down by strong winds," he said. "The farmers may not have any more harvest."
Heavy rains are pounding northern Luzon with some regions forecast to receive 12 to 20 inches by Tuesday. Farther to the northeast, the typhoon has uprooted trees and torn roofs off houses. It has cut off power and cell phone coverage in several areas.
The Philippines is battered by some 20 typhoons a year, many of them deadly, but no casualties have been reported due to this storm.
Although the typhoon was downgraded to Category 2 as it moved across the mountains, the U.S. Navy's Joint Typhoon Warning Center said the storm will re-intensify as it exits the country for the South China Sea.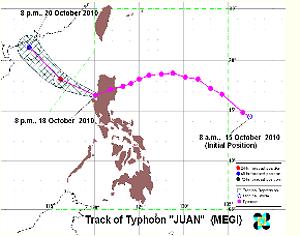 Track of Super Typhoon Megi, known locally as Juan (Map courtesy PAGASA)
The typhoon is now leaving the Philippines off the west coast of Luzon and is moving into the South China Sea, heading for mainland China.
Aid agencies are preparing to assist storm victims. "This is the largest typhoon to hit the Pacific in 20 years, hitting the Philippines straight on," said Joe Curry, country representative for Catholic Relief Services in the Philippines. "We're focused now on getting assistance to these areas as quickly as possible."
Save the Children staff in Manila are on standby to provide assistance as needed.
"Only a year ago, many of these same areas experienced two typhoons and wide-scale flooding. Children and families, especially the impoverished and most vulnerable, have had little time to recover — and this typhoon will exacerbate an already difficult situation for children," said Rowena Cordero, Save the Children's country director. "We are prepared to move as quickly as we can to help."
Later this week, Super Typhoon Megi also is expected to hit Vietnam, where earlier this month the worst flooding in 20 years has killed 87 people and affected half a million residents.
The flooding rains hit Vietnam on October 1 and continued for days, causing rivers to burst their banks and dams to overflow, inundating five provinces.
The International Federation of Red Cross and Red Crescent Societies has issued an emergency appeal for US$1 million to assist survivors of the floods in Vietnam.
In Thailand, at least four people lost their lives overnight in the heavy flooding in Nakhon Ratchasima province, disaster relief officials said today.
Public Health Minister Jurin Laksanawisit told the Bangkok Post that while hospitals and clinics in several provinces are flooded, they are still providing services.
In central Thailand's Lopburi Province, water from the Pasak Jolasit Dam flooded into Ayutthaya this morning, forcing evacuations. Officials said floodwater levels in three Ayutthaya districts rose by a meter (39 inches) overnight, making toilets unusable. Residents were advised to use black plastic bags for their waste to avoid polluting rivers.
Copyright Environment News Service (ENS) 2010. All rights reserved.