New York Firm Guilty of Falsifying Asbestos Test Reports
UTICA, New York, October 18, 2010 (ENS) – A federal jury in Utica has found Certified Environmental Services, Inc., two of its managers and one of its employees guilty of falsifying lab reports to make it appear as if asbestos had been removed from homes, schools, and other buildings when, in fact, asbestos remained in the buildings.
The convictions were obtained on counts of conspiring to aid and abet Clean Air Act violations, commit mail fraud, and defraud the United States, according to the U.S. Environmental Protection Agency and the U.S. Justice Department.
The managers, Nicole Copeland and Elisa Dunn, and the employee, Sandy Allen, also were convicted of Clean Air Act violations and mail fraud counts. Defendants CES and Elisa Dunn were convicted of making false statements to federal law enforcement.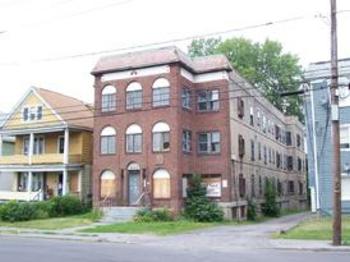 Vacant building tested for asbestos by Certified Environmental Services (Photo courtesy CES)
Certified Environmental Services is a 20 year old company based in Syracuse that does environmental testing and consulting for private, municipal, industrial, educational and commercial clients throughout New York state.
The Utica jury found that Certified Environmental Services, its employees, and a supervisor from a former asbestos abatement company, Paragon Environmental Construction, conspired over the course of nearly a decade to falsify lab results used to prove that asbestos removal was done properly.
In numerous instances, asbestos removal companies represented that homes, schools, and other buildings were free of asbestos contamination when asbestos debris remained behind.
Owners of local homes and buildings were unaware that asbestos had been left behind from sloppy abatement work because air quality reports were falsified by Certified Environmental Services.
Due to the false CES lab reports, people who lived or worked in the buildings were potentially exposed to asbestos, putting them at risk for developing cancer.
"Because of the dishonest and illegal practices of this company, many people were left unaware for years of their possible exposure to asbestos," said Ignacia Moreno, assistant attorney general for the Environment and Natural Resources Division of the Department of Justice.
The conspiracy and substantive Clean Air Act and false statements counts of the indictment each carry a maximum possible term of incarceration of five years and a fine of $250,000. The mail fraud counts each carry a maximum possible term of incarceration of 20 years and similar fines.
"Falsifying asbestos reports and air quality data is a serious crime and undermines our nation's efforts to protect human health and the environment," said Cynthia Giles, assistant administrator for EPA's Office of Enforcement and Compliance Assurance.
"Exposure to asbestos can be fatal and the conviction by a jury shows that the American people will not tolerate illegal activity that puts the public at risk of cancer or other serious respiratory diseases," she said.
EPA investigators have notified building owners affected by the asbestos problem so proper cleanup can be conducted.
Asbestos has been determined to cause lung cancer, asbestosis and mesothelioma, a fatal disease. EPA has determined that there is no safe level of exposure to asbestos.
Copyright Environment News Service (ENS) 2010. All rights reserved.