Fate of Earth's Living Beings Nears 'Tipping Point'
NAGOYA, Aichi, Japan, October 19, 2010 (ENS) – A new strategy to halt the loss of the Earth's diverse living beings is expected to emerge from a United Nations conference that opened Monday in Nagoya. As 2010 is the International Year of Biodiversity, there is an urgency to these negotiations because species are disappearing in unprecedented numbers.
Species extinction rates are now as high as a thousand times the natural rate, and the world is nearing a "tipping point" where there could be irreversible loss, warned Ahmed Djoghlaf, the executive secretary of the UN Convention on Biodiversity, in his opening speech to the delegates.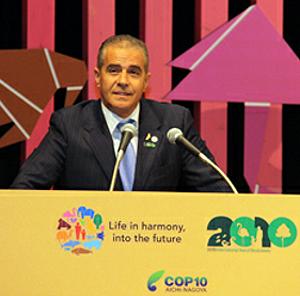 Ahmed Djoghlaf, executive secretary of the UN Convention on Biodiversity, addresses delegates, October 18, 2010. (Photo courtesy Earth Negotiations Bulletin)
Of the world's 5,490 mammals, 78 are Extinct or Extinct in the Wild, with 188 Critically Endangered and 450 Endangered, according to the International Union for the Conservation of Nature. Habitat loss, over-exploitation, pollution, disease and human-induced climate change are the factors driving these extinctions, the IUCN says.
Although more than 16,000 delegates representing the 193 Parties to the Convention and their partners are attending, this is "not just another UN conference," said Djoghlaf, but "the most important meeting on biodiversity in the history of the United Nations."
He called on delegates "to address the unprecedented loss of biodiversity seriously compounded by global warming."
Although the world failed to meet its 2010 target of slowing the loss of global biodiversity, the delegates gathered at Nagoya are tasked with setting another target, to be embodied in the Aichi-Nagoya Strategic Plan for the next decade, with a vision for 2050.
"This is not another plan," said Djoghlaf. "It will be, as recommended by last month's historic New York summit on biodiversity, the overarching coordinated global biodiversity framework of the whole biodiversity family, including the United Nations system."
The common sturgeon, once a wide ranging species in the North Atlantic, Mediterranean and Black Sea, is now Critically Endangered with between 20-750 mature fishes left in the wild. (Photo © Jean-Francois Hellio and Nicholas Van Ingen courtesy IUCN)
The Aichi-Nagoya Strategic Plan hammered out by delegates over the next nine days will be submitted October 27 to the high-level segment of the conference, which will be attended by several world leaders and more than 100 environment ministers.
"Here there is an opportunity to shape the landscape and the trajectory of humanity's response to the loss of its natural and nature-based assets in profound and transformational ways," Achim Steiner, executive director of the UN Environment Programme, told delegates on opening day. "Here and together we can begin to put in place the kinds of far sighted policy-responses and smart mechanisms that have been incubating for years in many countries and communities."
"The plants and animals, fungi and micro-organisms that produce and clean our air, generate drinking water, hydro-power and irrigation; provide food, shelter and medicines and also bring to many joy and a spiritual dimension to our daily lives need a big helping hand from this 10th Meeting of the Conference of the Parties – if not for their sakes, for ours," Steiner said.
BirdLife International, the world's foremost bird conservation group with partners in more than 100 countries and territories, outlined five essential goals the Nagoya conference must meet to be successful.
The conference must:
adopt a comprehensive, ambitious and achievable strategic plan with associated 2020 targets that take us well beyond business as usual
agree mechanisms to ensure that each country has access to the resources it needs for effective implementation of the Convention on Biodiversity
conclude negotiations on the international Access and Benefit Sharing, ABS, regime resulting in a Protocol to the Convention with legally binding provisions
agree to expand protected area networks, particularly in marine areas
agree clear actions to promote synergies between the Convention on Biological Diversity and the UN Framework Convention on Climate Change at national and international levels
"The ongoing decline of the world's biological resources – such as rainforests, coral reefs and agricultural biodiversity – threatens to increase poverty and people's vulnerability to climate change," said Dr. Dilys Roe, a senior researcher at International Institute for Environment and Development and co-author, with BirdLife, of a new, free book, "Banking on biodiversity: a natural way out of poverty."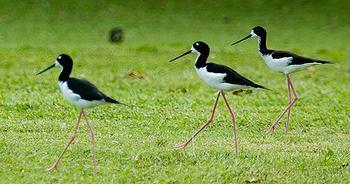 Habitat loss, hunting and predation by feral animals has brought the Hawaiian stilt to the brink of extinction. About 1,500 birds remain. (Photo by Kanalu Chock)
"These challenges must be tackled together rather than in isolation," said Roe.
Djoghlaf, Steiner and nongovernmental organizations appealed urgently to all government delegates in Nagoya to finalize a legally-binding protocol on access to genetic resources and sharing of the benefits of that access, known as Access and Benefits-Sharing or ABS.
The Convention establishes that a person or institution seeking access to the genetic material of a biological resource in a foreign country should seek the prior informed consent of that country. The person or institution seeking access must also negotiate and agree on the terms and conditions of access and use of this resource.
Genetic resources are used by research institutes, universities and private companies in pharmaceuticals, agriculture, horticulture, cosmetics and biotechnology for research and to develop products.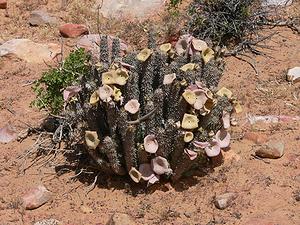 Hoodia gordonii, a succulent plant with medicinal properties (Photo by Winfried Bruenken)
For example, an appetite suppressant has been derived from species of Hoodia, succulent plants indigenous to southern Africa and long used by the San people to stave off hunger and thirst. One brand of Hoodia pills includes a San-approved certification process.
In February 2006 an agreement was signed between the San and the Southern African Hoodia Growers, empowering the SAHG as the exclusive, legal, approval body for growers and purveyors of natural Hoodia gordonii grown in South Africa. The San receive six percent of the revenue from Hoodia sales made through this group.
The certification process allows traceability of the San-endorsed Hoodia with all legal documents in place under the national Nature Conservation Ordinance and Biodiversity Act and international rules under the Convention on International Trade in Endangered Species, CITES.
An ABS protocol could include these elements.
Djoghlaf explained to delegates how their work at the conference would shape biodiversity conservation at all levels of government.
"The Aichi Nagoya Strategic Biodiversity Plan will need to be translated before the New Delhi Biodiversity Summit [in 2012] into national biodiversity strategies and action plans tailored to the needs and circumstances of the Parties and their partners," he said.
"It will be also translated into action plans at the municipal level. This is the objective of the first-ever City Biodiversity Summit to be held at the end of this week," Djoghlaf explained. "The expected 300 mayors from all over the world will have before them the Urban Biodiversity Index specially designed with the support of Singapore and test-bedded by 34 cities."
"Based on the experience gained by Aichi Prefecture and Ishikawa, prefectural strategies and action plans will be also promoted," he said. "Based on the experience of our host, biodiversity basic law will be encouraged. This is the objective of the summit on Parliamentarians and Biodiversity to be held in partnership with Globe International."
On October 25-26, just before the opening of the high-level segment at Nagoya, 122 legislators from around the world will convene a forum co-hosted by GLOBE International, GLOBE Japan and the CBD Secretariat. It will focus on the concept of natural capital as a means to mainstream biodiversity and ecosystems services into policy making.
Copyright Environment News Service (ENS) 2010. All rights reserved.