Spring Floods Begin, Expected to Worsen through April
WASHINGTON, DC, March 21, 2011 (ENS) – Temperatures are warming and snowpacks are starting to melt, putting almost half the country – from the North Central United States through the Midwest and the Northeast – at above-average risk of flooding over the next few weeks, the National Weather Service warns in its annual spring outlook.
National Weather Service models show this year's snowpack in the north-central U.S. contains a water content ranked among the highest of the last 60 years.
"For the third consecutive year, the stage is set for potential widespread, record flooding in the North Central United States," said Jack Hayes, PhD, director of NOAA's National Weather Service.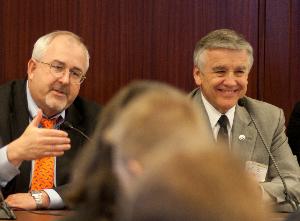 FEMA Administrator Craig Fugate, left, and National Weather Service Director Jack Hayes brief congressional staffers on 2011 spring flooding. March 18, 2011 (Photo courtesy FEMA)
The rate at which temperatures warm this spring, along with the impacts of any additional precipitation, will determine the magnitude, timing and extent of the flooding.
The highest spring flood risk areas include the Red River of the North, which forms the state line between eastern North Dakota and northwest Minnesota.
Risks are also high along the Milk River in eastern Montana and along the James and Big Sioux Rivers in South Dakota.
The weather service is also warning about flood risks along the Minnesota River and throughout the upper Mississippi River basin from Minneapolis, Minnesota southward to St. Louis, Missouri.
Floods will inundate portions of lower New York, eastern Pennsylvania and northern New Jersey, according to the weather service.
"Floods occur somewhere in the United States or its territories nearly every day of the year, killing nearly 100 people on average annually and causing damage in the billions of dollars," said Hayes.
More than half of all flood-related deaths result from vehicles being swept downstream. If confronted with a water-covered road on foot or in an automobile, emergency managers all advise: Turn Around, Don't Drown.
"We've been coordinating with federal and state partners and high risk communities since December to raise awareness and help them prepare. All the ingredients are in place for major flooding so this situation should be taken very seriously," said Hayes. "We're asking citizens to stay informed and be prepared."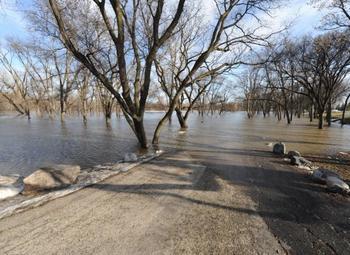 The Red River fills up Lindenwood Park in Fargo, North Dakota, March 17, 2010. (Photo by Michael Rieger courtesy FEMA)
Flash flooding can take only a few minutes to a few hours to develop. As little as six inches of water may cause drivers to lose control of their vehicles. Flood water may be much deeper than it appears as the roadbed may be washed out. Be especially cautious at night when it is harder to recognize flood dangers.
Many metropolitan areas have a greater than 95 percent chance of major flooding this season, including Fargo, Grand Forks, St. Paul, Davenport, Rock Island, Sioux Falls and Huron.
Devils Lake in North Dakota has an 80 percent chance of reaching two feet above last year's record of 1452.1 feet.
In addition, a series of storm systems forecast to move across southeastern Minnesota and southwestern Wisconsin during the next two weeks could bring additional snow or rain on top of the remaining snowpack.
In northern New England, snow accumulations over six inches are possible within the next 24 hours, especially in the mountains and northern Maine.
"As the nation's most common and expensive natural disaster, floods can strike virtually every community," said Craig Fugate, administrator of the Federal Emergency Management Agency, FEMA. "We're encouraging individuals and families to take a few simple steps to protect themselves and their property. These include learning about their risk of flooding, having an emergency preparedness kit, storing important documents in a safe place and considering the purchase of flood insurance. Most homeowners insurance policies don't cover flooding, and most policies take 30 days to go into effect so it's important to act now."
Spring flooding is caused by a variety of factors, including heavy late summer and fall precipitation, which leaves soils saturated and streams running high before the winter freeze.
Other factors include: heavy winter snowfall resulting in deep snowpack; stable below-freezing temperatures throughout the winter delaying snow melt; frozen and/or saturated ground which inhibits infiltration of water into the soil, rapid snowpack melt due to warming springtime temperatures; backwater flooding due to ice jams; and heavy spring rainfall accelerating snow melt and adding to the high volume of water already in river systems.
The National Weather Service outlook forecasts:
Above-average temperatures in much of the southern half of the United States, and below-average temperatures from the Pacific Northwest to the northern plains.
Drier-than-average conditions from South Florida and along the Gulf Coast through Texas and into the Southwest. Wetter-than-average conditions are favored across parts of the northern plains.
From the Southwest, across the South and northward to the mid-Atlantic, drought has been spreading and deepening since the winter and is forecast to persist in spring. Wildfires will be an increasing threat. Extremely critical fire weather exists today for central and northern New Mexico and far southern Colorado, and critical fire weather exists in eastern Colorado, southeastern Arizona and most of New Mexico.
Heavy rainfall at any time can lead to river flooding, even in areas where overall river flood potential is considered below average. Click here to find current hydrologic information specific to your area.
Copyright Environment News Service (ENS) 2011. All rights reserved.