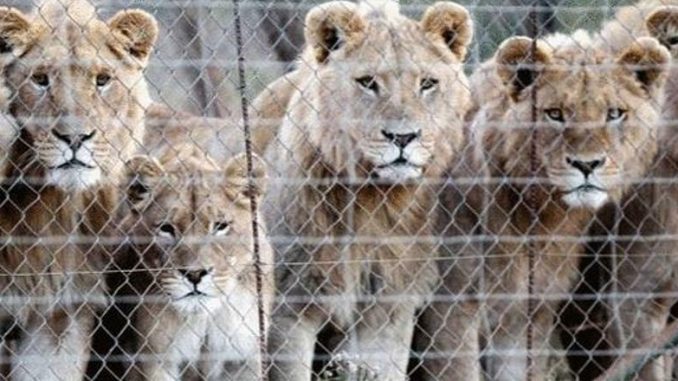 CAPE TOWN, South Africa, May 5, 2021 (ENS) – South Africa has announced it will stop the abusive practices of captive breeding and canned hunting of lions. In the future, South Africa will not captive breed lions, keep lions in captivity, or use captive lions or their derivatives commercially. The government also has decided to phase out captive rhino breeding.
These decisions were announced on Sunday by South Africa's Environment Minister Barbara Creecy as she released the report of a High Level Panel she had convened in 2019 to make recommendations on policies, regulations, and practices related to hunting, trade, captive keeping, management and handling of four iconic mammal species: elephant, lion, leopard and rhinoceros.
The report, submitted last December, contains 18 goals and 60 recommendations.
"The High Level Panel identified that the captive lion industry poses risks to the sustainability of wild lion conservation resulting from the negative impact on ecotourism which funds lion conservation and conservation more broadly, the negative impact on the authentic wild hunting industry, and the risk that trade in lion parts poses to stimulating poaching and illegal trade," said Minister Creecy.
"The panel recommends that South Africa does not captive-breed lions, keep lions in captivity, or use captive lions or their derivatives commercially," the minister said. "I have requested the department to action this accordingly and ensure that the necessary consultation in implementation is conducted."
"It is important to stress that the recommendations are not against the hunting industry," Creecy said. "Preventing the hunting of captive lions is in the interests of the authentic wild hunting industry, and will boost the hunting economy and our international reputation, and the jobs that this creates."
While there are around 10,000 captive lions in South Africa, there are only 3,000 wild lions in the country, "The Independent" newspaper reports. Lions are classed as Vulnerable to extinction on the IUCN Red List.
'This is a time to celebrate," said Neil Greenwood, regional director of the nonprofit International fund for Animal Welfare, IFAW, Southern Africa. "Captive breeding and canned hunting of lions is one of the worst animal welfare abuses of modern times. It's taken more than 20 years of campaigning, and the cruel deaths of thousands of lions purely due to commercial greed for the South African Government to finally call it a day."
The High Level Panel Recommends: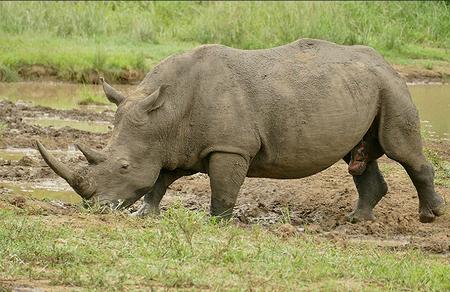 In its report, issued December 15, 2020, the High Level Panel the panel envisions, "Secured, restored, and rewilded natural landscapes with thriving populations of elephant, lion, rhino, and leopard, as indicators for a vibrant, responsible, inclusive, transformed, and sustainable wildlife sector."
This vision is aligned with the environment ministry's Strategic Plan 2024, and the impact statement within that strategy, "A prosperous and equitable society living in harmony with our natural resources."
The High Level Panel adopted 16 goals and associated recommendations by consensus. But there were two contentious areas – captive lion breeding and keeping, and the keeping of rhinos in captivity. Still, the majority came down on the side of conservation in both cases.
Here are the panel's recommendations:
The HLP recommends the development of a National Policy on Biodiversity and Sustainable Use, for "context, clarity and strategic direction to all stakeholders."
The HLP highlights the importance of transformation of the sector, with empowerment and capacitation of communities living with wildlife, and recognition of their traditions and culture, as practiced through the traditional leaders and traditional healers.
The HLP notes the importance of thriving populations of the iconic species as catalysts for a vibrant, responsible, inclusive, transformed, and sustainable wildlife sector, and has identified key aspects of wildlife landuse and the wildlife model that can be improved to achieve this.
For ongoing growth and sustainability, the HLP recognises that capacity building, education, training, and empowerment of human capital across the wildlife sector needs focus and attention.
Standards and practices within the wildlife sector need to meet the minimum acceptable standards for animal welfare and well-being.
Many stakeholders identified inefficiencies and ineffectiveness of governance of the wildlife sector caused by multiple mandates and dual competency between national and provinces, as requiring reform from a legislative and implementation practice perspective.
The HLP recommends careful consideration of conflicting legislation, policy and mandates between the government departments of Environment and Agriculture.
Rationalised and improved contribution of protected areas to support conservation and sustainable use of the five species, and to aid in serving as drivers of regional rural economies.
South Africa's international standing as a leader in conservation, and our reputation as a member of the global community, is threatened by some wildlife practices and approaches in South Africa – with a protocol, key interventions, and a risk mitigation and communication strategy required to deal with this.
The HLP emphasises the need for responsible, adaptive, transparent, and accountable management that secures thriving and sustainable populations of the five species and their habitats, for the benefit of all (wildlife, wildlife custodians, and society at large), while highlighting interventions to secure this.
The HLP identifies the need for South Africa to be repositioned and promoted as a destination of choice for legal, regulated and responsible hunting of the five iconic species, recognising that this supports and promotes conservation and rural livelihoods.
Live export of the five iconic species should focus on in situ conservation of the species within their natural range. The fifth Big Five mammalian species, the African buffalo, is not covered in the panel's report.
There is a need for development of an integrated, shared, strategic, approach to leopard management that considers all the dimensions, and is inclusive of all stakeholders.
As the HLP recommends a policy position stating that South Africa does not envisage submitting an ivory trade proposal to CITES as long as current specified circumstances prevail, alternative income streams need to be identified to support both elephant management and urgent socio-economic development requirements of people living with elephants.
The HLP recommends that South Africa should take a global leadership position on rhino conservation, and that the Minister should lead a process of engagement to develop a consensus approach to both global conservation of rhino, and a range state consensus on international commercial trade in rhino horn, that can be taken to CITES when the Rhino Committee of Inquiry and Rhino Action Plan conditions are met. To this end, urgent progress needs to be made with the implementation of the Rhino Committee of Inquiry recommendations, while alternative benefit streams to international rhino horn sale are developed and implemented.
The HLP recommends investigating the full range of options for future stockpile use, taking into account social and economic risks, costs, and benefits.
The majority of the HLP recommends that the current trend of increasing intensive management and registration of rhino captive breeding operations is reversed within a period that allows for a sustainable conservation outcome, through phasing out captive rhino breeding, and providing clarity that trade in captive rhino horn would not be supported or approved prior to the Rhino Committee of Inquiry recommendations being met.
Three different approaches to captive lions are presented by the panel, with the majority view being that, in future, South Africa will not captive breed lions, keep lions in captivity, or use captive lions or their derivatives commercially.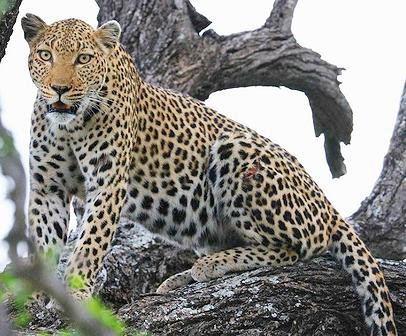 Minister Creecy said Sunday, "I believe that the report provides a platform for not only achieving policy clarity, but also for the development of a new deal for people and wildlife in South Africa."
"Implementation of the recommendations will greatly transform the practices within the wildlife industry, enhance conservation of our environment and these species, invigorate the rural economies where the species occur or can be introduced, and empower traditional practices, leadership, and healers," said the minister.
But the South African wildlife conservation nonprofit group Campaign Against Canned Hunting says no action on these recommendations will happen anytime soon.
"'Developing processes' and 'drafting policies' can take years in South Africa. No implementation can take place without consultations with stakeholders. Consulting 300 lion breeders and a whole industry built up around them can take years," group says on its website.
"Almost certainly a phasing out process will be insisted upon under threat of litigation which also takes years in South Africa," said the group, which estimates five to seven years as a phasing out period.
Creecy said that implementing the panel's recommendations "will result in both protection and enhancement of South Africa's international reputation, repositioning the country as an even more competitive destination of choice for ecotourism and responsible hunting."
Featured Image: Captive bred lions behind a fence at a lion farm in South Africa. (Photo courtesy Campaign Against Canned Hunting)
© 2021, News Editor. All rights reserved.