Seven Nations Safeguard Carpathian Old Growth Forests
BRATISLAVA, Slovakia, May 28, 2011 (ENS) – The old growth and virgin forests of the Carpathian Mountains will be protected by seven countries under an agreement signed Friday in Bratislava.
The commitment comes in the form of a Protocol on Sustainable Forest Management, signed by ministers of all the Carpathian Convention countries – the Czech Republic, Hungary, Poland, Romania, Serbia, Slovakia and Ukraine. The Carpathians are shared by these seven Central and Eastern European Countries, four of which are members of the European Union.
The ministers were gathered in Bratislava for the 3rd Conference of the Parties to the Framework Convention on the Protection and Sustainable Development of the Carpathians, known as the Carpathian Convention.
"In the International Year of the Forest, the governments of the seven Carpathian countries have committed themselves to protecting and preserving Europe's greatest remaining forest treasures, including the continent's largest remaining areas of natural and virgin forests outside of Russia, which are in urgent need of protection," said Andreas Beckmann, director of the WWF Danube-Carpathian Programme.
The Protocol aims to maintain or enlarge forest cover as well as improve protective forest functions such as preventing floods and landslides, water cycle regulation as well as carbon sequestration.
Early tasks under the protocol include the identification and protection of natural, especially virgin, forests.
"It is essential that these commitments are now put into practice," urged Beckmann.
Some 300,000 hectares (1,160 square miles) of old growth or primeval forest are thought to exist in the Carpathian Mountains, a small remnant of the vast forests that once covered Europe.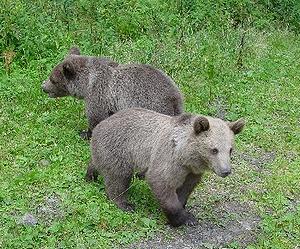 Bear cubs in the Carpathian Mountains (Photo courtesy Carpathian Convention)
This total includes areas in the southern Carpathian mountains of Romania that make up Europe's greatest unfragmented forest area.
But much of this area is vulnerable to logging. Only 18 percent of the 250,000 hectares of Romanian old growth forests are inside protected areas.
Also included are over 10,000 hectares (40 square miles) of beech forests in eastern Slovakia and western Ukraine that are inscribed on the UNESCO World Heritage List.
In Slovakia, only 0.47 percent of forests could be considered old growth, says Beckmann, citing a "thorough field study" undertaken in 2010. Before the study, it had been thought that at least two percent of Slovakia's forested area could be considered old growth.
"The Forestry Protocol under the Carpathian Convention joins a growing number of legislative tools and political commitments, including new EU legislation on illegal logging, as well as the EU Habitats and Birds Directives, for addressing the loss of these forest treasures," Beckmann said.
The new legislation requires EU member states to take specific measures to address illegal logging, which has been a major problem in the Carpathian region.
An online timber tracking tool developed by the Romanian Forest Agency, Romsilva, can support implementation of the Forestry Protocol and EU legislation and Beckmann says it provides a good example for other countries.
Romania has been one of the pioneers in the Carpathian region in promoting responsible forest management, with some two million hectares of forest on track for certification as sustainably managed under the Forest Stewardship Council.
The Carpathian Mountains are an important reservoir for biodiversity, and are Europe's last refuge for large mammals – brown bear, wolf, and lynx. The mountain forests are inhabited by European bison, moose, wildcat, chamois, golden eagle, eagle owl, black grouse, and many unique insect species.
Copyright Environment News Service (ENS) 2011. All rights reserved.