Poll: Penny-Pinching U.S. Drivers Want Fuel-Efficient Cars
YONKERS, New York, May 27, 2011 (ENS) – A new survey of U.S. motorists on car purchases and fuel economy shows that lower fuel cost, not environmental factors, is by far the biggest motivator to buy a more fuel-efficient car.
Still, a majority of respondents (63 percent) said environmental factors are important to them in choosing a new car, and 58 percent said these factors are important to them in buying a used car.
Dependence on foreign oil imports was of concern to a majority of respondents (58 percent), while a lower purchase price for compact, gas-sipping vehicles was important to a smaller majority (52 percent).
The results are based on 1,764 telephone interviews of adult car owners nationwide conducted by Consumer Reports National Research Center from April 28 to May 2.
Respondents are selected at random from the seven million readers who subscribe to Consumer Reports magazine and/or to ConsumerReports.org. Consumer Reports is published by Consumers Union, an independent, nonprofit organization based in Yonkers.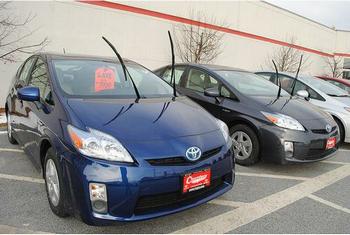 New 2011 Toyotas at a Vermont dealership (Photo by Courtesy Toyota)
With gasoline prices topping $4 per gallon across the country, the survey found that 62 percent of those questioned expect to choose a model with much better or somewhat better fuel economy than their current car. About half as many (32 percent) expect to get a vehicle with about the same fuel economy.
The average fuel economy goal among survey resondents was 29 miles per gallon. To get better gas mileage, more than half (53 percent) said they would be willing to pay extra, with the expectation that the investment would pay off in the long run.
A majority of those surveyed (71 percent) expect their next vehicle will be powered by an internal combustion gasoline engine. But almost three quarters (73 percent) said they will consider some form of alternative powertrain.
Among alternative choices, hybrid-electric is the most popular, being considered by 43 percent.
Of those who said they would consider an electrified vehicle, a majority of 58 percent were most interested in a traditional gas-electric hybrid. Plug-in hybrids were of interest to 21 percent, while just 13 percent would consider a pure electric vehicle.
Almost as many respondents (42 percent) told interviewers they are interested in flex-fuel engines, which can run on either gasoline or E85 (a blend of 85 percent ethanol and 15 percent gasoline).
"This figure seems high, as we have seen in past surveys," the National Research Center said in a statement announcing the survey results. "The concept of a flex-fuel engine has clear appeal, but it is likely that most consumers don't realize that operating a vehicle on E85 can require 20-25 percent more fuel than with gasoline. And while there are now millions of compatible vehicles on the road, E85 is hard to find in most areas of the country."
One out of five (21 percent) car shoppers would consider natural gas, and nearly as many are open to hydrogen fuel cells (18 percent). Only 15 percent said they would consider diesel, a choice that the National Research Center says delivers "clear fuel economy benefits and is readily available."
Copyright Environment News Service (ENS) 2011. All rights reserved.
© 2011 – 2012, Jim Crabtree. All rights reserved.