Japan Flashes Green Signal for Maglev Train Line
TOKYO, Japan, May 30, 2011 (ENS) – The Japanese government has signaled Central Japan Railway "to proceed with construction" of its magnetically levitated train line between Tokyo, Nagoya and Osaka.
On May 27 Transport Minister Akihiro Ohata directed the company, known as JR Tokai, to move forward with the 9 trillion yen project that has been in development since the 1970s.
In July 2009, Japan's Maglev Technological Practicality Evaluation Committee of Japan's Ministry of Land, Infrastructure, Transport and Tourism validated that the superconducting maglev trains are ready for revenue service.
"The technologies of the Superconducting Maglev have been established comprehensively and systematically, which makes it possible to draw up detailed specifications and technological standards for revenue service," the committee said.
The world's fastest trains, maglev trains travel without touching the ground. Instead, they run levitated above their guideway by using repulsive and attractive electromagnetic forces between superconducting magnets on board the vehicle and coils on the ground.
Running at 505 kilometers (313 miles) per hour, the maglev trains will cover the distance between Tokyo and Nagoya in about 40 minutes. When the line is completed, maglev trains will travel the 514 km (320 mile) distance between Tokyo and Osaka in 67 minutes.
The maglev trains are expected to start carrying passengers between Tokyo and Nagoya in 2027 and between Tokyo and Osaka in 2045.
JR Tokai now operates maglev trains on its test track in Yamanashi, which is currently being extended from 18.4 km to 42.8 km. The extension is scheduled for completion in 2012 and eventually the test track will become part of the maglev line between Tokyo and Osaka.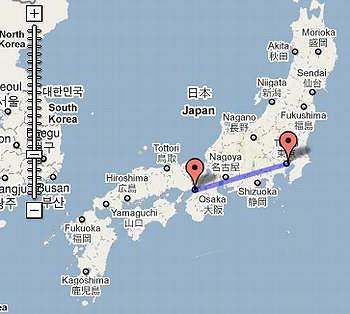 Red markers show the planned JR Tokai maglev train line from Tokyo in the east to Nagoya and on to its westernmost point, Osaka. (Map courtesy Google Maps)
Last year the railway ordered a fleet of 14 Series L0 maglev vehicles for the extended test track.
The ministry told JR Tokai to build the maglev infrastructure on an almost straight route, using underground tunnels to pass beneath the mountains that lie between Tokyo and Nagoya.
In December, JR Tokai expects to begin an environmental assessment of the route running through the Akaishi Mountains, northwest of Mount Fuji. The company says construction is planned to start in 2014.
Much of the project's 9 trillion yen budget is needed to construct the tunnels through which the trains will run for more than 60 percent of the entire line. Plans call for the tunnels to be built deep underground for a total of 100 km (60 miles) in the Tokyo, Nagoya and Osaka areas.
In December 2007, JR Tokai announced its intention to raise funds for the construction of the Tokyo-Osaka maglev line on its own, without government financing.
Japanese maglev technology also has a future internationally, particularly in the United States.
On May 11, 2010, U.S. Transportation Secretary Ray LaHood visited the Yamanashi Maglev Test Line for a test ride and tour of the command center facilities.
"I have to say, those trains are fast. Very fast," said Secretary LaHood. "Those of us who saw the Japanese trains are impressed with the railroad system in Japan. And we do look forward to opportunities to partner in America with experienced rail companies from abroad."
"But we're only interested in partnerships that use American workers in American facilities," said LaHood.
To meet that requirement, U.S.-Japan Maglev (USJMAGLEV) is a U.S. company that was founded in association with Central Japan Railway to market and deploy its Superconducting MAGLEV technology internationally, including in the United States. USJMAGLEV was founded in 2009 and is headquartered in Washington, DC.
USJMAGLEV is working to identify and join with U.S. partners that are at the top of their field in construction, engineering, operations and maintenance to compete for maglev corridor projects, particularly in the highly populated Northeast corridor.
Copyright Environment News Service (ENS) 2011. All rights reserved.
© 2011 – 2012, Jim Crabtree. All rights reserved.