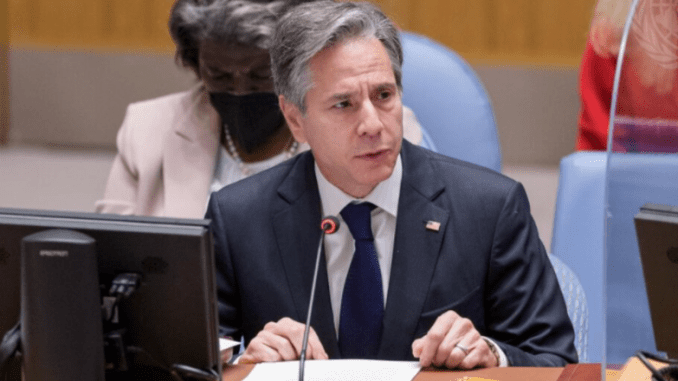 NEW YORK, New York, September 23, 2021 (ENS) – "The climate crisis isn't coming. It's already here," U.S. Secretary of State Antony Blinken told the United Nations Security Council today in a special meeting on climate and international security.
"Right here in New York City where we're gathered today, earlier this month, a punishing storm caused by the remnants of Hurricane Ida killed dozens of people, including a two-year-old boy, and inflicted tens of billions of dollars in damage. More than three inches of rain fell in Central Park in a single hour, breaking a record set only a few weeks earlier," Secretary Blinken said.
"Look at any one of our countries, you will see record-breaking extreme weather events like this," he observed.
Blinken pointed to the disastrous impacts of the changing climate on human beings. "The consequences are falling disproportionately on vulnerable and low-income populations. And they're worsening conditions and human suffering in places already afflicted by conflict, high levels of violence, instability."
He expressed urgency, saying, "These mounting impacts – together with the synthesis report released last week and the comprehensive report of the Intergovernmental Panel on Climate Change released last month – underscore the urgent need to dramatically cut our emissions and build our resilience for the inevitable changes to come."
"From day one, President Biden has made addressing the climate crisis a top priority of our administration," Blinken said, "including by directing me – and every one of our diplomats – to ensure it's a core element of U.S. foreign policy. We're taking into account how every bilateral and multilateral engagement we have – every policy decision we make – will impact our goal of putting the world on a safer, more sustainable path."
"That's not only because of the devastating – and in some instances, irreversible – implications of climate change for our majestic planet. It's also because of the cascading effects on virtually every aspect of our lives, from agriculture to infrastructure, from public health to food security," the secretary acknowledged.
This position on climate change is a complete about-face for the United States, which under President Joe Biden's predecessor, Donald Trump, denied or ignored the entire climate crisis.
But is the climate an issue for the UN Securioty Council? Secretary Blinken says it is.
"We have to stop debating whether the climate crisis belongs in the Security Council and instead ask how the Council can leverage its unique powers to tackle the negative impacts of climate on peace and security," he said today. "That's an argument that should have been settled a long time ago,"
"Look at almost every place where you see threats to international peace and security today – and you'll find that climate change is making things less peaceful, less secure, and rendering our response even more challenging," said Blinken. "That's the story of Syria, Mali, Yemen, South Sudan, Ethiopia, many other places beset by strife."
"By agreeing that the issue belongs here in the Security Council, we'll also send a clear message to the international community of the serious implications that climate change has for our collective security," Blinken said.
Chairing the meeting, Ireland's Prime Minister Micheál Martin shared his view that the Security Council should take a greater role in climate assessment and mitigation, including through peacekeeping operations and mandates.
"People affected by climate change-driven conflict depend on this Council for leadership", Martin said. "Now is the moment for the Council to act."
Security Council Profile 2021
The 15-member UN Security Council seeks to address threats to international security. It fosters negotiations, imposes sanctions, and authorizes the use of force, including the deployment of peacekeeping missions. Its five permanent members, chosen following World War II, have veto power.
Currently, China, France, Russia, United Kingdom, and the United States are the permanent members, while the‍ non-permanent members are: Estonia, India, Ireland, Kenya, Mexico, Niger, Norway, Saint Vincent and the Grenadines, Tunisia, and Vietnam.
The open debate is an important event in Ireland, which holds the Security Council presidency for the month of September.
Scheduled to coincide with the high-level week of the UN General Assembly, and with the UN's Climate Week, the debate was attended by two heads of state, one head of government and several ministers. Irish Prime Minister Micheal Martin presided.
UN Chief Urges Action to Counter 'Risk Multipliers'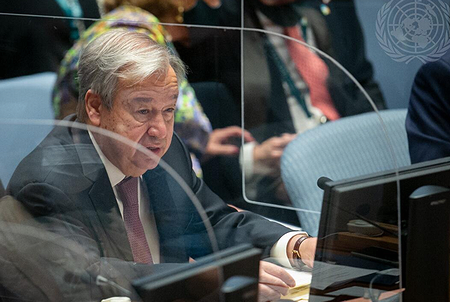 UN Secretary-General Antonio Guterres described climate change and environmental mismanagement as "risk multipliers."
He explained to the Security Council that last year, climate-related disasters displaced more than 30 million people and that 90 percent of refugees come from countries least able to adapt to the climate crisis.
Many of these refugees are hosted by States also suffering the impacts of climate change, "compounding the challenge for host communities and national budgets," Guterres told the Council, adding that the COVID pandemic is also undermining the ability of governments to respond to climate disasters and build resilience.
The idea of climate security as part of environmental security has been around for a long time. It was first mentioned in the landmark 1987 Brundtland Report "Our Common Future."
Thirty-four years later, maintaining that "it is not too late to act," Guterres outlined three "absolute priorities," beginning with capping global temperature rise at 1.5 degrees Celsius above pre-industrial levels.
To avert catastrophic climate impacts, he urged all Member States to increase their Nationally Determined Contributions – plans through which countries commit to increasingly ambitious climate action – before the UN climate conference COP26 in Glasgow and to translate those commitments into "concrete and immediate action."
"Collectively, we need a 45 percent cut in global emissions by 2030," he urged.
Presidents of Vietnam and Estonia Share Their Climate Concerns
President of Vietnam Nguyen Xuan Phuc told the Council meeting that the devastating impacts of climate change on every continent are using up valuable resources meant for socioeconomic development, thereby worsening poverty and inequality.
"These consequences may well erupt into geopolitical tension and instability, damaging peace, security, development and prosperity of States and nations," President Phuc warned, emphasizing the need for vigorous action by the Council.
It should establish mechanisms for the early assessment, forecast and warning of climate security risks, "while they are still distant", he said.
The United Nations should also create a database on the impacts of rising sea levels, he added, also calling greater efforts to protect civilians and infrastructure and to safeguard the sovereignty of nations.
Urging developed countries to take the lead in cutting greenhouse gas emissions, he said they should provide developing nations with the financing, technical assistance and know-how needed to do the same.
Noting that successive natural disasters have devastated the lives of some 20 million people in Vietnam, he underscored his country's commitment to undertaking climate action and to developing a green, sustainable and low‑carbon economy.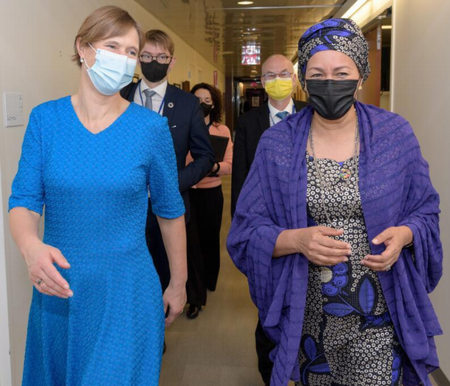 President of Estonia Kersti Kaljulaid told the Council that the international community cannot ignore the massive changes triggered by climate change. She urged all nations to concentrate on building State and societal resilience, which would help reduce and manage risks before they become critical threats to international peace and security.
Agreeing with other speakers that the Security Council does have the scope and tools needed to address climate‑related security risks, she said much more should be done to integrate the issue into its work.
Calling for a systematic approach based on conflict prevention and data collection, she advocated for a UN resolution on climate and security.
President Kaljulaid pointed out that only a few UN peacekeeping missions currently reflect climate and security risks in their mandates. The UN's own climate policy is also a critical focus, she said, calling for green, just and inclusive transitions that avoid fueling marginalization or competition.
Secretary-General Guterres, acknowledging that 80 percent of the UN's own carbon emissions come from its six largest peacekeeping operations, said the United Nations itself has to do better.
He assured the meeting that the UN is working on new approaches to shift to renewable energy producers, which will continue "beyond the lifetime of our missions."
Secretary Blinken, too, focused on UN peacekeeping missions in the field. "UN field missions should consistently incorporate the effects of climate change into their planning and implementation, as was done in the mandates for the UN Assistance Missions for Iraq, the UN Multidimensional Integrated Stabilization Mission in Mali, and the UN Office for West Africa and the Sahel, among others. Doing that will advance mission activities; it will foster stability; it will build resilience."
Blinken urged the UN to further integrate climate-related analysis into its conflict mediation and conflict prevention efforts, particularly in fragile states and areas of active conflict.
The UN Department of Political and Peacebuilding Affairs decision to include climate security in its Strategic Plan for the first time in 2020 and the Climate Security Mechanism are very positive examples of just this.
To any who doubt the merits of these steps, I'd just encourage you to just ask some of the UN force commanders, the special envoys, the negotiators, the peacebuilders, others who are out there grappling with the impacts of climate in their everyday efforts. They are hungry for more tools like these.
France's Minister for Europe and Foreign Affairs Jean-Yves le Drian said that, because the climate fight is a geopolitical issue and a matter of peace and security, the Security Council is well within its rights to address it. 
Emphasizing that violent groups and terrorists must be prevented from taking advantage of the impacts of climate change in places already fragile or affected by conflict, Minister le Drian observed that 12 of the most conflict‑impacted nations are also among the countries most vulnerable to climate change. 
Citing the positive example of the Great Green Wall tree-planting initiative in the Sahel region, he called for more projects that integrate development actions into efforts to build up climate resilience.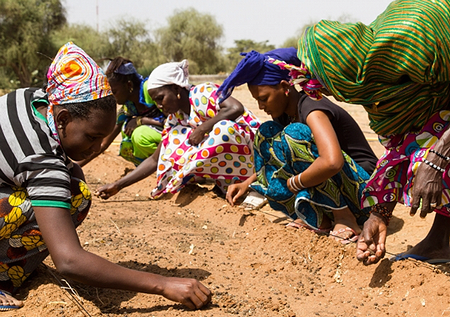 The Great Green Wall winds along the southern margin of Africa's Sahara Desert and when complete, it will run from the Atlantic coast to the Red Sea.
The Great Green Wall creates a barrier against climate change running across the Sahel, a semiarid region extending from Senegal on Africa's west coast to Djibouti in the east. It forms a transitional zone between the arid Sahara desert to the north and the belt of humid savannas to the south. 
Since this initiative began in 2007, the Great Green Wall has partnered with stakeholders to regreen the region and create an 8,000 km (5,000 mile) long ribbon of green involving at least 11 countries.
The African-led flagship program demonstrates how to harness the power of nature to provide policy solutions to multiple, complex environmental threats – land degradation, desertification, drought, climate change, biodiversity loss, poverty and food insecurity, simultaneously.
"We need to work to anticipate and mitigate the consequences of climate disasters," including by helping the world's most vulnerable countries in such areas as mapping, financing and the provision of emergency humanitarian assistance," the French minister said. 
Norway's Minister for Foreign Affairs Ine Eriksen Soreide said the Security Council should adopt a thematic resolution on climate and security to guide its work, explaining that the intention is not to take on the tasks of other United Nations bodies, but rather to tackle climate change as a matter of preventing conflict.
In fact, all speakers who addressed the Security Council meeting do support the involvement of the Security Council in dealing with the changing climate as a matter of international security.
Turning Threat Into Opportunity
While he focused today on the threats posed by the climate crisis, Secretary Blinken also presented a positive view of what the changing climate will bring.
"We agree that to prevent cataclysmic consequences, all our nations must take immediate, bold actions to build resilience, to adapt to the unavoidable impacts, and move swiftly to a net-zero world," the secretary said.
"That is our shared charge for COP26, which is now only weeks away. And if we're to keep within reach the goal of limiting global warming to 1.5 degrees Celsius, every nation will need to bring their highest possible ambitions to the table," he urged.
"But these efforts – and the investments they will require from all of us – also present an unprecedented opportunity to expand access to affordable, clean energy; to build green infrastructure; to create good-paying jobs – all of which could be the spur to long-term economic growth, reverse growing inequities within and between our nations, improve the lives of people around the world," Blinken observed.
So even as we are clear-eyed about the threat, let's not lose sight of this once-in-a-generation global opportunity. Let's be driven not only by the fear of all the damage the climate crisis can inflict – and already has inflicted – but also by the imagination of all the ways our response can actually make people's lives better, now and into the future."
Secretary-General concluded, "We are all part of the solution. Let us all work together to mitigate and adapt to climate disruption to build peaceful and resilient societies."
Featured image: Antony Blinken, U.S. Secretary of State, addresses the United Nations Security Council meeting on maintenance of international peace and security on the theme Climate and Security. Behind him at left is Permanent Representative of the United States to the United Nations Linda Thomas-Greenfield. September 23, 2021 (Photo by Manuel Elías courtesy United Nations)
© 2021, News Editor. All rights reserved.