Scotts Miracle-Gro Pleads Guilty to Breaking Federal Pesticide Law
COLUMBUS, Ohio, March 14, 2012 (ENS) – Ohio lawn and garden care company Scotts Miracle-Gro has pleaded guilty to breaching federal pesticide laws by using an unapproved insecticide on bird seed sold nationwide for two years.
In Columbus, U.S. District Court Judge James Graham accepted the company's guilty plea on Tuesday.
Scotts is proposing to pay a $4 million fine and give $500,000 to help support wildlife conservation and study. Judge Graham said he will issue his decision on the plea agreement at sentencing, which has not yet been scheduled.
The government alleges that beginning in 2005, Scotts produced a line of wild bird food products under names including "Morning Song" and "Country Pride" that contained insecticides.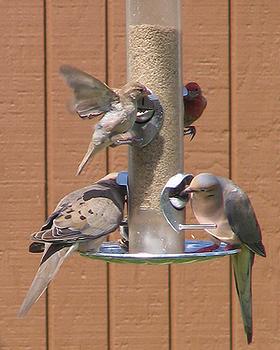 Doves, sparrow and house finch on an Illinois backyard birdfeeder that does not contain the toxic products mentioned in the Scotts' lawsuit. (Photo by Marilee)
The government says the insecticides, which are toxic to birds and other wildlife, were not approved for use on bird food.
According to court records, in 2008, Scotts distributed 73 million packages of bird seed coated with the insecticides Storcide II, containing the active ingredient chlorpyrifos, and and Actellic 5E, containing the active ingredient pirimiphos-methyl, intended to keep insects from destroying the seed.
The company continued to produce and market the insecticide-coated seeds despite being alerted to toxicity dangers by a Scotts staff chemist and ornithologist.
Storcide II is labeled as "Toxic to birds. Toxic to wildlife," and that "Exposed treated seed may be hazardous to birds." No such warning exists on the Actellic 5E label.
The U.S. Environmental Protection Agency's own fact sheet on pirimiphos-mehtyl states that "Ecological risks are not of concern to the Agency." Yet the same fact sheet also states "Although pirimphos-methyl is highly toxic to birds and fish, these risks are not of concern based on the use pattern of pirimiphos-methyl."
This would seem to indicate that the EPA did not anticipate this chemical to be used on anything intentionally fed to birds, says the nonprofit American Bird Conservancy.
"EPA needs to amend the use label for Actellic 5E and any other pesticide containing the same active ingredient, pirimiphos-methyl, to agree with their own fact sheet, and ensure that no other birds are poisoned by seed dosed with this toxic chemical," said American Bird Conservancy President George Fenwick.
"This highlights a key problem that it is the pesticide registrant that writes the labels on pesticides, not EPA," Fenwick said. "In some cases, it would seem that EPA is not effectively checking that the labels encompass the agency's responsibilities for birds."
The federal government also alleged that a Scotts manager fabricated federal documents and correspondence to obtain state registrations for two products that were being marketed without U.S. EPA registration.
The government alleged that the manager "told EPA that these files proved that the products had been properly reviewed and registered by EPA when, in fact, they were not authentic EPA files and when, in fact, the products had not been approved and registered by EPA."
The government also charged that between 2005 and 2007 Scotts sold two pesticides without directions required by the EPA and making claims on labels about the product that the EPA had rejected.
On April 23, 2008, EPA Region 5 today issued a "stop sale, use or removal" order against Scotts Miracle Gro Co., Scotts Lawn Care Service and three affiliates, all of Marysville, Ohio, for illegal, unregistered and misbranded pesticides.
Identified by invalid registration number 62355-4, the two products were marketed as Garden Weed Preventer + Plant Food and Miracle Gro Shake 'n' Feed All Purpose Plant Food Plus Weed Preventer.
A Scotts spokesman declined comment until after sentencing.
Copyright Environment News Service (ENS) 2012. All rights reserved.
Environment News Service (ENS) © 2012 All Rights Reserved.