Senate Passes Transportation Bill, Rejects Oil Drilling in Arctic Refuge
WASHINGTON, DC, March 14, 2012 (ENS) – The U.S. Senate today passed a $109 billion transportation funding bill that reauthorizes the nation's surface transport programs for two years. The current surface transportation authorization is set to expire on March 31.
By a bipartisan vote of 74 to 22, the senators approved the bill, S.1813, Moving Ahead for Progress in the 21st Century (MAP-21), which will maintain funding at current levels, indexed for inflation.
Transportation Secretary Ray LaHood said, "Today's passage of the Senate transportation bill shows what Congress is capable of when they work together in a bipartisan manner."
Secretary LaHood thanked Senators Barbara Boxer, a California Democrat who chairs the Environment and Public Works Committee, and James Inhofe, an Oklahoma Republican who is the ranking member on that committee, for their leadership in moving the transportation bill through the Senate.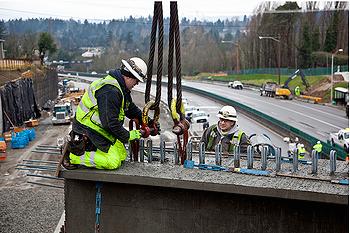 Highway construction crew in Seattle, Washington (Photo courtesy WSDOT)
Senate Majority Leader Harry Reid, a Nevada Democrat, also praised the bipartisan nature of the vote. "Today, a strong bipartisan majority voted to create or save nearly three million jobs rebuilding roads, bridges and railways in Nevada and across the country," he said. "This is exactly how Congress should work: Democrats and Republicans coming together to forge common-sense solutions that will provide much-needed improvements to our nation's crumbling transportation infrastructure, while creating jobs and keeping our economy moving forward."
"I urge my colleagues in the House to pass this bipartisan bill without delay," said Reid. "If there was ever a piece of legislation that should not turn into a partisan fight, this is it. I hope my Republican colleagues in the House will choose to join us in this bipartisan, job-creating effort instead of trying to appease the Tea Party by manufacturing another fight."
The White House also urged swift House approval, saying, "We are pleased that Senators have continued the tradition of working across the aisle to pass a bill that keeps Americans at work maintaining our nation's vital infrastructure and provides states and localities the certainty they need to plan ahead. We are hopeful that the House will move swiftly and in similarly bipartisan fashion to do the same."
House Republicans are pushing a five-year transportation bill that would include provisions opposed by Democrats, such as expanded oil drilling on federal lands, including the Arctic National Wildlife Refuge.
In its first vote on the issue since 2008, the Senate Tuesday rejected an amendment offered by Kansas Republican Senator Pat Roberts that would open the Arctic refuge's coastal plain to drilling. The measure needed 60 votes to pass but was turned down by a vote of 41-57.
The amendment also would have allowed drilling in vast stretches of coastal waters, including the Eastern Gulf of Mexico, offshore Virginia and Alaska's Bristol Bay, would have approved the Keystone XL tar sands pipeline, and would have reinstated 11th hour regulations from President George W. Bush that would allow commercial-scale leasing of western public lands for oil shale and tar sands developments.
Senator Inhofe voted for the Roberts amendment, saying, "While consumers are reeling from the pain of $4 per gallon gasoline, this amendment would have made great strides to decrease energy costs by allowing Americans to drill for and use their own energy supplies."
Alaska Democratic Senator Mark Begich broke with his party and voted for the amendment, saying he did it to "increase domestic energy production."
"I am disappointed others in the Senate junked it up with a bunch of other provisions, as this is no way to address gas prices and our long-term energy needs," said Begich.
But conservationists say drilling in the Arctic refuge will not combat today's high gas prices. What small amounts of oil might be generated from oil and gas leasing in the Arctic refuge would not be seen for 10 years as oil companies will still need to explore, apply for drilling permits and start development.
Jamie Rappaport Clark, president and CEO of Defenders of Wildlife, and a former director of the U.S. Fish and Wildlife Service said, "The Senate today continued the legacy of keeping dirty and dangerous drilling out of the pristine Arctic National Wildlife Refuge, demonstrating a commitment to our country's natural treasures and a refusal to engage in the Big Oil giveaway that is keeping its Congressional counterpart spinning its wheels."
Clark said, "If the House of Representatives is serious about securing critical transportation funding this year, they should follow suit and remove Big Oil's wish list from the bill."
Copyright Environment News Service (ENS) 2012. All rights reserved.
© 2012, Jim Crabtree. All rights reserved.