South Sudan Safeguards Wildlife Amidst Interethnic Warfare
BOMA NATIONAL PARK, South Sudan, March 13, 2012 (ENS) – A new headquarters building was inaugurated in wildlife-rich Boma National Park on Friday in South Sudan's conflict-ridden Jonglei State.
The world's newest nation, South Sudan claimed its independence on July 9, 2011, but fighting still rages in Jonglei. Conservationists and South Sudanese and U.S. government officials hope that the establishment of protected area management and local governance infrastructure can contribute to security, stability, eco-tourism and economic growth, especially in this isolated region.
Boma was established as a national park in 1986, when South Sudan was part of Sudan. The new headquarters was built with funding from the U.S. Agency for International Development, USAID.
U.S. Ambassador to South Sudan Susan Page, who represented the U.S. government at the event, said, "It is so important that we continue to work together to preserve this area and its wildlife, which are threatened by hasty and unplanned development, or by wildlife poachers, who would ruin a world treasure for their own short-term benefit."
Governor of Jonglei State General Kuol Manyang Juuk said at the inauguration ceremony, "Wildlife is an abundant resource in South Sudan that we have to preserve and use as a source of income. Oil will one day finish, but tourism will continue forever if we maintain our wildlife."
Authorities in South Sudan have threatened to shut down oil production because of a lack of progress in talks to resolve a dispute with neighboring Sudan over revenues and tariffs for the use of Sudan's infrastructure to export the commodity.
Governor Juuk said that establishing and strengthening wildlife management and government presence here will help to bring general security to the area.
Minister for Wildlife Conservation and Tourism Gabriel Changson Chang said, "Boma National Park, with its wildlife and scenic attractions, is a key site for initial tourism development in South Sudan. The opening today of the park headquarters infrastructure marks a major step in protecting the wildlife resource and providing the foundation for attracting investors to develop tourism facilities at Boma National Park and throughout the country."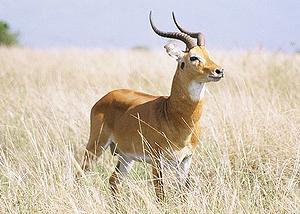 White-eared kob (Photo by Frank Dickert)
Boma National Park covers 20,000 square kilometers of woodland savanna and grassland in Jonglei and Eastern Equatoria states. The park protects one of the largest intact savanna ecosystems in East Africa, hosting populations of elephants, giraffe, buffalo, numerous antelopes, including common eland, lesser kudu, Bohor reedbuck, gazelles, tiang, Lelwel hartebeest, Beisa oryx, and roan, and a wide diversity of migratory birds.
Boma also hosts critical breeding grounds for the 750,000-strong white-eared kob migration and provides dry season forage for other migratory antelopes.
Protected area management here is expected to play a critical role in strengthening and supporting local government and improving security in addition to protecting biodiversity and providing a sustainable foundation for economic growth.
USAID and the Wildlife Conservation Society are supporting the South Sudan Wildlife Forces to undertake law enforcement and monitoring activities and to develop security partnerships with other armed forces and local communities.
Speaking at the inauguration ceremony, Dr. Paul Elkan, Wildlife Conservation Society's South Sudan director, said, "The opening of Boma National Park headquarters is another major step toward establishing a functioning network of national parks and reserves across South Sudan, which will provide protection for the country's exceptional wildlife and great migrations, and provide a platform for creating partnerships to improve security for the benefit of both wildlife and local communities."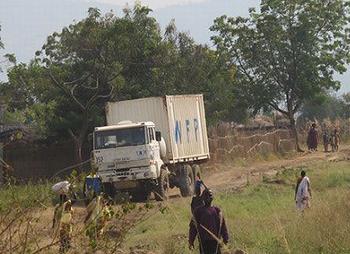 A UN World Food Programme truck approaches Boma in South Sudan's Jonglei state, where ethnic violence has displaced thousands. (Photo by Rehan Zahid courtesy WFP)
South Sudan is at war with at least seven armed groups in nine of its 10 states and interethnic warfare that precedes the war of independence is widespread. In December 2011, tribal clashes in Jonglei intensified between the Nuer White Army of the Lou Nuer and the Murle.
Deadly clashes between the Lou Nuer and Murle in late December and early January displaced tens of thousands of civilians and prompted United Nations agencies to launch a major humanitarian operation to assist those in need.
The United Nations peacekeeping mission in South Sudan today said it has sent patrol units and a medical team to an area near Boma on the country's border with Ethiopia where unidentified raiders attacked several cattle camps occupied by members of the Lou Nuer ethnic group.
The latest attacks came even as the Government of South Sudan appointed a peace committee to broker reconciliation between feuding communities in Jonglei.
Fighting in Jonglei is fueled by the prevalence of small arms, lack of government presence, and inaccessibility in the rainy season, due to the absence of roads.
In 2007, the Wildlife Conservation Society announced the spectacular mammal migrations across the Boma region had survived decades of war, and said that vast tracts of savannas and wetlands remained largely intact.
Surveys and GPS collaring research by WCS and the Ministry of Wildlife Conservation and Tourism over the past few years have revealed important transboundary linkages between the wildlife populations of Boma National Park with neighboring Gambella region of Ethiopia.
Discussions for development of a transboundary protected area between South Sudan and Ethiopia are underway.
The Wildlife Conservation Society says provision of high-frequency radios and training in their use and maintenance, along with other communications and transportation equipment, is enabling park staff to remain in close contact with local authorities and officials throughout the region and coordinate inter-agency conservation and security partnerships.
Ambassador Page said, "The development of this kind of infrastructure is part of the U.S. effort to support stability, economic prosperity, and sustainable development in South Sudan. The infrastructure will strengthen the government's ability to provide security for the citizens of Jonglei and Eastern Equatoria States and will help protect one of the largest intact savannah ecosystems in East Africa."
Copyright Environment News Service (ENS) 2012. All rights reserved.
Environment News Service (ENS) © 2012 All Rights Reserved.