Satellites Help Nome-bound Russian Fuel Tanker Avoid Sea Ducks
ANCHORAGE, Alaska, January 6, 2012 (ENS) – This weekend, on its way to deliver more than a million gallons of emergency fuel to the town of Nome, Alaska, the Russian tanker Renda will move through an area used by wintering spectacled eiders, a federally threatened sea duck.
To protect the ducks and their habitat, resource managers from the U.S. Fish and Wildlife Service and navigators from the U.S. Coast Guard are using satellite telemetry information from the U.S. Geological Survey to plot a route for the tanker that minimizes its impact.
"Protecting America's fish and wildlife resources is a shared responsibility. It is satisfying to see agencies working together to protect threatened and endangered species, while meeting the needs of our communities," said Ellen Lance, the Endangered Species Branch chief for the U.S. Fish and Wildlife Service's Alaska Region.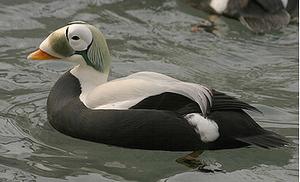 Spectacled eider in Alaska (Photo by Laura Whitehouse courtesy USFWS)
The arctic nesting sea ducks are now wintering south of St. Lawrence Island in the northern Bering Sea, where sea ice and abundant prey make their winter survival possible.
But in Nome, a fuel shortage is creating an emergency.
Fuel delivery to the town of 3,600, located on the edge of the Bering Sea on the southwest side of the Seward Peninsula, was delayed by what AccuWeather's Vickie Frantz calls the "snowicane" conditions that struck during the first week of November.
A fuel barge carrying 1.6 million gallons of fuel was en route to Nome when the storm hit. The barge was delayed and was unable to reach the town before winter sea ice closed in. Nome is now surrounded by foot-thick ice.
In early December, the Sitnasuak Native Corporation of Nome signed a contract with the Alaska company Vitus Marine to deliver more than a million gallons of diesel fuel and 400,000 gallons of gasoline to Nome via a double-hulled Ice Classed Russian tanker.
The vessel is certified to travel through four feet of ice and recently traveled through five feet of ice for extended distances while delivering fuel to communities in the Russian Far East.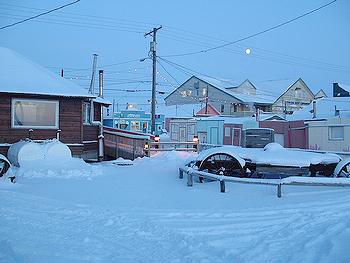 Downtown Nome in winter (Photo by anderson)
If successful, this voyage will mark the first time that petroleum products have been delivered by sea to a western Alaskan community in winter.
The Alaska Department of Environmental Conservation has just approved the Renda's oil spill prevention plan during the fuel delivery, enabling the tanker to leave Dutch Harbor for Nome, where it is expected to arrive on Monday.
Officials with Vitus Marine LLC say the Renda has crossed the Aleutian islands and is beginning to follow the U.S. Coast Guard icebreaker Healy through more than 300 miles of sea ice to Nome.
But almost the entire global population of threatened spectacled eiders is in the path of the two vessels.
Satellite telemetry provides a way to track animals regardless of location, time of day, or weather. Transmitters send information to orbiting satellites, which relay the data to land-based receivers.
"As stewards of the environment, we found the data invaluable to our mission planning and execution while protecting our nation's critical spectacled eider habitat," said U.S. Coast Guard Capt. Craig Lloyd, District 17 Chief of Response.
Implantable satellite transmitters were first used by USGS Alaska Science Center biologists in 1993 to discover the molting and wintering distribution of spectacled eiders. At that time, no one knew where the species lived during the non-breeding months of its reproductive cycle.
USGS tracking data and subsequent aerial surveys revealed that spectacled eiders wintered in the northern Bering Sea, within the pack ice.
"Not only was this a surprise, but we've learned that about 380,000 spectacled eiders, or almost the entire population of this species, use this area every winter for five to six months," said Matthew Sexson, USGS biologist, "an amazing natural phenomenon in an incredibly harsh environment."
In 2008, USGS biologists began marking spectacled eiders with improved transmitters with longer life cycles to learn more about the species to help resource managers plan conservation actions and strategies. Each transmitter can last as long as two years.
USGS Director Marcia McNutt said today, "Nearly 20 years ago, USGS biologists used the latest satellite tracking technology available at the time to uncover the mysterious wintering behavior of the spectacled eider, now a threatened species. Little did these scientists know at the time that their information would be critical in allowing a Russian tanker decades later to thread the needle to Nome in order to deliver life-saving fuel oil without taking a toll on these elusive sea ducks."
Between 2008 and 2011, 129 transmitters were deployed at spectacled eider nesting areas in coastal Alaska. The project is expected to produce continuous tracking data through 2013.
Copyright Environment News Service (ENS) 2011. All rights reserved.
© 2012, Jim Crabtree. All rights reserved.