Grounded Cargo Ship Breaks Up on New Zealand Reef
TAURANGA, New Zealand, January 8, 2012 (ENS) – A cargo ship that has been grounded since October 5, 2011 on the northern end of New Zealand's North Island broke in half overnight in heavy seas.
Maritime New Zealand, the agency in charge of response, says the 236 meter-long Rena separated into two pieces that are now 30 meters apart on Astrolabe Reef, about 12 nautical miles off Tauranga Harbor and the Bay of Plenty.
Seas of up to six meters (20 feet) hit the vessel overnight, and weather conditions continue to be poor. The current severe weather is expected to continue for the next three to four days, with the worst weather expected on Monday.
The forward section of the ship is in its original position on the reef, with the stern section broken away and moving significantly, but also still on the reef, according to Maritime New Zealand.
Maritime New Zealand Salvage Unit Manager David Billington said dozens of containers and much debris spilled from the ship overnight as a result of the breakup.
"While the two sections of the Rena currently remain on the reef, there's no question the ship is badly damaged with the severe movement breaking off many of the hatch covers and releasing containers from the holds," Billington said. "Salvors are now working to assess the state of the vessel so that naval architects can undertake further calculations get gain a clearer picture of its ongoing stability."
Fears are mounting that more oil could leak from the damaged vessel in addition to the 360 metric tonnes already spilled. This may result in an extension of the three-nautical-mile exclusion zone around the stricken vessel, the maritime agency said.
National On Scene Commander Alex van Wijngaarden said the National Response Team, which includes oil spill response and wildlife experts, has been mobilized to prepare for the likelihood of more oil coming ashore.
"While reports at this stage indicate there has not been a significant release of oil, with the Rena in its current fragile state, a further release is likely," van Wijngaarden said. "Preliminary trajectory modeling predicts that any oil released will come ashore around midnight tonight."
The Rena is owned by the Greek shipping company Costamare Inc. through one of its subsidiaries, Daina Shipping Co.
There were 1,368 containers on board Rena at time of grounding. Salvors have removed 389 containers from the Rena, with 98 in total believed to have been lost overboard. This brought the total estimated number of containers still on board to 881 before the ship broke apart.
Overnight, 23 containers were lost from the ship, and are floating or partly submerged, with another seven thought to be in the water. Billington said more were likely to be lost.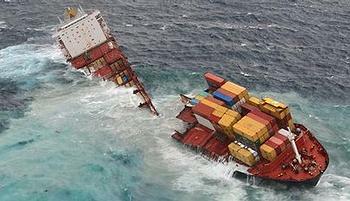 The Rena in pieces on Astrolabe Reef (Photo courtesy MNZ)
There were 1,712 metric tonnes of oil on board Rena when it grounded. Around 350 tonnes of oil were spilled on October 11, and an estimated five to 10 tonnes of oil were spilled overnight on October 22.
More than 1,000 tonnes of oil were recovered through fuel recovery operations on board Rena, according to Maritime New Zealand.
At the height of the response in mid-November some 800 people were involved in the oil spill response team, including members of the Incident Command Centre and people in the field undertaking beach clean-up and wildlife response.
The Rena's master and second officer, whose names and identities have been withheld by New Zealand authorities, each have been charged under the Resource Management Act with "discharge of harmful substances from ships or offshore installations."
The charge carries a maximum penalty of a fine of $300,000, or two years' imprisonment, and $10,000 for every day the offending continues.
They also both face one charge each under the Maritime Transport Act "for operating a vessel in a manner causing unnecessary danger or risk." The MTA charge carries a maximum penalty of $10,000 or a maximum term of imprisonment of 12 months.
On December 21, Maritime New Zealand laid further charges were laid against the master and second officer.
The men have been charged with "wilfully" attempting "to pervert the course of justice" by altering ship's documents subsequent to the grounding on Astrolabe Reef. Each charge carries a maximum penalty of seven years in prison.
Both men appeared December 21 in the Tauranga District Court and were remanded on bail without plea on all charges until February 29, 2012.
Copyright Environment News Service (ENS) 2011. All rights reserved.
Environment News Service (ENS) © 2012 All Rights Reserved.