Record Snowfall Buries Atlantic Coast
WASHINGTON, DC, February 10, 2010 (ENS) – Heavy wet snow is falling and blizzard warnings are in effect from eastern West Virginia to the Delaware coast and north to Long Island. Airports, roads, offices and schools are closed throughout the region.
As the expansive area of wintry precipitation moves from the Mississippi River Valley into the Midwest and toward the Mid-Atlantic, the National Weather Service says widespread heavy snows are likely over the next few days from the Great Lakes, upper Ohio Valley, central Appalachians, northern Mid-Atlantic, and into the New York City metro area and southern New England region.
Snowfall totals late Tuesday into early Wednesday at Baltimore; Washington, DC; and Wilmington, Deleware from this storm have made the winter of 2009-2010 the snowiest on record for these cities, the National Weather Service reports.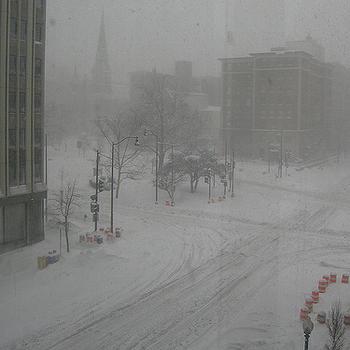 Snowfall in Washington, DC today shuts the city down. (Photo by Andy McMahon)
Snow accumulations of six to 12 inches are expected in the Metropolitan DC area. Congress and federal agencies in the area are closed. Mayor Adrian Fenty declared a snow emergency as of Tuesday afternoon. All DC public schools and city administrative offices are closed today.
Dulles International Airport and Reagan National Airport both have cancelled flight operations due to snow removal activities. Metro rail above ground and Metro Bus services are suspended. The Virginia Rail Express has suspended operations today.
Up to 20 inches of snow are expected in parts of Maryland, southern Pennsylvania, and eastern New Jersey.
The lower Hudson River Valley and Boston can expect eight to 10 inches before the system moves out to sea.
Winds of up to 20-30 mph, with gusts up to 40 mph, near blizzard conditions, are possible in Cape Cod and out on Long Island.
Hurricane force winds are possible offshore. Wind and waves in coastal areas may cause minor coastal flooding and beach erosion. High wind warnings are currently in effect from northern Georgia through upstate South Carolina, North Carolina and into southern Virginia.
In New York City, government offices are open but public schools are closed today.
Mayor Michael Bloomberg told reporters that sanitation trucks have been fitted with snow plows and on Tuesday night the city deployed 365 salt spreaders to salt highways, primary roads, and bus routes.
Urging people to leave their cars at home and use public transportation, the mayor said, "once a 'plow-able' two inches of snow is on the ground, 1,600 plows will begin removing snow from our city's roughly 6,300 miles of streets and highways."
"Police will survey roads for stranded motorists, and will be on the lookout for fallen electric wires," said the mayor. "This snow storm is predicted to heavy wet snow, which is about the worst thing you can possibly have for overhead lines because the trees can't stand the weight. Branches fall off or the trees themselves fall down, taking down the power lines, so I would urge you to have at home milk and flashlights with new batteries and anything you need if you can't get out and if you do not have electricity."
The Department of Buildings Tuesday issued a weather advisory to hundreds of construction superintendents across the city reminding them to secure their construction sites and buildings, and building inspectors performed random inspections of construction sites to ensure that equipment and loose materials are secured.
"The Department of Homeless Services has also issued a 'code blue' alert, which means that it is doubling the number of outreach vans that it is putting on the city streets," said the mayor.
In New Jersey, state offices are closed for the day, and currently 15,672 customers are without power. On Tuesday, 100 residents were evacuated from a nursing home in Cape May County.
The Mid-Atlantic states were still digging out from last week's heavy snowfall when this latest snow storm arrived.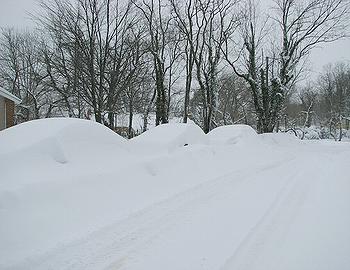 Cars under snow in Warrenton, Virginia (Photo by Birdma)
In Delaware, Governor Jack Markell declared a state of emergency due to heavy snow on Friday, restricting travel to emergency vehicles. That state of emergency has been lifted, but Governor Markell warned "While some travel is becoming necessary, many roads are still not safe. Please do not put yourself and others at risk by driving needlessly. Our teams are working very hard. Staying off the roads will help them do their jobs more safely and effectively."
In Virginia, 10,400 customers remain without power. Transportation services remain disrupted. Governor Bob McDonnell declared a state of emergency February 3 and updated it Tuesday. He said last week's snowfall left, "historic amounts of two to three feet" across northern and northwestern Virginia.
In Pennsylvania, 69,463 customers are without power, about 10,000 more than yesterday. With blizzard conditions causing impassible road conditions, Governor Edward Rendell has closed interstates 83, 78, and part of Interstate 81 beginning at 12:30 pm and is expecting to close additional roads as conditions deteriorate. Interstate 81 is closed from the Maryland line to Interstate 80.
With hazardous weather conditions in much of the state, the governor said it is too dangerous for any motorist to be driving. "For your safety, do not drive," he said. "You will risk your life and, potentially, the lives of others if you get stuck on highways or any road."
In Maryland, a state of emergency continues until further notice, and 4,220 customers are without power, down from 21,961. Governor Martin O'Malley said, "Maryland National Guard Units are prepared to assist local emergency managers and first responders around the state, and have already begun deployment to throughout Maryland. We urge residents to avoid driving except for the most urgent reasons."
Copyright Environment News Service (ENS) 2010. All rights reserved.