VICTORIA, British Columbia, Canada, February 9, 2010 (ENS) – Mining and drilling for oil, gas and coal will be banned in the Canadian portion of the Flathead river drainage, under legislation announced today in British Columbia's Speech from the Throne, an annual address that identifies the Province's legislative priorities for the coming year.
British Columbia Lieutenant Governor Steven Point declared, "A new partnership with Montana will sustain the environmental values in the Flathead River Basin in a manner consistent with current forestry, recreation, guide outfitting and trapping uses. It will identify permissible land uses and establish new collaborative approaches to transboundary issues."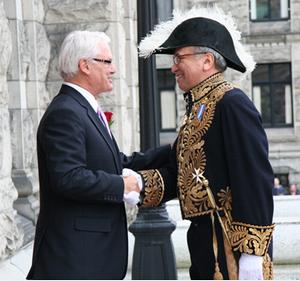 BC Premier Gordon Campbell, left, greets Lt. Gov. Steven Point at the entrance to the BC Legislature. February 9, 2010. (Photo courtesy Government of British Columbia)
"Mining, oil and gas development and coalbed gas extraction will not be permitted in British Columbia's Flathead Valley," said Point.
Conservation groups, led by Earthjustice in the United States and its Canadian counterpart Ecojustice, petitioned the United Nations in 2008 to investigate mining activities proposed in the Flathead Valley that could devastate a national park and a World Heritage site spanning the U.S.-Canadian border.
The groups argued that proposed mining and drilling projects in the headwaters of the Flathead River, located in the southeast corner of British Columbia, threaten the ecological health of Waterton-Glacier International Peace Park, a UNESCO World Heritage Site straddling the Alberta-Montana border that became the world's first International Peace Park in 1932.
The Flathead River Valley, in BC's southeast corner, adjoins the Waterton-Glacier International Peace Park.
Last month, a United Nations committee delivered a report to the governments of Canada and the United States in response to the petition, recommending a ban on mining in the Flathead Valley and the development of a conservation and wildlife management plan for the Waterton-Glacier park.
Canadian and U.S. conservation organizations praised the decision.
"Today's announcement marks an important step forward to protect the last undeveloped low-elevation valley in southern Canada, where grizzly bears, lynx and wolverines still roam beside pure waters that nurture rare native trout," said Tim Preso, staff attorney for the public interest law firm Earthjustice.
"We are pleased that British Columbia now recognizes what the UN World Heritage Committee recently reaffirmed – the wild Flathead Valley is a treasure more precious than coal or gold," Presco said.
"People in the Flathead Valley place a very high value on Glacier Park and clean water," said Dave Hadden of local conservation group Headwaters Montana. "The BC government announcement represents an important opportunity for Montanans to work with BC to protect the entire North Fork Flathead watershed, including unfinished conservation on the U.S. side of the border."
The Flathead is British Columbia's last unsettled low elevation valley, offering a rare convergence of multi-colored wild flowers on its slopes and an unparalleled refuge for carnivore species like mountain lions, grizzlies, lynx and wolverines, says the Sierra Club of British Columbia. The Flathead River, a free-flowing waterway that has never been dammed, is one of North America's last wild rivers.
"This is a great first step," said the Sierra Club's Sarah Cox. "We hope the government will continue to listen to British Columbians and take steps to permanently protect our world-class Flathead River Valley in the form of a National Park and Wildlife Management Area.
Until very recently, the Flathead was spared development by the quirk of fate that Canada's national railway line was forged through the adjacent Elk Valley, discouraging Flathead settlement.
Until today's announcement, the Sierra Club explains, the Flathead's wildness was under siege by mountaintop removal coal mining and coalbed methane development near the river's pristine headwaters.
"Supporting new coal and coalbed methane developments that will increase greenhouse gas emissions simply does not make sense, especially given that the BC government has legislated new CO2 carbon emissions reduction targets," says the Sierra Club.
Cline Mining's proposed Lodgepole mountaintop removal coal mine would see nearly 20 tonnes of tailings dumped onto the headwaters of the Flathead River each year.
BP Canada Energy Company, a subsidiary of British Petroleum, had plans to extract coalbed methane from an area greater than 500 square kilometres, straddling the Flathead and Elk watersheds. BP's proposed Mist Mountain project would have industrialized the pristine air, land and water of the Flathead with an expansive network of wells, roads, pipelines and compressors.
Together, the conservation groups warn, these industrial threats pose the threat of irreversible damage to one of southern Canada's last unprotected wilderness jewels.
"As the world's first international peace park, Waterton-Glacier is more than just a national park," said Will Hammerquist, Glacier Program Manager for the nonprofit National Parks Conservation Association. "It is an icon of international cooperation, peace between nations, and the special relationship between Canada and the United States."
"Today's announcement honors this vision, and is an opportunity to begin a new era of transboundary cooperation in the Flathead Valley and surrounding Crown of the Continent ecosystem."
Copyright Environment News Service (ENS) 2010. All rights reserved.
Environment News Service (ENS) © 2010 – 2012 All Rights Reserved.