Chamber of Commerce Challenges EPA's Greenhouse Gas Endangerment Finding
WASHINGTON, DC, February 17, 2010 (ENS) – The U.S. Chamber of Commerce Friday filed a formal petition in federal court challenging the U.S. Environmental Protection Agency's finding under the Clean Air Act that greenhouse gases endanger public health and welfare of current and future generations.
Steven Law, the Chamber's chief legal officer and general counsel, said, "The U.S. Chamber strongly supports efforts to reduce greenhouse gas emissions in the atmosphere, but we believe there's a right way and a wrong way to achieve that goal."
"The wrong way is through the EPA's endangerment finding, which triggers Clean Air Act regulation," said Law.
"Because of the huge potential impact on jobs and local economies, this is an issue that requires careful analysis of all available data and options. Unfortunately, the agency failed to do that and instead overreached. The result is a flawed administrative finding that will lead to other poorly conceived regulations further downstream."
"The right way," said Law, "is through bipartisan legislation that promotes new technologies, emphasizes efficiency, ensures affordable energy for families and businesses, and defends American jobs while returning our economy to prosperity. We also need a comprehensive international agreement that includes all CO2 emitting economies, which the Chamber has been actively working toward."
Law said the Chamber's challenge will be based on "lapses in EPA's process" in making the endangerment determination.
"The Chamber's legal challenge will focus specifically on the inadequacies of the process that EPA followed in triggering Clean Air Act regulation, and not on scientific issues related to climate change or endangerment," Law said.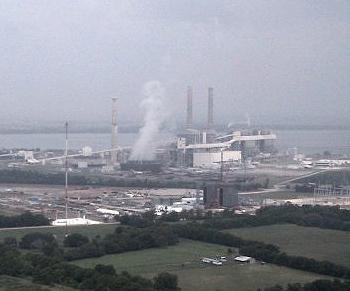 The W.A. Parish power plant is fired by coal and natural gas. Located near the Brazos River, it is the largest power plant in Texas. (Photo courtesy Texas Flyer)
He said further details about the Chamber's challenge would be forthcoming in the coming weeks when the statement of issues is filed.
For at least 200 years, the burning of fossil fuels, such as coal and oil, and deforestation have caused the concentrations of heat-trapping greenhouse gases to increase in the atmosphere. Like the glass panels of a greenhouse, these gases prevent the Sun's heat from escaping to space.
On December 7, 2009, EPA Administrator Lisa Jackson announced her finding that greenhouse gases endanger the public health and welfare of the American people because they are the primary driver of climate change, which can cause "changes in air quality, increases in temperatures, changes in extreme weather events, increases in food- and water-borne pathogens, and changes in aeroallergens."
The administrator also found that the combined emissions of these greenhouse gases from new motor vehicles and new motor vehicle engines contribute to the greenhouse gas air pollution that endangers public health and welfare under the Clean Air Act.
EPA's endangerment finding covers emissions of six key greenhouse gases – carbon dioxide, methane, nitrous oxide, hydrofluorocarbons, perfluorocarbons and sulfur hexafluoride.
While the first three gases are produced in nature as well as by humans, the last three result only from human activities, and they are the most potent and persistent greenhouse gases.
The human activities that produce greenhouse gas emissions are:
carbon dioxide: emitted by burning fossil fuels, deforestation
methane: emitted by landfills, natural gas and petroleum systems, agricultural activities, coal mining, combustion of fossil fuels, wastewater treatment, and some industrial processes
nitrous oxide: emitted by agricultural soil management, animal manure management, sewage treatment, combustion of fossil fuels, adipic acid production, and nitric acid production
hydrofluorocarbons: manufactured chemicals that have been developed as alternatives to ozone-depleting substances for industrial, commercial, and consumer products
perfluorocarbons: produced by primary aluminum production and semiconductor manufacture
sulfur hexafluoride: used for insulation and current interruption in electric power transmission and distribution equipment, in the magnesium industry to protext molten magnesium from oxidation and potentially violent burning, in semiconductor manufacturing to create circuitry patterns on silicon wafers, and as a tracer gas for leak detection
President Barack Obama and Administrator Jackson both have stated that they support a legislative solution to the problem of climate change.
The House of Representatives passed climate legislation in June 2009, but the Senate is not scheduled to consider its version of the bill until spring.
However, said Jackson in December, climate change is threatening public health and welfare, and it is critical that EPA fulfill its obligation to respond to the 2007 U.S. Supreme Court ruling in Massachusetts v. Environmental Protection Agency that determined greenhouse gases do fit within the Clean Air Act definition of air pollutants.
The EPA endangerment finding does not necessarily impose any emission reduction requirements, but it clears the way for the EPA to regulate emissions of these gases under the Clean Air Act.
This is the outcome the U.S. Chamber of Commerce wants to prevent.
Law said, "We continue to call for Congress to address climate change policy through the legislative process, rather than having EPA misapply environmental statutes like the Clean Air Act or Endangered Species Act that were not created to regulate greenhouse gas emissions."
The U.S. Chamber of Commerce is the world's largest business federation representing more than three million businesses of all sizes, sectors, and regions, as well as state and local chambers and industry associations.
Copyright Environment News Service (ENS) 2010. All rights reserved.