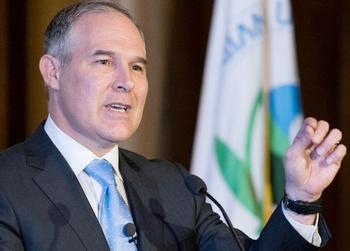 WASHINGTON, DC, July 5, 2018 (ENS) – Scott Pruitt resigned as administrator of the U.S. Environmental Protection Agency today in the face of a long list of scandals involving disregard of science, overspending, and abuse of power to enrich himself and his family.
In a letter to President Donald Trump, Pruitt, a former Oklahoma attorney general, blamed his resignation on "unrelenting attacks" against himself and his family.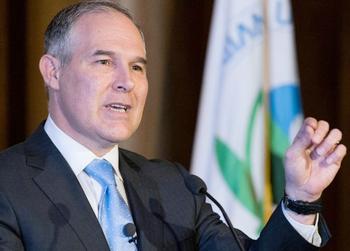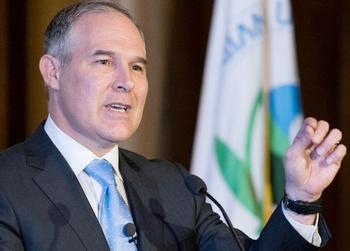 Trump tweeted just after noon, "I have accepted the resignation of Scott Pruitt as the Administrator of the Environmental Protection Agency. Within the Agency Scott has done an outstanding job, and I will always be thankful to him for this."
"The Senate confirmed Deputy at EPA, Andrew Wheeler, will on Monday assume duties as the acting Administrator of the EPA," tweeted the president. "I have no doubt that Andy will continue on with our great and lasting EPA agenda. We have made tremendous progress and the future of the EPA is very bright!"
This "lasting EPA agenda" takes off from Trump actions such as rolling back regulations on coal-fired power plants and withdrawing the United States from the 2015 Paris Agreement on climate change.
Environmental groups are suing the government and there is a growing sense of public outrage at Pruitt's destruction of bedrock U.S. environmental laws and regulations, but nevertheless, Pruitt had ambitious plans. CNN has reported that the EPA head directly asked Trump to fire the current Attorney General, Jeff  Sessions, and to give Pruitt his job.
Instead, as it turns out, Pruitt's resignation throws the nation's environmental agency into the hands of the fossil fuel industry.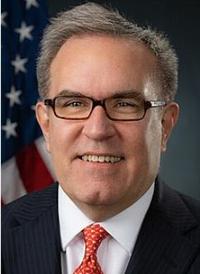 His replacement, Wheeler, is a lawyer and former coal industry lobbyist currently serving as Deputy Administrator of the U.S. EPA. He was previously a lobbyist in the law firm Faegre Baker Daniels, lobbying against the Obama administration's environmental regulations and representing coal magnate Robert Murray, head of Murray Energy Corporation, a mining company based in St. Clairsville, Ohio, and one of the largest independent operators of coal mines in the United States.
Wheeler also spent 14 years as an aide to U.S. Senator from Oklahoma James Inhofe, a Republican, member and former chairman of the Senate Environment and Public Works Committee, who is known for his rejection of human activities as a cause of climate change.
Wheeler has been a critic of limits on greenhouse gas emissions and of the UN's Intergovernmental Panel on Climate Change.
Senator Inhofe commented today, "Scott Pruitt did great work to reduce the nation's regulatory burdens facing our nation while leading the Environmental Protection Agency. He was single minded at restoring the EPA to its proper statutory authority and ending the burdensome regulations that have stifled economic growth across the country. I was pleased to work with him on critical issues, like pulling out of the Paris Climate Agreement and prioritizing the cleanup of Superfund sites."
In October 2017, Wheeler was nominated by President Donald Trump to become Deputy Administrator of the EPA, and renominated in January 2018. He was confirmed by the Senate on April 12.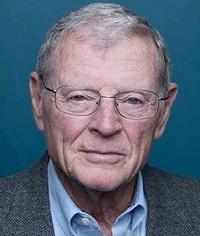 "Andrew Wheeler is the perfect choice to serve as Acting Administrator, said Inhofe. "Andrew worked for me for 14 years, has an impeccable reputation and has the experience to be a strong leader at the EPA. I have no doubt and complete confidence he will continue the important deregulatory work that Scott Pruitt started while being a good steward of the environment."
U.S. Senator Tom Carper of Delaware, the top Democrat on the Senate Environment and Public Works Committee, called Pruitt's resignation "long overdue."
Pruitt's tenure at EPA "has been marked by blatant rejections of sound science, proposals to undermine our country's bedrock environmental protections and consistent efforts to personally profit off of public service," said Senator Carper.
He called Pruitt's actions while heading the EPA, "…a stain on a critical agency on which every American relies to make sure the air our families breathe is clean, the water we drink is safe and the products we use are free of toxins."
Carper says he repeatedly drew public attention to his position that Pruitt's record made him the wrong person to lead the agency.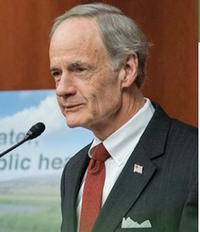 "For 17 months now, we have had an individual leading the Environmental Protection Agency who is openly hostile to the agency's fundamental mission," said Carper, "a self-described leading advocate against EPA's 'activist agenda' who has made a mockery of the position of administrator."
"Time and time again, Mr. Pruitt has pushed policies that jeopardized public health in order to score political points. He has advocated for industry instead of the American people. He has actively worked to discredit objective science, ignore the most serious environmental threats to our communities and consistently put polluters' profits and partisan views over public health," Carper alleged.
"Carper called Pruitt's "brazen abuse of his position for his own personal gain … absolutely astounding."
And he placed blame on "the silence of far too many in Congress and in the White House who allowed Mr. Pruitt's unethical, and, at times, possibly illegal behavior to go unchecked."
"History will not look kindly on this era: neither on Mr. Pruitt's entirely irresponsible tenure nor on Congress' abdication of its constitutional responsibilities all in order to protect political allies, said Carper.  "Hopefully, with Mr. Pruitt's resignation, we can finally return to more responsible leadership at EPA and an agency that can get back to doing its important work of protecting the American people, rather than the highest bidder."
Environmental groups have hopes too – that with Pruitt gone, protections can be restored. "Good riddance," said Kieran Suckling, executive director of the nonprofit Center for Biological Diversity. "Pruitt was the most secretive, hostile, paranoid EPA administrator in history. It will take a decade to reverse the damage he did to America's air, water, farm workers and children."
Robert Weissman, president of the nonprofit Public Citizen, said, "Scott Pruitt was the stuff of late-night parody, but he also was emblematic of the Trump administration – its corruption, its deadly deregulation, its handover of total power to the very industries that agencies are regulating and of course its unprecedented and pervasive ethical failures. Pruitt's departure may cost us some jokes but won't change the Trump administration or help save the planet or Americans' health. Next in line to run the EPA is a coal lobbyist – but what Americans actually need is someone who gives a damn about the EPA's lifesaving mission."
Waterkeeper Alliance Executive Director Marc Yaggi left no doubt about his group's attitude, "Amidst the many scandalous actors of the Trump administration, there has been none more dangerous to the American public's health than Scott Pruitt," he said. "Aside from his ethics violations, Pruitt's devotion to polluters has been at the expense of Americans' health and welfare and has far more devastating impact on current and future generations. We're glad to see him go."
Copyright Environment News Service (ENS) 2018. All rights reserved.