Protesters End Mountaintop Removal Sit-in at Kentucky Governor's Office
FRANKFORT, Kentucky, February 14, 2011 (ENS) – Fourteen mountaintop removal mining protesters emerged Monday from their four-day occupation of the Kentucky Governor Steve Beshear's office to be welcomed by a crowd of over 1,000 people on the steps of the state Capitol.
Author and demonstrator Wendell Berry, a lifelong Kentucky resident, explained, "We came because the land, its forests, and its streams are being destroyed by the surface mining of coal, because the people are suffering intolerable harms to their homes, their health, and their communities."
The protesters – who included a retired coal miner, a nurse practitioner who treats miners, community organizers, a graduate student, and others – had been staying in the office since talks between them and Governor Beshear came to a stalemate on Friday afternoon.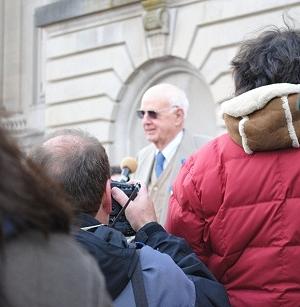 Protester Wendell Berry emerges from a four-day sit-in in the office of Kentucky Governor Steve Beshear. (Photo by Virginia Maynard)
In the meeting, Governor Beshear continued to express his support for both mountaintop removal and the coal industry.
The protesters found his position unacceptable, and refused to vacate his office. When they declined to leave, the governor instructed his security team to inform the protesters that they were welcome to stay "as long as they wanted."
The sit-in, which the protesters dubbed Kentucky Rising, has attracted international attention, with messages of support coming in from Argentina and Germany. Statements of support came from environmentalists such as Bill McKibben, founder of the climate change awareness nonprofit 350.org, and environmental writers Michael Pollan, Naomi Klein, Terry Tempest Williams, and Wes Jackson.
"I can think of no more appropriate action to be taking on Valentine's Day than what Wendell Berry and his fellow Kentuckians are doing: taking a stand from one's heart," said Williams. "Mountaintop removal is an act of aggression. Civil disobedience is an act of love. We are right there with them in solidarity and support."
"People across America today … are electrified by what's going on in Frankfort," McKibben said. "It's about time that people said: 'No more business as usual, if that means leveling the mountains of southern Appalachia.'"
Governor Beshear, who is running for reelection this year, met one of the protesters demands with his pledge Monday to travel to eastern Kentucky within 30 days and personally inspect damage caused by mountaintop removal.
Mountaintop removal mining targets coal seams buried deep below the surface. The removal operations begin when coal companies clear forests and set the woody biomass ablaze. The mountaintops are blasted apart with explosives. Machines called draglines, some the size of a city block, the unwanted rock and dirt into nearby streams and valleys, burying the waterways.
In the past few decades, more than 2,000 miles of streams and headwaters that provide drinking water for millions of Americans have been permanently buried. An area the size of Delaware has been flattened. In Kentucky alone, more than 290 mountains have been destroyed by this form of surface coal mining.
People who live near mountaintop removal mining operations say their homes, properties, streams, mountains, and in some cases, their health have been threatened or destroyed.
But some Appalachian landowners welcome mountaintop removal mining. Kentuckian Dave Maggard owns 40 forty acres on which some mountaintop removal mining is being done. "The land is so steep, I cannot build any kind of structure without this method of mining. I do not in any way appreciate any protester coming to Frankfort and trying to dictate to the governor what should occur on my privately owned land that I pay tax on."
Maggard said in a comment on the website of NBC-TV affiliate Lex18.com in Lexington, Kentucky, "These protesters are mostly made up of outsiders who own no land and therefore have no dog in the mountaintop removal fight that is strictly between legitimate land owners like myself and the mining companies."
Copyright Environment News Service (ENS) 2011. All rights reserved.