Ecuador Court Fines Chevron $8.6 Billion for Rainforest Pollution
LAGO AGRIO, Ecuador, February 14, 2011 (ENS) – A judge in Lago Agrio today ruled that Chevron Corporation is responsible for oil drilling pollution in a section of Ecuador's northern rainforest the size of Rhode Island, and he ordered the oil company to pay $8.6 billion in damages and cleanup costs.
Chevron inherited the suit when it bought Texaco in 2001, and has denied the allegations of environmental damage.
Judge Nicolas Zambrano issued the 187-page decision from Sucumbios Provincial Court, ruling in favor of indigenous residents of the Ecuadorian Amazon who have spent the last 18 years seeking damages for oil pollution.
Judge Zambrano gave Chevron 15 days to apologize publicly for the contamination or face doubling of the damages figure.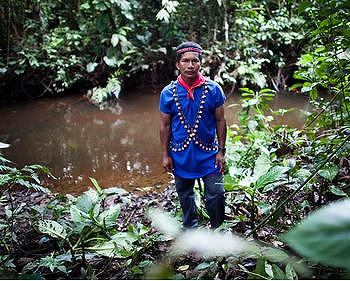 Member of the Cofan Dureno indigenous community stands by a polluted pond in his northern Ecuador homeland. (Photo by Rainforest Action Network)
Texaco Petroleum Company, now a Chevron subsidiary, from 1964 to 1990 operated an oil concession in an area of Ecuador, reaping billions of dollars in profits before leaving Ecuador in 1992. The plaintiffs sued for damages, claiming their rivers are contaminated, crops no longer grow, and new illnesses and cancers have been introduced.
The environmental lawsuit charges Chevron's Texaco Petroleum Corporation with deliberately discharging more than 16 billion gallons of chemical-laced "formation water" into the streams and rivers of the Amazon over a 26-year period. The case was moved from U.S. federal court at Chevron's request after Chevron filed sworn affidavits praising Ecuador's court system.
Chevron said in a statement today that the company will appeal the decision and has said in the past that claims of cancer are "fabricated."
"The Ecuadorian court's judgment is illegitimate and unenforceable," the company said. "It is the product of fraud and is contrary to the legitimate scientific evidence. Chevron will appeal this decision in Ecuador and intends to see that justice prevails."
"United States and international tribunals already have taken steps to bar enforcement of the Ecuadorian ruling," the company stated. "Chevron does not believe that today's judgment is enforceable in any court that observes the rule of law."
The plaintiffs submitted the first part of their final statement on January 18, finding "irrefutable evidence of contamination" at each of Chevron's 45 well and production sites inspected by the parties during the trial.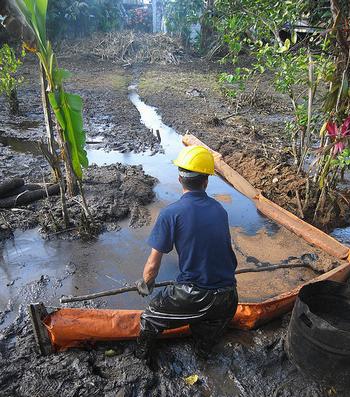 Coping with oily sludge in Lago Agrio, November 2007 (Photo by Julien Gomba)
The chemicals found include barium, benzene, cadmium, chromium, copper, etheylbenzene, polycyclic aromatic hydrocarbons, vanadium, xylene, and zinc, all of which are toxic and some of which are carcinogens. The plaintiff's statement concluded that the sampling results and other evidence provided by Chevron prove the claims of the plaintiffs.
The plaintiffs, originally demanded $27 billion in the lawsuit. The lawsuit had 47 named plaintiffs but it sought damages on behalf of 30,000 people for environmental contamination and illness.
Pablo Fajardo, the lead Ecuadorian attorney representing indigenous plaintiffs suing Chevron for oil contamination, said in a statement, "We believe today's judgment affirms what the plaintiffs have contended for the past 18 years about Chevron's intentional and unlawful contamination of Ecuador's rainforest."
"As a general matter, the plaintiffs provided the court with a great quantum of scientific and documentary evidence that Chevron deliberately and in violation of all industry norms discharged billions of gallons of toxic waste into the rainforest and into the water supply relied on by thousands of Ecuadorian citizens," Fajardo said.
On February 1, Chevron filed a civil lawsuit under the Racketeer Influenced and Corrupt Organizations Act as well as other U.S. federal and state laws against Fajardo and the other lawyers for the plaintiffs, and consultants leading what the company calls "a fraudulent litigation and PR campaign against the company."
Through the lawsuit, filed in U.S. District Court of the Southern District of New York, Chevron seeks a court declaration that any judgment against Chevron in the Ecuador lawsuit is the result of fraud and therefore unenforceable. Chevron is also seeking damages associated with the cost of defending the Ecuador litigation.
Among those named in Chevron's complaint are New York City-based plaintiffs' lawyer Steven Donziger; his Ecuadorian colleague Luis Yanza; the Amazon Defense Front and Selva Viva; and Stratus Consulting, a Boulder, Colorado consulting firm. Chevron alleges Stratus was retained by the plaintiffs' lawyers to "secretly prepare a damages report that was then presented as having been written by an allegedly independent, court-appointed expert."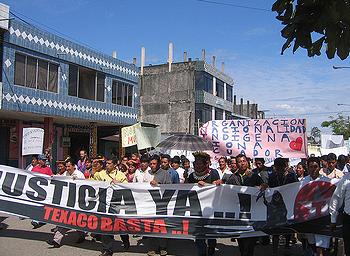 Demonstrators march demanding justice at the Lago Agrio courthouse, July 3, 2007 (Photo by Firgs)
"The Lago Agrio plaintiffs' lawyers' aim has been to extort a multi-billion dollar payment from Chevron through fabricated evidence and a campaign to incite public outrage. Chevron has no intention of giving these plaintiffs' lawyers the payday they seek. Rather, we intend to see the RICO defendants held accountable for their misconduct," said R. Hewitt Pate, Chevron vice president and general counsel.
"It is sad to see American citizens organizing a shakedown of a U.S. company while pretending to be helping Ecuadorians and the environment," said Pate.
But Fajardo says the Ecuadorian court's ruling unequivocally assigns responsibility for the rainforest contamination to the oil giant. "Rather than accept that responsibility, Chevron has launched a campaign of warfare against the Ecuadorian courts and the impoverished victims of its unfortunate practices. We call on the company to end its polemical attacks and search jointly with the plaintiffs for common solutions."
"We believe the evidence before the court deserves international respect," said Fajardo, "and the plaintiffs will take whatever actions are appropriate consistent with the law to press the claims to a final conclusion."
Earlier this month, Fajardo released copies of legal motions signed by Chevron's lawyers in Ecuador threatening Judge Zambrano with criminal sanctions and prison if he failed to grant their motions asking for a dismissal of the case.
The threats were outlined in motions signed by Chevron lawyers Enrique Carbajal and Alberto Racines and submitted to the court.
"Threatening judges with criminal sanctions is typical of the Chevron way when it comes to litigating in Ecuador," said Fajardo. "They would never attempt such intimidation tactics in U.S. courts."
"Chevron is acting out of pure desperation," said Karen Hinton, the spokeswoman for the plaintiffs, who also is named in Chevron's RICO lawsuit. "The company's new legal actions are designed to intimidate lawyers and funders and to provide a fake cover story for shareholders when the company is hit with an adverse judgment."
Headquartered in San Ramon, California, Chevron is the second-largest oil company in the United States. The company reported earnings of $19.14 billion in 2010.
Copyright Environment News Service (ENS) 2011. All rights reserved.