European Union Limits Carbon Emissions from New Vans
STRASBOURG, France, February 15, 2011 (ENS) – The European Parliament today adopted an agreement on new EU legislation aimed at limiting emissions of the greenhouse gas carbon dioxide from light commercial vehicles such as delivery vans.
Today's vote formally approved an agreement on the draft legislation that was reached by the Parliament, the Council of Ministers and the European Commission in December 2010.
Under the legislation, manufacturers must limit carbon dioxide emissions from new vans to a fleet average of 175 grams of CO2 per kilometer (g/km). This target will be phased in from 2014 to 2017. It represents an emissions reduction of 14 percent compared to the 2007 average of 203 g/km.
The legislation also sets an emissions target for 2020 of 147 g/km, a 28 percent reduction from the 2007 level. The 2020 target is subject to confirmation when the regulation is reviewed in 2013.
Manufacturers which exceed the van targets will have to pay a fine of €95 (US$128) per g/km, which is similar to the penalty set under the legislation on reducing emissions from new cars.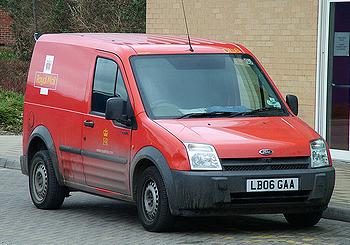 Royal Mail DL8 2006 Ford Transit Connect petrol-powered van. Ford is offering an electric Transit Connect in 2011. (Photo by kenjonbro)
The law will give manufacturers several flexibilities, such as credits for eco-innovations which they can count towards the emission target, the possibility to meet the targets jointly with other manufacturers and incentives for vehicles able to run on alternative fuels.
A super-credit incentive plan for the production of low-emitting vehicles, such as electric and plug-in hybrid vans, will run for four years and will be limited to 25,000 vehicles per manufacturer.
Vans account for around 12 percent of the European market for light-duty vehicles, which are responsible for around 1.5 percent of total EU carbon dioxide emissions.
Connie Hedegaard, European Commissioner for Climate Action, welcomed today's vote by the European Parliament. "This regulation will bring important fuel savings for van users," she said. "It also gives vehicle manufacturers greater certainty about the emission targets they need to reach. At the same time it will contribute to cleaner air and to achieve our climate targets."
But the Greens in Parliament criticized what they called a "weak agreement" which they said, will result in emissions limits that are too weak to stimulate green innovation from car makers and fall short of what is possible and necessary to prevent climate change.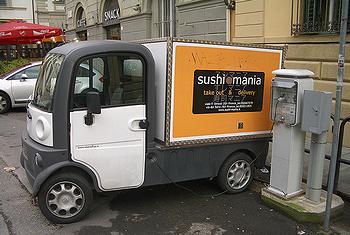 Electric delivery van on a charger in Florence, Italy, April 2008 (Photo by Matt McKeon)
After the vote, Greens/European Free Alliance Co-president Rebecca Harms said, "This vote represents a missed opportunity for innovation and climate protection in Europe. The ostensible aim of the legislation was to promote cleaner and more efficient cars, but the rules agreed by the European Parliament and Council will do little to stimulate green innovation from car makers beyond what was already expected."
The European Commission originally had proposed a limit of 135 g/km by 2020 but, under the final agreement reached by Parliament and the Council, the 2020 limit will be 147 g/km.
"An already weak Commission proposal on CO2 emissions limits was further weakened by the Parliament and Council, with the full implementation of the initial binding limits delayed until 2017," said Harms. "To add insult to injury, the longer term emission limits for 2020 were also weakened by MEPs and governments from the big car producing countries."
"The evidence shows that more ambitious emissions limits are not only technically feasible but would also help stimulate innovation towards more efficient vehicles," Harms said. "By capitulating to the demands of auto-industry laggards, this legislation will fail to serve the interests of consumers and small businesses, as well falling far short of what is possible and necessary as part of EU efforts to prevent climate change."
Under the legislation, the European Commission will lay down rules on the data required to monitor the CO2 emissions of new vans. The 27 Member States will be required to monitor and deliver this data as of 2012.
The average global temperature is already almost 0.8 degrees Celsius higher than in the pre-industrial era. There is a broad scientific and political consensus, recognized by the Copenhagen Accord, that warming must be kept below two degrees Celsius to avert dangerous levels of climate change, says Commissioner Hedegaard, the former Danish climate and energy minister, who organized the UN's Copenhagen climate change summit in 2009.
To stay within this temperature limit, says Hedegaard, worldwide emissions must stop rising before 2020, must be cut by at least half of their 1990 levels by 2050, and must continue to fall thereafter.
Copyright Environment News Service (ENS) 2011. All rights reserved.