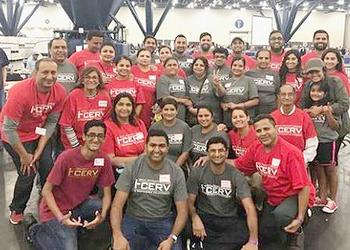 COLLEGE STATION, Texas, October 18, 2017 (ENS) – Five volunteers who performed outstanding work in their communities following the devastation of recent hurricanes in the Southeastern United States and in the Caribbean will receive Point of Light Awards for their efforts from the five living former U.S. presidents.
The volunteers will be recognized on Saturday, October 21 during the "Deep From the Heart: The One America Appeal" concert benefitting communities hit by the recent natural disasters.
The volunteers will be recognized on stage by former U.S. presidents: Barack Obama, George W. Bush, Bill Clinton, George H.W. Bush and Jimmy Carter.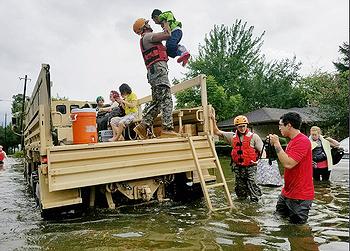 "In the wake of tremendous devastation in my hometown of Houston, what we witnessed was inspiring. Neighborhoods darkened by flood damage were shining with the bright light of neighbors helping neighbors," said Points of Light Chairman Neil Bush, son of George H.W. and Barbara Bush and brother to George W. Bush.
"When individuals translate common interests into a common cause, they make a difference in the lives of others. That is what these five Daily Point of Light awardees represent," said Neil Bush.
The concert is being held at Texas A&M University's Reed Arena with artists who include: Alabama, Lyle Lovett, Robert Earl Keen, Lee Greenwood, Sam Moore, Cassadee Pope, Yolanda Adams, Stephanie Quayle and The Gatlins.
During the 2017 hurricane season, the Southeastern United States and Caribbean experienced three catastrophic category 4 and 5 hurricanes – Harvey, Irma and Maria.
These are the costliest natural disasters in U.S. history, with damage estimates exceeding $200 billion.
The hard-hit people of Houston, the Gulf Coast region, Florida, the U.S. Virgin Islands and Puerto Rico must continue to recover and rebuild from the devastation caused by these storms, and they need all the help they can get.
"Strength, resilience and kindness flow from the simple acts of service, as demonstrated by the five people being honored for their volunteerism. The recovery and rebuilding efforts after Hurricanes Harvey, Irma and Maria will continue for years, and will be most effective and successful with the ongoing support of volunteers," said Points of Light CEO Natalye Paquin.
"Our hope is that the stories of these five Daily Points of Light, which are symbolic of the great humanitarian spirit that comes out in times of need, will inspire people to continue to give their time, talent and resources to build community," Paquin said.
The five Daily Point of Light awardees being recognized for their volunteer efforts in disaster response are: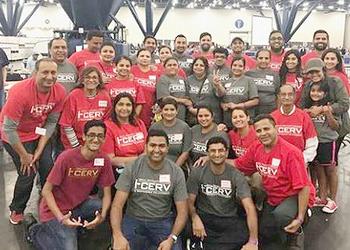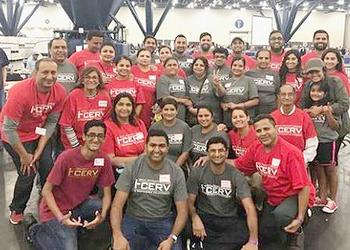 Daily Point of Light #6110: Murad Ajani recruited a group of more than 2,500 volunteers from the Ismaili Muslim community, who collectively put in more than 13,000 hours of service toward evacuating and restoring the greater Houston area.
Daily Point of Light #6111: Leah Halbina created the irmaresponse.org website, which informed victims about shelter locations and capacity, and informed donors about the needs of each shelter.
Daily Point of Light #6112: Derek Auguste helped with preparation and cleanup efforts surrounding Hurricane Irma, and continues to support efforts to aid recovery in Puerto Rico.
Daily Point of Light #6113: Kat Creech put her wedding planning business on hold to start RecoveryHouston. Within days, she recruited hundreds of volunteers who helped rebuild more than 120 homes in one week.
Daily Point of Light #6114: Zachary Dearing arrived at an evacuation shelter and, realizing there was no one in charge, took the lead, organizing rescue groups, distributing food and supplies, and helping to keep 126 people safe during Hurricane Harvey until officials arrived.
Points of Light, dedicated to volunteer service, mobilizes millions of people to take action. Through affiliates in 250 cities and partnerships with thousands of nonprofits and corporations, Points of Light engages four million volunteers in 30 million hours of service each year.
Daily Point of Light awards are given five days a week in the United States and the United Kingdom to honor individuals and groups creating meaningful change to meet community needs; efforts which often lead to long-term solutions and impact social problems in their local communities.
President George H.W. Bush was the first president in American history to institute a daily presidential recognition program from the White House, conferring 1,020 Daily Point of Light Awards on citizens and organizations making a big difference in other people's lives and solving community problems.
Points of Light has extensive experience working with communities devastated by hurricanes and other natural disasters, and mobilizing and equipping volunteers in support of affected communities through its network of affiliates in affected areas.
The nonpartisan award was adopted by former Prime Minister of the United Kingdom David Cameron in 2014, and the tradition has continued with his successor Theresa May.
Individuals and companies interested in learning more about Points of Light's disaster relief work, finding volunteer opportunities or nominating an exceptional volunteer for a Daily Point of Light Award can visit www.pointsoflight.org.
Copyright Environment News Service (ENS) 2017. All rights reserved.