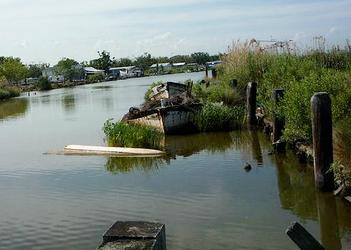 SEATTLE, Washington, October 24, 2017 (ENS) – On the front lines of coastal erosion and the effects of global warming, Rising sea levels and human activities are quickly creating a worst case scenario for Native Americans of the Mississippi Delta who stand to lose their homes and their cultural heritage to climate change.
Canal construction, oil and gas extraction from the Gulf Coast, climate change and the routing of the Mississippi River and its land-building floods away from other delta areas have made the loss of land inevitable.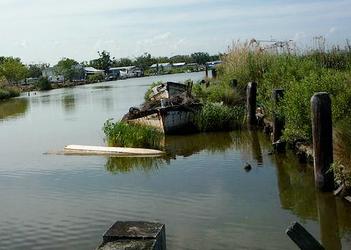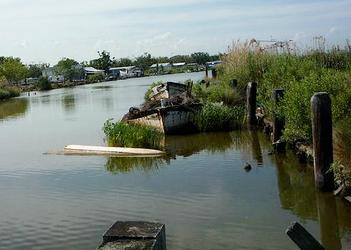 "This took a long time to evolve," said Shirell Parfait-Dardar, Chief of the Grand Caillou/Dulac Band of Biloxi-Chitimacha-Choctaw Indians in Dulac, Louisiana. "It's gotten so bad there is no way to repair it."
The landscape has gradually become more of a waterscape, resembling a "laced doily" of land when seen from the air. Sea-level rise and subsidence of the Mississippi Delta are causing large expanses of land to turn to marsh, then open water, leaving narrow strands of land barely above the muddy waters.
"It can be a bit deceiving. It's absolutely beautiful here," said Parfait-Dardar of what people see from the roads. "You can still see some trees in spots. But I'm on a sliver of land. Everything has changed."
The story of what this and other bands of Mississippi River Delta Native Americans are experiencing was presented Monday at a meeting of the Geological Society of America in Seattle, Washington.
The Grand Caillou/Dulac Band is not the only Native American group being threatened. Others include the Grand Bayou Atakapa tribe, whose homes are accessible only by boat.
The first American climate refugees are from the nearby Isle de Jean Charles band of Biloxi-Chitimacha-Choctaw who are currently undergoing federal resettlement.
The Isle de Jean Charles band says, "Our tribal resettlement is a living and active bridge from our ancestral Island, which is rapidly eroding, to a sustainable future" for the band.
After the U.S. Army Corps of Engineers realigned the Morganza to the Gulf Hurricane Protection Levee in 2001, leaving the Island out, the Tribal Council made the difficult decision to resettle."
The realignment is located in coastal Louisiana about 60 miles southwest of New Orleans and includes portions of Terrebonne and Lafourche Parishes.
The Corps says, "This project aims to protect people and property as well as the remaining fragile marsh from hurricane storm surge in the vicinity of Houma, Louisiana. The area has been affected by an extreme deterioration of coastal marshes as a result of saltwater intrusion, land subsidence and the lack of sediment deposits from the Mississippi River and its tributaries. This deterioration has led to increased hurricane and storm surge inundation. The area is also significantly affected by tides emanating from the Gulf of Mexico."
The Isle de Jean Charles band has been organizing for the relocation for nearly two decades.
"We see resettlement as one way to adapt to the changing Louisiana coast, reuniting our displaced tribal members and rejuvenating our traditional life-ways," says the band.
At present, the band has located a number of potential sites that may meet federal requirements.  A decision and purchase will depend upon a number of factors including an environmental assessment, topography, price and federal guidelines.
The cost of the project, which consists of moving families, measures to ensure a historically contextual and culturally appropriate resettlement, and program evaluation for teaching other coastal communities, is estimated at $100 million.
Being the first of its kind in the country, buildings at the new location will be energy-efficient and protected from storm damage, land use will be sustainable and productive, and a close-knit and self-supporting community will encourage positive relations and economic development.
"Our relationships, ways of life, networks of care, and identity will be supported in a community center, museum, and gathering areas," says the band on its website. "Oral teaching and learning of our histories will be reinvigorated in our childcare and educational spaces. Community gardens will serve as catalysts to recreate the self-sustaining society we once loved. Our library, seed-saving program, traditional healing herbs, gardens, and market will nurture our Tribe."
"Additionally, of course, our resettlement provides safe and sustainable housing for those at risk of flooding on the Island and tribal members who have been already been displaced," says the Isle de Jean Charles band.
Through their tribal resettlement, Isle de Jean Charles band says they embrace their role as a teaching community and hope to support others dealing with environmental disaster.
The Grand Caillou/Dulac Band of Biloxi-Chitimacha-Choctaw Indians certainly need that support.
Presenting for Chief Parfait-Dardar at the Geological Society of America meeting in Seattle was Williams College geoscientist Rónadh Cox, whose students visited Dulac and learned the situation of this band of Indians from Parfait-Dardar.
This band lives 17 miles from the coast, but the community has been losing land at an average of one percent a year between 1974 and 1990, according to earlier research.
A more recent analysis shows that subsidence rates in the Dulac area average 12.5 millimeters (one-half inch) per year – among the highest rate in southern Louisiana.
Fields and woodlands in which Parfait-Dardar and tribal members wandered as children now have to be crossed by boat. In Dulac, areas that never flooded from the sea now flood all the time. It no longer takes a storm to flood the area: a strong south wind coinciding with a high spring tide will do it.
"Younger people, they get out. They have to survive," said Chief Parfait-Dardar. But that survival comes at a high cost. "We're losing our culture and our people. You don't just lose your home, you lose who you are."
Even ancestors are not spared. Coffins come loose during floods and float away. Some cannot be recovered.
To mitigate the effects of flooding, many homes have been elevated 13 to 19 feet on stilts. But this poses yet another problem: Many of the people living in these elevated houses are elders. Navigating stairs and being cut off from services is not safe for them. Many others cannot afford to elevate their houses. A lot of properties have been abandoned due to repeated flooding, said Parfait-Dardar.
Relocating is not easy, since ties to traditional ways of life are strong and hard to leave behind and relocation requires financial resources that are beyond the reach of many tribal climate refugees.
Copyright Environment News Service (ENS) 2017. All rights reserved.