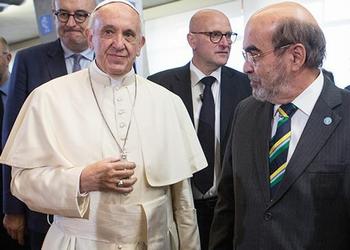 ROME, Italy, October 16, 2017 (ENS) – Pope Francis today urged governments around the world to work together to make emigration a safer and more voluntary choice, saying that food security for everyone requires tackling climate change and ending conflicts.
The Pope made his appeal in a speech to the audience at the official World Food Day ceremony at the United Nations' Food and Agriculture Organization, FAO, headquarters in Rome.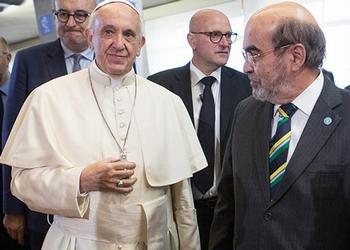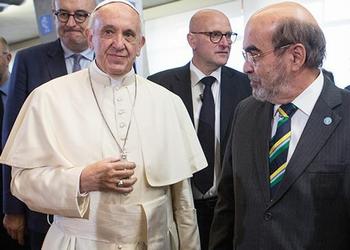 "It is clear that wars and climate change are the cause of hunger, so we do not present hunger as if it were an incurable disease," said the pontiff.
After steadily declining for over a decade, hunger is on the rise again and of the 815 million hungry people on the planet, 489 million live in countries affected by conflict, the annual UN report on food security and nutrition revealed last month.
The Pope has called for a total commitment to a gradual and systematic disarmament, and he has called for a change in lifestyles and resource use as well as food production and consumption to protect the planet.
"What is at stake is the credibility of the entire international system," he said.
About the development of the Global Pact for safe, regular and orderly migration, the first agreement of its kind negotiated by governments under UN auspices, Pope Francis said, "Human mobility management requires coordinated and systematic online intergovernmental action with existing international standards, full of love and intelligence. "
He then said that unfortunately some countries are moving away from the Paris Agreement on climate, which was agreed by consensus of world leaders in 2015.
The executive director of the UN World Food Programme made an impassioned plea for peace amid mounting evidence of the links between conflict, migration and rising hunger.
Concerns are growing that progress in defeating global hunger is being reversed as record numbers of people flee their homes to escape fighting.
"Someday in the future, World Food Day will be a celebration of a peaceful and well-fed world. Sadly, that day seems very far off right now. We have far too much violence and conflict, and that is why we have more people who are hungry and in need of assistance," said WFP Executive Director David Beasley.
"I call on the people in power, the people with guns, to stop the fighting now," said Beasley, who has met many people fleeing conflict and violence in Yemen, South Sudan and Bangladesh over the past few months.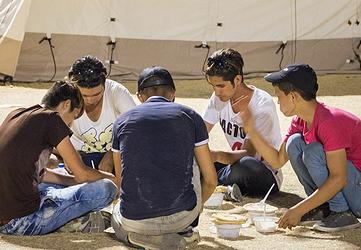 "I saw their wounds with my own eyes and I heard their stories with my own ears. They were frightened, hungry and malnourished after enduring a nightmare that most people cannot even imagine. If we are truly going to end hunger, we must stop this kind of inhumanity," Beasley pleaded.
Each year, millions of people leave their homes to escape hunger, poverty and conflict.
"More and more people migrate because they do not have the possibility to stay in their homes and their lands," said FAO Director-General José Graziano da Silva.
"It is our intention to address the underlying causes of emigration, such as poverty, food insecurity, inequality, unemployment and lack of social protection," he said.
"To save lives, we need to rebuild the environment in which people live, reinforcing their resilience and securing their livelihoods, to provide the opportunity for a dignified life," said da Silva.
The President of Madagascar Hery Martial Rakotoarimanana Rajaonarimampianina, whose country is facing the impact of climate change, addressed the gathering, speaking on behalf of migrants.
"Young people and women are most affected by forced population shifts [linked to climate change], he said. "If we want to change the paradigm of emigration, we must find solutions in the countries of origin."
FAO believes emigration should be a choice, not a necessity, and is collaborating with partners and communities around the world to allow people to have this choice.
Between 2008 and 2015, an average of 26.4 million people emigrated annually due to climate-related calamities. At present, it is estimated that, in total, around 244 million people are forced to emigrate, 40 percent more than in 2000.
Most of these emigrants come from rural areas, where more than three-quarters of poor people in the world depend on agriculture and livelihoods based on natural resources.
These large movements of people pose complex challenges that require humanitarian and developmental solutions. Many of the triggering causes of emigration can be addressed by investing in rural development, supporting decent rural employment, and ensuring social security networks.
This work also contributes to the achievement of the Fame Zero Sustainable Development Goal by 2030.
Several G7 Agriculture ministers attended the World Food Day ceremony – witnessing the important links between food security, rural development and emigration. The G7 representatives were Canadian Minister Lawrence MacAulay, French Minister Stéphane Travert, German Minister Peter Bleser, Italian Minister Maurizio Martina, British Minister Therese Coffrey and U.S. Secretary of State Sonny Perdue. Japanese Minister Ken Saito sent a statement of support.
FAO celebrates World Food Day annually on October 16th to commemorate the foundation of the Organization in 1945. Events in over 150 countries around the world are organized, making this day one of the most observed on the United Nations calendar.
Copyright Environment News Service (ENS) 2017. All rights reserved.