Polluting Potomac River Generating Station to Close
ALEXANDRIA, Virginia, August 30, 2011 (ENS) – A polluting 62-year-old coal-fired power plant on the Potomac River in Alexandria will be retired next year, the city and operator GenOn Energy announced today.
The 482 megawatt GenOn Potomac River Generating Station, formerly the Mirant Potomac River power plant, is one of the largest industrial facilities in Alexandria. Because of the age of this plant, the impacts on local residents from its emissions and its compliance record, the City Council and the community have continuing concerns about its operations.
The facility has been in violation of air quality standards for sulfur dioxide, nitrogen dioxide, nitrogen oxide, and particulate matter, which form smog and acid rain. Breathing these emissions is especially harmful for senior citizens, children, and people with heart and lung conditions.
For years, the power plant has been the target of organized protests by activists and residents affected by the air pollution it emits as well as elected officials.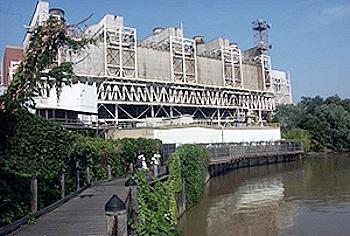 Potomac River Generating Station (Photo by Dave Anderson)
"Today's announcement is a path forward for both Alexandria and the power company that works for everybody, and truly reflects the interest of both parties," said Alexandria Mayor William Euille.
"Both the Alexandria City Council and community have worked extremely hard toward this goal, and we are very proud of the final result," the mayor said. "This news strengthens Alexandria's future and opens the door to an enhanced quality of life for our residents."
Under the agreement, GenOn has agreed to retire the generating station by October 1, 2012, or, if the plant is needed beyond that date for reliability purposes, as soon as it is no longer needed. GenOn will coordinate with PJM Interconnection LLC, Pepco, and government regulators for the necessary notifications and approvals to close the plant.
"Retiring the facility next year makes sense for GenOn, but it is a difficult decision given the impact on the approximate 120 employees who work at the station," said Edward Muller, chairman and CEO of GenOn. "Our decision to retire the plant is not reflective of our employees' skills, dedication or capabilities, and we will work to help them in their transition over the next year."
Congressman Jim Moran, a Northern Virginia Democrat and former mayor of Alexandria, today applauded the plant's closure.
"This was a long fought but well won victory for the citizens of Alexandria and the nation's capital. What once was the largest stationary source of air pollution will be no more. Through citizen involvement and committed city officials, the Potomac River Generating Station and its 1949 coal-fired boilers will finally be shuttered," said Moran.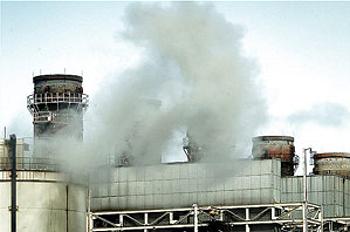 Emissions rise from the Potomac Generating Station (Photo courtesy City of Alexandria)
Potomac River is the only baseload power station inside the Capital Beltway. When it was built, the site was in a relatively isolated area, but since then, the surrounding region has been intensively developed. In 2000, the plant was acquired by Mirant from Potomac Electric Power Co.
Mirant Corporation, an Atlanta-based energy company, was spun off from its former parent, Southern Company, in 2001. The company was merged into GenOn Energy in 2010. Since at least 2000, the power plant has been the focus of a complex environmental and regulatory debate over its operating status.
Forced to reduce its emissions and scale back its operations to comply with the Clean Air Act as a result of a lawsuit and enforcement actions, Mirant and GenOn were ultimately unable to compete with cheaper and cleaner natural gas powered electricity, said Moran.
Tougher federal regulations now in development may have also convinced GenOn's management that the $28 million in settlement funds that had been set aside to meet the cleanup terms of the settlement were better than the losses their shareholders were taking trying to keep the outdated plant in operation, he explained.
"Northern Virginia stands as an example of a prosperous and environmentally-conscious community. Today's action maintains our commitment to a better, cleaner environment for our region's next generation. The extinction of this dinosaur of a facility is heartily welcomed," Moran
Since 2003, the Sierra Club has worked to retire the plant. Sierra Club's Executive Director Michael Brune called the agreement announced today "a triumph for the residents of Alexandria and the DC area."
"Retiring this major source of pollution in our nation's capital signals a huge symbolic step towards moving the nation beyond coal," said Brune. "But the win today didn't happen overnight. It is a culmination of many years of hard work by local activists and concerned residents."
"Pollution from this coal-fired power plant has been making local residents sick since 1949 – contributing to heightened asthma rates, respiratory illnesses and other health problems," he said. "Retiring the Potomac River coal plant will mean cleaner air, cleaner water and healthier children and families."
The Sierra Club's Beyond Coal campaign received a big boost in July from Michael Bloomberg, Mayor of New York City, and his Bloomberg Philanthropies to combat the health effects of coal-fired power.
The July 21 announcement of a $50 million dollar gift to roll back the threat of coal-fired pollution was held outside the GenOn Potomac River Generating Station in Alexandria.
"This is a great step forward for the Beyond Coal Campaign, but an even more important victory for the people of Alexandria, VA," said Mayor Bloomberg today. "They have been fighting to close this plant for decades and now their hard work, passion, and commitment to take action to improve the lives of their families and their community has paid off. "
"I also want to offer congratulations to Representative Jim Moran and Alexandria City Mayor William D. Euille as well, for leading the way for their constituents," Bloomberg said. "There are millions of people across America committed to putting our country on a new energy path and communities like Alexandria are on the front lines."
Copyright Environment News Service (ENS) 2011. All rights reserved.