Hurricane Irene Pummels Eastern Seaboard, Claims 10 Lives
WASHINGTON, DC, August 28, 2011 (ENS) – Irene has weakened from a Category 3 hurricane when it first made landfall in North Carolina to a Category 1 hurricane when it hit New York City this morning, to a Tropical Storm over New England, says the National Hurricane Center.
The storm has killed 10 people and knocked out power to more than two million homes and businesses.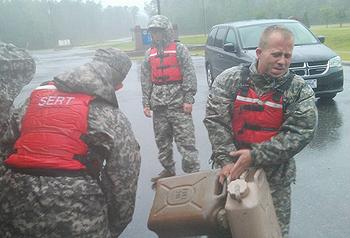 Soldiers from the North Carolina National Guard prepare to provide swift water operations assistance, August 27, 2011 (Photo by Capt. Rick Scoggins North Carolina National Guard)
At the White House, President Barack Obama warned tonight that the effects of the storm are ongoing. "Many Americans are still at serious risk of power outages and flooding, which could get worse in the coming days as rivers swell past their banks. So I want people to understand that this is not over. Response and recovery efforts will be an ongoing operation, and I urge Americans in affected areas to continue to listen for the guidance and direction of their state and local officials," the President said.
"The recovery effort will last for weeks or longer. Power may be out for days in some areas," Obama said. He has signed pre-disaster emergency declarations for: Connecticut, Massachusetts, Maryland, New Hampshire, New Jersey, New York, North Carolina, Rhode Island and Virginia, making federal support available to save lives and to protect property and public health and safety.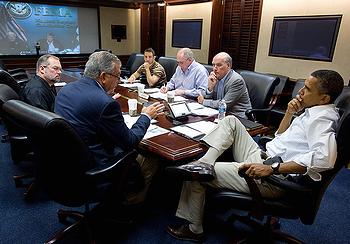 President Barack Obama, right, listens to senior officials by videoconference and in person, Situation Room, The White House, August 28, 2011 (Photo courtesy The White House)
The White House said, "Under the direction of President Obama and Secretary Janet Napolitano, the entire federal family is leaning forward to support our state, tribal and territorial partners along the East Coast."
Irene made landfall just after first light near Cape Lookout, North Carolina, at the southern end of the Outer Banks, the narrow strip of land out in the Atlantic Ocean.
"The Outer Banks has taken a hit, and we saw damage everywhere we stopped," said North Carolina Governor Bev Perdue, who toured the area today. "Lives have been lost, homes and property destroyed. But this storm could have been worse, and North Carolinians are resilient. We come together in times of need."
Six North Carolinians have died as a result of Hurricane Irene; two in Pitt County and one each in Nash, Onslow, Sampson and Wayne counties. Three were killed in motor vehicle crashes, two were killed by falling trees and one suffered a heart attack while preparing for the storm.
In Virginia, three people were killed by falling trees, and a falling tree in Maryland killed one person. In Florida, a surfer was killed in 10-foot waves at New Smyrna Beach, while in New Jersey, a man drowned in four-foot surf.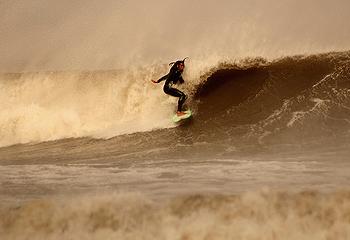 A New Jersey surfer rides waves whipped up by Hurricane Irene, August 28, 2011 (Photo by Kevin Smock)
In total, about 2.5 million people were ordered to evacuate towns and cities along the East Coast. Cutting a swath 500 miles wide, Irene threatened 65 million people on the Eastern Seaboard, reportedly the largest number of Americans ever affected by a single storm.
Sunday night a tropical storm warning is in effect from Cape Henlopen, Delaware north to Eastport, Maine including Delaware Bay, New York City, Long Island, Long Island Sound, coastal Connecticut and Rhode Island, Martha's Vineyard and Nantucket, Massachusetts.
A tropical storm warning also is in effect from the U.S./Canada border northeast to Fort Lawrence and for the south coast of Nova Scotia.
Only one nuclear power plant in the Mid-Atlantic experienced any issues as Irene passed. Unit 1 of the two-reactor Calvert Cliffs plant in Lusby, Maryland shut down automatically late Saturday evening after heavy wind ripped some siding off a building. The siding struck a transformer, knocking it offline. That caused a turbine to trip, which in turn triggered the reactor shutdown, said Nuclear Regulatory Commission spokesman David McIntyre.
As of Sunday morning, the reactor was safe, there was no release of radioactivity, and NRC inspectors onsite were helping plant personnel inspect and secure the facility, McIntyre said. Unit 1 terminated its "unusual event" declaration early Sunday morning. Unit 2 remains operating at 100 percent power.
Oyster Creek began operating in December 1969 as the first large-scale U.S. commercial nuclear power plant. It generates enough electricity to power 600,000 homes.  (Photo courtesy Exelon)
As Irene moved up the coast, Exelon Corp. took its Oyster Creek nuclear power plant in Toms River, New Jersey offline as a precaution in anticipation of experiencing hurricane-force winds.
Millstone, further north in Connecticut, reduced power in anticipation that it might also have to shut down.
None of the plants in areas hit by the storm on Saturday lost offsite power from the grid. Several plants reported some of their emergency sirens were knocked offline by power outages. All plants have back-up options for such a situation, McIntyre said.
Heavy wind and rain pounded Washington, DC overnight, just a few days after an earthquake damaged some of the capital's most famous structures, including the Washington Monument.
Today, Mayor Vincent Gray said the District of Columbia largely fared well during the onslaught, with no deaths, minor damages and less than 10 percent of the city losing power, about 31,000 D.C. customers.
The hurricane made a second landfall near Little Egg Inlet, New Jersey., about 5:30 am Sunday, about 12 hours after touching off a tornado in Sussex County, Delaware.
Forecasters warned flooding will get worse over the next couple days. Rivers and streams across New Jersey have been inundated by rains from Hurricane Irene, with many small streams at flood level now and some larger rivers – the Passaic River Basin, the Ramapo, and the Delaware River – expected to reach peak flood levels over the next 48 hours.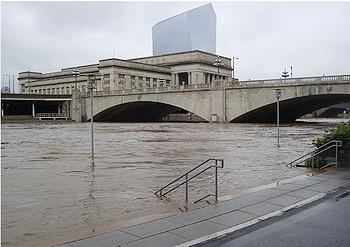 Schuylkill River flooding in Philadelphia (Photo by R. Sher, Jr.)
Irene blasted through the Philadelphia area overnight, spawning a tornado and raising the Schuylkill River to levels higher than they have been in 140 years. "That is historically significant," said Philadelphia Mayor Michael Nutter Sunday morning. "We have not seen that level of cresting since 1869."
Hurricane Irene hit New York, the nation's largest city, early this morning. Mayor Michael Bloomberg this afternoon, "The good news is the worst is over, and we will soon move to restore and return mode. The tides were heading towards low tide … so the dangers of additional flooding have been eliminated, and the existing flooding should start to go down."
"We do not yet know the full extent of the damaged caused by the Category 1 storm, but so far, there is no confirmation of deaths or injuries from the storm," the mayor said.
This morning, the New York Fire Department used three rescue boats to save 61 adults and three babies in the Bullhead area of Staten Island after the lake in Willowbrook Park overflowed, the mayor said. "These people were trapped in five feet of water – and faced a very scary situation. 50 FDNY firefighters answered the call, as they always do, within two minutes, and they rescued every single one of the people trapped there with no injuries reported."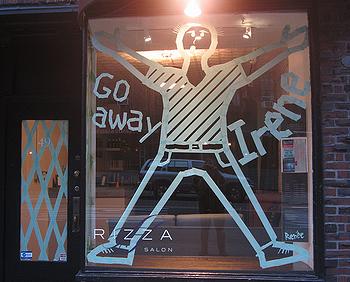 Window artistically taped at a Manhattan beauty salon (Photo by S.J. Rozen)
Mayor Bloomberg said serious consequences of the storm include flooding, downed trees, and power outages.
"As we anticipated, the storm surge has caused serious flooding across the five boroughs, including here in Lower Manhattan, where the East and Hudson Rivers are flowing over their banks and into the parks and low-lying streets at the water's edge," he said. "We did have substantial erosion at the Staten Island beaches and in the Rockaways, where the waves breached 94th Street between 127th and 132nd Streets.
On the West Side of Manhattan, water was flowing over the docks at the Boat Basin in Riverside Park. In the Bronx, Orchard Beach is under water, as is Mill Pond Park and the riverfront lots at Yankee Stadium. In Brooklyn, the eastbound Belt Parkway is flooded due to the collapse of a retaining wall.
"The storm has uprooted something like 650 trees throughout the five boroughs," said the mayor. The Parks Department had more than 100 forestry crews working today to remove downed trees and limbs.
New York's Metropolitan Transit Authority shut down all subways trains and buses during the storm – the first time the system was shut down for a natural disaster, but the system is slowly coming back online.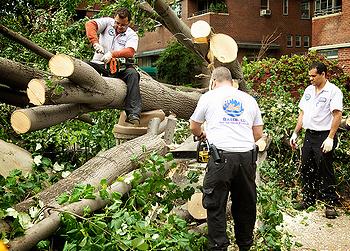 Workers remove a fallen tree in Manhattan. (Photo by George Brooks)
The MTA will provide only limited service on Monday across the subway system starting at 6:00 am Monday. Service will be less frequent than normal, and customers should expect longer waits and more crowded trains, the MTA said.
New York City government will be open on Monday and city employees are expected to report to work, but the mayor says no one will be penalized for transit-related lateness or unscheduled leave time.
Boston's transit authority suspended all bus, subway and commuter rail service Sunday as the storm moves northeast across New England and up into Canada.
States, localities and the Red Cross have been operating more than 500 shelters in eight states and Puerto Rico. Last night's shelter population was estimated at more than 29,000. Information about open Red Cross shelters is continually updated at redcross.org.
This evening the center of Irene is approaching the U.S./Canada border. Irene is forecast to weaken and beomce a post-tropical syclone by tonight.
Still, senior administration officials said Sunday that residents in the Northeast still need to prepare for severe weather and flooding.
"Regardless of its status as hurricane or tropical storm, Irene is still very large and dangerous, and those in its path need to be prepared for severe weather, including the risks of flash flooding," said FEMA Administrator Craig Fugate. "As the storm begins to subside in some areas, it's important to continue to follow the directions of state and local officials, avoid downed power lines and flooded roads, and of course wait for the all clear before returning home."
FEMA has been in constant contact with the governors and with local officials of communities along the East Coast and has pre-positioned 18 Incident Management Assistance Teams to coordinate with state, tribal and local officials.
Six national urban search and rescue teams have also been placed on alert in the event that search and rescue support is needed, and the U.S. Department of Health and Human Services has deployed five Disaster Medical Assistance Teams to staging areas.
The Department of Defense has positioned defense coordinating officers at FEMA's national response coordination center in Washington DC, and in FEMA regional response coordination centers in Boston, New York, Philadelphia, and Atlanta. The Secretary of Defense has issued a prepare to deploy order for up to 6,500 active duty military in case they are needed to support response efforts.
Officials warn that those living inland can still experience flash flooding and other severe weather, as well as power outages.
The Consumer Safety Commission warns that portable generators should never be used indoors or in garages, basements or sheds. The exhaust from generators contains high levels of odorless, colorless carbon monoxide that can quickly incapacitate and kill.
Copyright Environment News Service (ENS) 2011. All rights reserved.