Summit Showcases America's Turn Toward Clean Energy
LAS VEGAS, Nevada, August 30, 2011 (ENS) – On Labor Day, all six jets of the Blue Angels flight demonstration team will perform using a 50/50 blend of drop-in biofuel, Secretary of the Navy Ray Mabus told the National Clean Energy Summit 4.0 in Las Vegas today.
"This will be the first time an entire unit has flown on a biofuel mix," Secretary Mabus said of the Blue Angels Pax River Labor Day Air Show.
Mabus delivered the keynote address at the Clean Energy Summit, co-hosted by Center for American Progress, which brought together some 700 leaders of industry, government, renewable energy advocates and scientists and investors to shape America's energy future.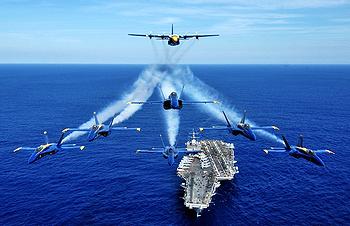 Blue Angels flight performance team is using biofuel. (Photo courtesy U.S. Navy)
"Changing the way the United States uses, produces, and acquires energy is one of the central policy challenges that confront us as a nation," he said.
While there are many reasons why the Navy has prioritized energy independence and energy security, Mabus stressed the most important is that doing so addressees a vulnerability and allows the Navy and Marine Corps to be better war fighters.
Mabus said President Barack Obama has authorized the Departments of Agriculture, Energy and Navy to invest up to $510 million in clean energy over the next three years.
"The combined effort of these three departments is a powerful force that will decrease U.S. dependence on foreign oil, position American companies to be global leaders in the production of advanced drop-in biofuels, and create jobs for American farmers and American companies," said Mabus.
Secretaries of the three departments today issued a Request for Information, laying out the administration's goals, assumptions, and tools and requesting from industry specific ideas for how to leverage private capital markets to establish a commercially viable drop-in biofuels industry.
At the Clean Energy Summit, Vice President Joe Biden announced that five innovative companies that received seed funding from the Department of Energy in 2009 and 2010 have now attracted more than $100 million in outside private capital investment.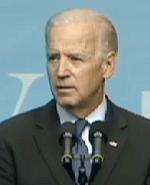 Vice President Joe Biden at the Clean Energy Summit (Image courtesy CAP)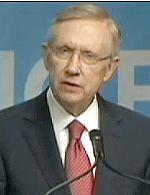 Senator Harry Reid at the summit (Image courtesy CAP)
The Department of Energy's Advanced Research Projects Agency-Energy, ARPA-E, gave each of the five companies between $1.5 million and $6 million to develop advanced grid scale batteries or innovative new approaches to biofuels or waste heat recovery.
"America is at its best when we innovate and ARPA-E supports the very best of American innovation," said Vice President Biden. "These five companies are swinging for the fences, pioneering new technologies that could help answer the energy challenge and create jobs. They illustrate how a small but strategic investment by the federal government can pay big dividends down the road and bring into the market groundbreaking new technologies."
ARPA-E will make its next round of awards in September, including awards to a series of innovative projects to keep America's manufacturers competitive by reducing the need for expensive "rare earth" materials from China.
Rare earths are naturally-occurring minerals with unique magnetic properties that are used for technologies such as laptops and lasers, as well as clean-energy technologies such as electric vehicles and wind turbines.
Up to $30 million will be made available for this program area, in addition to funding for projects in advanced biofuels, thermal storage, grid control technologies and solar power.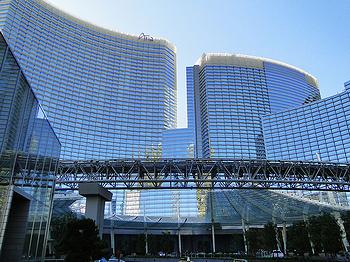 The Clean Energy Summit was held at MGM's Aria Hotel. (Photo by Rodrigo JS)
Senate Majority Leader Harry Reid of Nevada brought the delegates' attention to the Aria Hotel, the summit venue. Owned by MGM Resorts International, Aria is part of the Las Vegas City Center, the largest LEED Gold certified development in the world. LEED, or Leadership in Energy and Environmental Design, is a certification system for measurable green building design, construction, operations and maintenance.
"While I'm sure you noticed the luxury of this premier resort, what you may not have noticed were the efforts to save electricity, water and waste going on all around you all the time," said Reid.
"Last year alone," he said, "the environmentally conscious touches throughout Aria and MGM's 14 other properties across the country saved: 140 million kilowatt hours of electricity, 33 percent of the company's waste, 56,000 metric tons of carbon emissions and 200 million gallons of water. And MGM did it without most guests even noticing."
"Advanced energy technology – from new vehicles and smarter appliances to more efficient electric grids and cleaner power plants – have the power to change the way we live for the better," said Reid.
"It offers us a pathway to a more secure and independent America," he said, "one that isn't dependent on oil from unstable regions of the world but rather embraces the American spirit of innovation."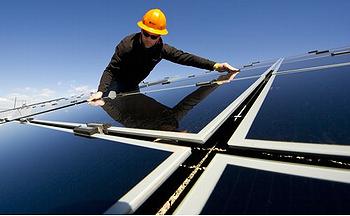 Steven Bohn, an engineer at SunEdison, oversees the company's new testing facility at SolarTAC in Aurora, Colorado (Photo by Dennis Schroeder courtesy NREL)
California Governor Jerry Brown told delegates that growing evidence of climate change motivates him to move forward with the state's renewable energy efforts. California already has the most most ambitious renewable standard in the nation – 33 percent by 2020.
"Climate change has become more obvious, and we see great opportunity in investing in wind, solar and energy efficiency, or 'negawatts,'" Brown said. "Last year we permitted 5,000 megawatts of wind and solar, and we have applications for 70,000 megawatts," said Brown. "The 33 percent goal has stimulated real investment."
Washington Governor Chris Gregoire told the audience, "As Western governors, we're working more closely together than any other part of the country. We're building an electric vehicle highway from Canada through California, and our Pacific Coast Collaborative is working to create clean jobs. We'd be very naive to sit back and do nothing with the excuse that we're in a recession."
The Obama administration is making substantial investments in clean energy.
During August alone, the Energy Department has:
finalized a partial guarantee for an $852 million loan to support the development of the Genesis Solar Project, a 250 megawatt parabolic trough concentrating solar power facility in Riverside County, California that will double the nation's currently installed CSP capacity and create 800 construction jobs and 47 operating jobs.
finalized a $197 million loan guarantee to SoloPower, Inc., for constructing and operating state-of-the-art thin-film solar module manufacturing facilities at sites in Portland, Oregon, and an existing site in San Jose, California. At full capacity, the facilities are expected to produce more than 400 megawatts of flexible photovoltaic modules annually. The project will create some 270 construction jobs and 450 permanent jobs.
offered a conditional commitment for a $133.9 million loan guarantee to Abengoa Bioenergy Biomass of Kansas to develop a commercial-scale cellulosic ethanol plant in Hugoton, Kansas. The project will convert roughly 300,000 tons of corn stalks and leaves into 23 million gallons of ethanol per year using an innovative enzymatic hydrolysis process. Abengoa says it will create 300 construction jobs and 65 permanent jobs.
In addition, the Agriculture Department announced on August 17 grants for more than 900 agricultural producers and rural small businesses to implement renewable energy and energy efficiency measures. The grants, totaling more than $11.6 million and covering all 50 states, are being provided through the Rural Energy for America Program.
The U.S. Army too is powering up with renewable energy. The Army is establishing the Energy Initiatives Office Task Force, operational by September 15, which will serve as a central managing office for the estimated investment up to $7.1 billion over the next 10 years. The renewable developments are expected to generate 2.1 million megawatt hours of power annually. The Army has a goal of 25 percent renewable energy by 2025.
Copyright Environment News Service (ENS) 2011. All rights reserved.
Environment News Service (ENS) © 2011 – 2012 All Rights Reserved.