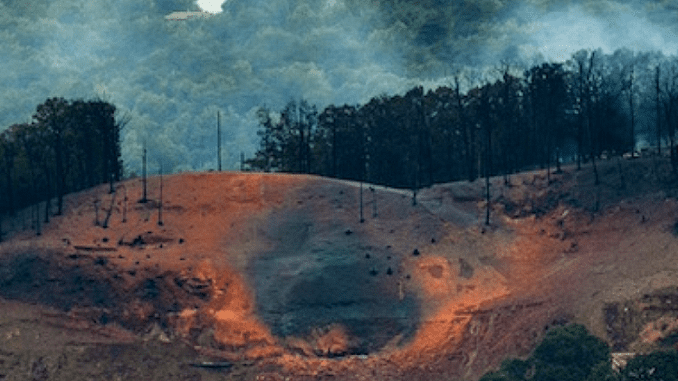 HARRISBURG, Pennsylvania, February 4, 2022 (ENS) – Pennsylvania Attorney General Josh Shapiro has charged ETC Northeast Pipeline LLC, a subsidiary of Dallas-based Energy Transfer, with nine counts of environmental crimes related to conduct during the construction of the Revolution Pipeline that resulted in a massive explosion.
The line carries natural gas between two processing facilities, traversing Allegheny, Beaver, Butler, and Washington counties.
On September 10, 2018, just a week after it became active in Beaver County, the pipeline burst into flames outside Pittsburgh following heavy rainfall and a subsequent landslide.
The blast in Center Township torched acres of forest, destroyed a single-family home, and caused six high-voltage electric transmission towers to collapse. Residents had to evacuate as their barns, vehicles, and dwellings caught fire; more than two acres of mature trees burned to ash.
A section of the pipeline, which had not been sufficiently embedded into the bedrock of the site, became separated from the rest of the line. Gas escaped from the pipeline, causing a devastating explosion.
"The Grand Jurors heard testimony and examined records that showed that explosion happened because of Energy Transfer's negligence as they built the Revolution pipeline," said Shapiro. "I want to be clear: no matter the project, no matter the company, my office will hold those who break the law accountable for cutting corners, hurting people's livelihoods, and risking people's safety."
Grand jurors reviewed evidence that ETC repeatedly ignored environmental protocols and custom plans created to minimize erosion and landslides at the site, located on a steep hillside above Raccoon Creek, which flows directly into the Ohio River.
Inspectors and conservationists visited the construction site multiple times and wrote violations, but those violations carried few consequences for the contractors.
The jurors heard testimony from nearby residents that they were awakened by the sound of loud roaring, like a freight train, and witnessed an "orange glow as bright as day."
Due to ETC's failure to conduct proper oversight of the Revolution Pipeline project and ensure the proper installation and maintenance of erosion control devices, its pollution impacted Pennsylvania waters in violation of the Clean Streams Law, the state alleges.
ETC Northeast Pipeline now faces criminal charges – two counts of Prohibition of Discharge of Industrial Waste; two counts of Prohibition Against Other Pollutions; two counts of Potential Pollution; and three counts of Unlawful Conduct.
Even before the criminal charges are heard in court, penalties and restoration orders are in effect.
On May 14, 2019, an Order was issued to ETC Northeast Pipeline to identify and restore or mitigate all streams and wetlands that it illegally eliminated or altered during the construction of the Revolution Pipeline.
On January 30, 2020, the Pennsylvania Department of Environmental Protection announced that it had issued a $30.6 million civil penalty to ETC Northeast Pipeline for violations related to the 2018 Revolution Pipeline explosion and fire.
The penalty is one of the largest civil penalties collected in a single settlement, the DEP said.
On February 26, 2021, the state Department of Environmental Protection entered into a Consent Order and Agreement with ETC to address concerns about construction on steep slopes and to address permanent stabilization of areas where the pipeline was installed. The Order included a $125,000 civil penalty.
Featured image: Scorched earth after the Revolution Pipeline explosion and fire, September 10, 2018 (Photo courtesy Anya Litvak / Twitter)
© 2022, News Editor. All rights reserved.