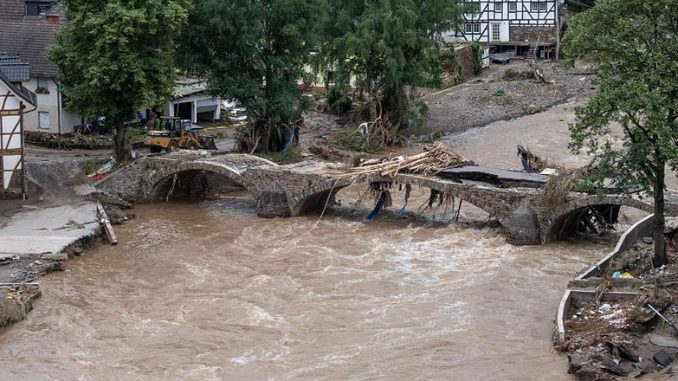 BERLIN, Germany, July 17, 2021 (ENS) – While Germany's death toll from pounding rain and severe flooding stood at 67 on July 15, an official update on Saturday, July 17, shows the death toll up to at least 170 people, according to police counts. The German states of North Rhine Westphalia and neighboring Rhineland-Palatinate have been the hardest hit by the devastating storms and floods.
At least 27 people are reported to have died in Belgium, while France, the Netherlands and Switzerland are also struggling under heavy rains and flooding.
European Commission President Ursula von der Leyen tweeted, "In Rochefort and Pepinster, I saw the devastation of the floods. My heart ached when I met people who lost their homes, the savings of a lifetime."
"I told them: Europe is with you. We share your grief. We will help you rebuild," she tweeted today.
Police in the western city of Koblenz said in a tweet Thursday that four people have died in Ahrweiler County, and about 50 are trapped on the roofs of their homes waiting for rescuers. A massive rescue effort has been mounted by the German government.
The flood waters have destroyed homes, cut off communities and left dozens unaccounted for, with German army troops helping local emergency responders in rescue and evacuation efforts.
The German Army has sent more than 230 soldiers as well as heavy machinery to help clear streets affected by the flooding. The troops were deployed along with heavy equipment and armored vehicles in North Rhine-Westphalia, which had some of the worst torrential rain, a Defense Ministry spokesman said in Berlin today.
In Rhineland-Palatinate, at least 70 soldiers were on the road, with large multi-purpose vehicles capable of making it through high waters to reach flooded villages. Four rescue and transport helicopters were deployed.
One death was a fireman who drowned Wednesday during rescue work in the west German town of Altena, and the police say many people have been reported missing to them.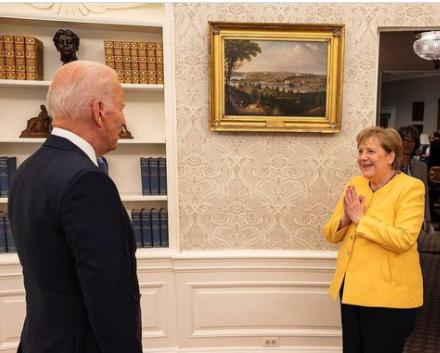 Speaking from across the Atlantic Ocean, Chancellor Angela Merkel said she was shocked and saddened by the flood disaster in West Germany. In a statement during her farewell visit to Washington before the September 26 election in Germany replaces her with a new leader, Merkel thanked the first responders and expressed her condolences to those caught by rising waters.
"I mourn those who lost their lives in this catastrophe," Merkel said. "We don't know the number yet, but there will be many – some in the basements of their houses, some as firefighters are trying to get others to safety. And my heartfelt condolences go out to their relatives. "Everything will be done to find those who are still missing.
"Heavy rain and floods did not describe it adequately. It is a disaster," the German leader said.
Parts of Belgium, the Netherlands and Luxembourg also have been inundated by the rising waters.
U.S. Secretary of State Antony Blinken tweeted, "The United States sends its heartfelt condolences to the families of victims of the heavy flooding in Belgium, Germany, Luxembourg, and the Netherlands and to those who have lost homes. Our thoughts are with those affected."
During a visit to the disaster area in northern Rhineland-Palatinate, Vice Chancellor Olaf Scholz of the Social Democratic Party of Germany, SPD, called for increased efforts to protect the climate.
Scholz, the SPD candidate for Chancellor, aims to replace Merkel of the Christian Democratic Union who has led Germany for the past 16 years, Thursday visited the spa town of Bad Neuenahr-Ahrweiler to view the "tremendous destruction that nature has caused."
This natural disaster "surely also has something to do with" the fact that climate change is advancing at a rapid pace. "And that's why it must be a further incentive – also as an obligation for all those who have become victims here – that we do everything to stop man-made climate change," said Scholz.
In the southwestern city of Karlsruhe near the Franco-German border, the Karlsruhe Regional Council warns of the dangers to humans and animals in view of the tense flood situation.
The Council warned of what it calls "flood tourism" to local area dams and said in a statement that entry into the dams is prohibited. Flood tourism and unreasonable behavior at dams can unnecessarily endanger wildlife. Wild animals may panic from being in contact with pedestrians and their dogs and fall into the water, the Council said.
According to the Regional Council, the condition of the Rhine River and its tributaries will be monitored regularly and additional measures will be employed if necessary.
The Flood Forecast Center in Karlsruhe expects the level of the Upper Rhine River to rise further by Saturday. "Forecasts for the Rhine are based on the assumption that new developments can be expected over the course of Thursday, the 10-to-20 year event range," said the Flood Forecast Center.
Shipping on the southern Rhine River had to be halted for a second time this week as water levels rose, preventing vessels from sailing to Switzerland. In high water conditions, ships do not have enough space to sail under bridges.
The German Meteorological Service expects the heavy rains to continue all this week. Baden-Wurttemberg, a flood forecasting center in Karlsruhe, said water levels could continue to rise through Saturday night. After that, forecasters speculate, the flood situation may ease again.
Featured image: One of the many flooding rivers in southwestern Germany. July 2021 (Photo courtesy German Consulate General in Los Angeles)