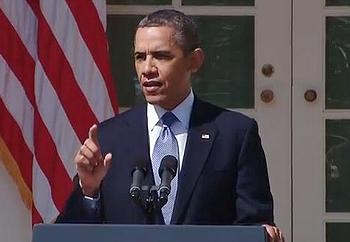 WASHINGTON, DC, April 10, 2013 (ENS) – President Barack Obama today introduced his Fiscal Year 2014 budget, which sets two new goals – to cut U.S. net oil imports in half by 2020 and to double American energy productivity by 2030.
The budget for the fiscal year that begins October 1 would cancel the automatic spending cuts known as the sequester and raise about $1 trillion in new tax revenue over 10 years.
The $1.058 trillion budget would increase spending in FY2014 by $160 billion over the current budget. It would mean a $744 billion budget deficit in spite of new entitlement cuts and tax hikes.
Speaking in the Rose Garden at the White House, Obama called the FY2014 budget, "a fiscally responsible blueprint for middle-class jobs and growth."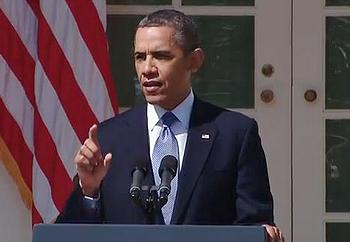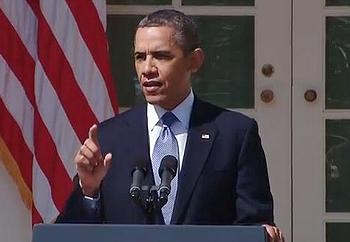 "For years, the debate in this town has raged between reducing our deficits at all costs, and making the investments necessary to grow our economy," Obama said. "And this budget answers that argument, because we can do both. We can grow our economy and shrink our deficits. In fact, as we saw in the 1990s, nothing shrinks deficits faster than a growing economy. That's been my goal since I took office. And that should be our goal going forward."
Obama pointed out that during his first term he signed into law $2.5 trillion in deficit reductions, two-thirds of that coming from spending cuts. The budget he presented today would further reduce the deficit over 10 years by more than $1.8 trillion.
"We'll continue our march towards energy independence and address the threat of climate change," the President said.
New Goal: Double American Energy Productivity by 2030
The President has set a new goal to cut in half the energy wasted by America's homes and businesses, with action aimed at doubling the economic output per unit of energy consumed in the United States by 2030, relative to 2010 levels.
New Goal: to Cut U.S. Net Oil Imports in Half by 2020
Increased production of domestic oil and biofuels, and improvements in the fuel efficiency of U.S. cars and trucks, allowed the United States to cut imports of oil by almost one-third since 2008. To build on this progress, the President will propose new policies and investments to cut imports of foreign oil in half by the end of the decade, relative to 2008 levels.
Clean Energy Research and Development Investments
To keep the United States on the forefront of clean energy production and deployment, the FY2014 budget increases funding for the Department of Energy's clean energy technology activities by more than 40 percent above the 2012 enacted level, to $6.2 billion.
It increases funding for clean energy technology across all agencies by 30 percent, to $7.9 billion.
These budget increases are intended to support the cost-competitiveness and deployment of renewable power, electric vehicles, next-generation biofuels, advanced energy-efficient manufacturing, and energy efficiency in homes and commercial buildings.
Permanent Tax Incentive for Renewable Energy Production
The budget includes $23 billion of incentives for renewable energy production and energy efficiency over the next 10 years.
To provide a strong, consistent incentive to encourage investments in renewable energy technologies and to help meet our goal to double generation from wind, solar, and geothermal sources by 2020, the budget would make permanent the tax credit for the production of renewable electricity.
The budget makes the Production Tax Credit refundable so new, growing firms can benefit and provide renewable electricity generation.
The budget also would reform and make permanent the deduction for energy efficient commercial property.
The budget also proposes an additional $2.5 billion in credits for investments in advanced energy manufacturing projects, such as energy equipment and facilities for clean energy manufacturing. Combined with similar credits provided through the Recovery Act program, this will bring total clean energy manufacturing credits, increasing the amount of credits certified by the Department of the Treasury to $4.8 billion.
Defense Department Gets Energy Efficiency Support
To help the Defense Department reduce its energy consumption, which totals three-quarters of all energy used by the federal government, the budget provides more than $3 billion for operational and facility energy conservation investments. The DOD would use the funds to improve the energy efficiency of existing equipment and buildings, develop and field new energy technologies, and expand renewable and low carbon energy sources.
State Governments Rewarded
The budget includes $200 million in one-time funding for Race to the Top performance-based awards to support state governments that implement effective policies to cut energy waste, support energy efficiency and modernize the grid. The program is modeled on the Race to the Top in the Education Department, a competitive grant program designed to encourage and reward states that have demonstrated success in raising student achievement.
Energy-Efficient Manufacturing Technologies Funded
The budget provides the Department of Energy with $365 million to develop innovative manufacturing processes, advanced industrial materials, and combined heat and power technologies to increase industries' energy efficiency and ensure that the technologies developed in the United States are manufactured here.
This funding includes support for three Manufacturing Innovation Institutes focused on energy and efficiency technologies. They will leverage investments from universities, companies, and the government to create and deploy new manufacturing capabilities, products, and processes that can impact large-scale commercial production.
New Energy Security Trust
As President Obama proposed in his 2013 State of the Union address, the budget establishes an Energy Security Trust to fund research that would help to shift U.S. cars and trucks off oil entirely.
This $2 billion investment over 10 years will support research into a range of cost-effective advanced transportation technologies. It would be funded by revenue generated from federal oil and gas development in federal waters.
The Energy Security Trust Fund builds on an idea that has bipartisan support from experts, including corporate executives and retired military brass. The Energy Security Trust would invest in advances that will allow Americans to run cars and trucks on electricity or homegrown fuels, and in technologies that The White House says "will enable us to drive from coast-to-coast without a drop of oil."
Clean Energy Infrastructure on Public Lands
To enhance energy security and create clean energy jobs in new industries, the budget proposes funding increases for Department of the Interior renewable energy development activities and transmission infrastructure. The budget request includes $100 million to maintain capacity to review and permit new renewable energy projects on federal lands and waters.
The budget invests in research to ensure safe and responsible natural gas production and promote the development of the first, natural gas combined cycle power plant to integrate carbon capture and storage.
Energy Bills for Low-income Families Cut
As part of an overall investment in weatherization, the budget includes $184 million for the Energy Department's Weatherization Assistance Program, which enables low-income families to cut their energy bills by making their homes more energy efficient. Families receiving weatherization services see their annual energy bills reduced from $250 to $450 per year in heating, cooling, and electric costs.
Funding Increased for Development of Federal Oil and Gas Resources
The budget provides more than a 20 percent increase in discretionary funding for the oil and gas program of the Bureau of Land Management. These funds will cover onshore energy permitting and oversight on federal lands.
Fossil Fuel Subsidies Eliminated
The budget proposes to eliminate inefficient fossil fuel subsidies that impede investment in clean energy sources and undermine efforts to address the threat of climate change. The budget would repeal over $4 billion per year in tax subsidies to oil, gas, and other fossil fuel producers.
Carbon Pollution From Vehicles Reduced
In addition to investing in clean energy technologies that will cut greenhouse gas emissions, the Obama Administration is pursuing cost-effective, common sense approaches to control carbon pollution from vehicles.
In 2014, the Environmental Protection Agency will continue to work with the Department of Transportation on a national program to boost fuel economy and reduce greenhouse gases from new light-duty and heavy-duty vehicles. The fuel economy and greenhouse gas standards for light duty vehicles alone will save some 12 billion barrels of oil and prevent six billion metric tons of greenhouse gas emissions over the lifetimes of the vehicles sold through model year 2025.
Climate Change Readiness Funded
"Even as we work to reduce the severity of climate change by cutting carbon pollution, we must also improve our ability to manage the climate impacts that are already affecting American communities," The White House said in explaining this section of the budget. "Enhancing the Nation's resilience by preparing for increasingly extreme weather and other unavoidable consequences of climate change will save lives and help to secure long-term American prosperity. To that end, the President is committed to building stronger, safer communities, ensuring the long-term resilience of the Nation's infrastructure and and to protecting critical natural resources in the face of climate change."
Obama's FY2014 budget will support federal agency implementation of their first-ever climate change adaptation plans. Agencies, under existing authorities and missions, have prepared plans to better protect taxpayer investments and safeguard the health and safety of communities, businesses, infrastructure, and ecosystems in the face of extreme weather and other impacts of climate change.
Agencies will work with state, tribal, and local partners to implement new joint strategies to respond to the impacts of climate change in cross-cutting sectors, such as freshwater management and fish, wildlife and plants.
The administration is working to incorporate climate change considerations into the design and repair of critical infrastructure to ensure its long-term viability.
Through the Transportation Leadership Awards program, the budget includes $200 million for "Climate Ready Infrastructure" that build enhanced preparedness to extreme weather and other impacts of climate change in their planning efforts, and that have proposed or are ready to break ground on infrastructure projects to improve resilience.
These investments will support a broader administration commitment to help communities become more resilient through direct technical assistance, provision of useful data and tools on projected impacts, and support for planning.
The budget funds new investments in actionable science on climate change impacts and the development of technical resources, data, and tools for communities.
The budget provides $2.7 billion for 13 federal agencies in the U.S. Global Change Research Program to support research to improve our ability to understand, predict, mitigate, adapt to climate change, and increase communication among scientific and stakeholder communities.
Building on supplemental funding provided to East Coast communities impacted by Hurricane Sandy, agencies will help communities prepare for and respond to coastal storms, sea level rise, drought, and other climate-related hazards by providing data, information, and services, as well as risk assessment tools. These investments can reduce community vulnerability to storms and reduce recovery costs.
Now the administration's FY2014 budget goes to Congress, where it will be debated. Congressional Republicans have already criticized the President's budget request for being late by 65 days and for "a budget that raises taxes, increases Washington spending, and holds entitlement reform hostage to even more tax hikes."
Copyright Environment News Service (ENS) 2013. All rights reserved.