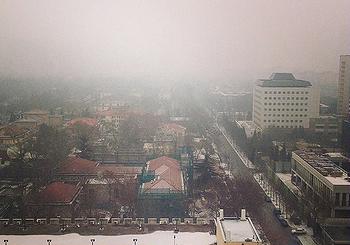 BEIJING, China, April 10, 2013 (ENS) – To strengthen and coordinate efforts to improve air quality, California Governor Jerry Brown today signed the first agreement of its kind between a subnational entity and the Government of China.
"Reducing pollution takes great political struggle," said Governor Brown in a meeting with China's Minister of Environmental Protection Zhou Shengxian. "We know in America it's not easy, so it won't be easy in Beijing. But to the extent that we can help, we would like to help."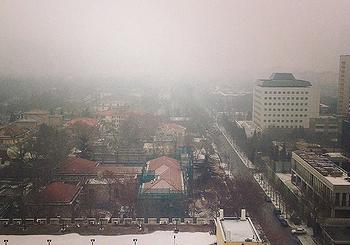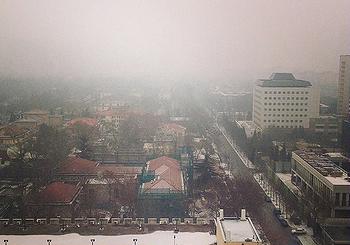 The two-year agreement establishes collaboration to enhance pollution control strategies for industrial sectors and the transportation sector. It encourages joint efforts to protect public health, promote clean and efficient energy, protect the environment and natural resources, and supports sustained economic growth.
Under the agreement, California and the Ministry commit to activities that will enhance pollution control strategies for industrial sectors and the transportation sector.
The participants will undertake activities that strengthen institutions and governance structures that oversee implementation and enforcement of air pollution reduction programs. They will share effective regulatory strategies, polices, programs and incentives.
California and Chinese officials will share information on the structure and design of regulatory institutions that enforce pollution laws and rules, including California's network of regional air quality management districts.
They will engage in joint ventures, partner agreements, and capital investments in the design, construction, and operation of projects that reduce air pollution.
Officials will exchange visits and undertake cooperative research on technologies and strategies of mutual interest; they will undertake joint organization of symposia, seminars, workshops, and training.
"We still have a long way to go, but we have made progress and we would like to work with China to help you realize your dream of a more efficient, cleaner environment," said Governor Brown.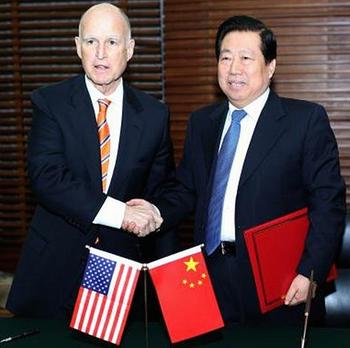 The Ministry of Environmental Protection was created in 2008 when China's environmental protection function was elevated to its own ministry.
Secretary of State Hillary Clinton and Chinese Foreign Minister Yang Jiechi set the stage for today's agreement on January 19, 2011 when they signed a Memorandum of Understanding supporting U.S.-China sub-national cooperation. This memorandum supports the establishment of a U.S.-China Governors Forum by the National Governors Association and the Chinese People's Association for Friendship with Foreign Countries.
A reception at the U.S. Embassy hosted by U.S. Ambassador to China Gary Locke capped the first full day of the governor's trade and investment mission to China. The day included a meeting with Xu Shaoshi, who chairs China's National Development and Reform Commission, which oversees efforts to address climate change and much of the government's economic strategy.
Governor Brown also met with China's Minister of Commerce and held a forum with the American Chamber of Commerce – Beijing.
Chinese Vice Minister of Commerce Wang Chao and hundreds of American and Chinese business leaders were at the U.S. Embassy to hear Governor Brown announce a $1.5 billion investment partnership between a California-based developer and a China-based investor and developer that will create thousands of California jobs.
The $1.5 billion Brooklyn Basin investment deal between China-based Zarsion Holdings Group Co. Ltd. and California-based Signature Development Group will create 10,000 jobs and provide for the construction of 3,100 units, 200,000 square feet of retail and commercial space and 30 acres of parks and open space in Oakland. The project will break ground in 2014.
"This massive influx of Chinese investment will put thousands of Californians to work and dramatically improve Oakland's waterfront," said Brown. "This project is just one example of what's possible when business leaders in two of the world's most dynamic regions connect."
This is the first major investment by Zarsion Holdings Group in the U.S. Governor Brown supported the project when he served as Oakland's Mayor. Oakland's current Mayor, Jean Quan, a Chinese American, was instrumental in connecting Beijing Zarsion Holdings Group with Signature Development Group.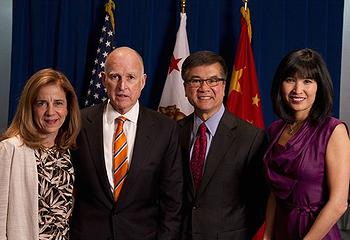 According to research company Rhodium Group, from 2000 to 2011, Chinese investors funded 165 deals in California worth $1.3 billion, which represents more than one quarter of all Chinese investments in the United States during this period. The report also found that California has the potential to attract up to $60 billion in Chinese foreign direct investment by 2020.
At the reception, the Governor also announced the creation of a new program funded by a $250,000 grant from the Florence Fang Family Foundation, in support of the 100,000 Strong Foundation, which was launched by former Secretary of State Hillary Rodham Clinton to expand and diversify the number of Americans studying Mandarin and studying abroad in China. The program will send California community college students to study in China, starting with students in the San Mateo Community College District in 2014.
"The best way for students to learn about China is to go to China," said Governor Brown. "Through this program, students will forge great friendships in one of the world's most creative and dynamic countries."
The Governor's trade and investment mission follows more than a year of diplomatic and business exchanges between the State of California and China. In February 2012, Governor Brown welcomed Xi Jinping, then-Vice President, and now President of China, to California.
During the visit, Governor Brown announced his intention to visit China, open a trade and investment office and form a China-California Joint Task Force to drive more collaboration, investment and trade between California and China.
This week and next, Governor Brown will meet with Chinese government and business leaders, highlight bilateral trade and investment opportunities between the two regions and open the new trade and investment office.
In addition to Beijing, the trade and investment mission will include events in Shanghai, Nanjing, Guangzhou and Shenzhen through Tuesday, April 16th.
Joining the Governor on the trade and investment mission is a delegation organized by the Bay Area Council that includes some 90 business, economic development, investment and policy leaders from across California.
Copyright Environment News Service (ENS) 2013. All rights reserved.