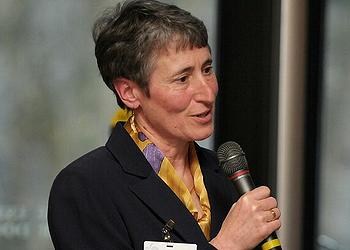 WASHINGTON, DC, April 11, 2013 (ENS) – President Barack Obama's Fiscal Year 2014 budget, "starts getting the Department of the Interior out of a ditch," said outgoing Interior Secretary Ken Salazar Wednesday, just after the budget was released. "It's a thoughtful budget and we're proud of it."
Whatever Congress appropriates for the Interior Department will be in the hands of Secretary Salazar's replacement, Sally Jewell, chief executive of outdoor retailer Recreational Equipment Inc., who won easy Senate confirmation Wednesday.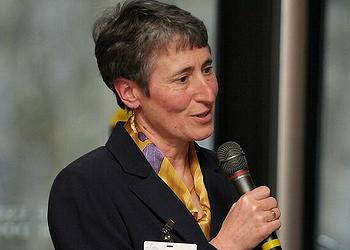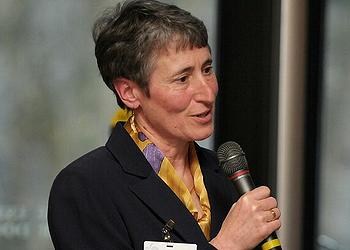 Environmental groups expressed satisfaction with Jewell's confirmation, and President Obama said in a statement that Jewell's extensive business experience, including her work in the energy sector as a petroleum engineer, and her longtime commitment to conservation makes her the right person for the job.
"She brings an important mix of strong management skills, appreciation for our nation's tradition of protecting our public lands and heritage, and a keen understanding of what it means to be good stewards of our natural resources," Obama said.
Jewell will oversee more than 500 million acres of national parks and other public lands, as well as more than one billion acres offshore. She will prepare for the centennial of the National Park Service in 2016.
Obama's $1.058 trillion FY2014 budget request for the fiscal year that begins October 1 would cancel the automatic spending cuts known as the sequester and raise about $1 trillion in new tax revenue over 10 years.
The President's 2014 budget request of $11.9 billion for the Department of the Interior maintains critical funding for the department's core missions. It makes investments to sustain economic recovery and generate jobs, including funding for recreation and conservation programs, enhanced science to inform decision making, domestic energy development and the advancement of Indian Tribes and Alaska Native communities.
Interior programs generate more revenue for the American people than the department's annual appropriation.
In 2014, Interior will collect an estimated $14.1 billion in royalties, rents, bonuses and fees from various sources, including energy and mineral development and recreational use of public lands.
These receipts are shared among state, local and federal governments and also fund natural resource development and conservation programs.
"The President's budget sustains support for Interior's core missions, underscoring the pivotal role that this Department plays as a driver of economic activity, especially for rural areas," Salazar said. "We protect the public lands, water and wildlife that power local economies, drive tourism and define us as a people, while ensuring the responsible development of energy and mineral resources that strengthen our nation's security."
Interior's programs and activities contributed an estimated $385 billion to the Nation's economy in 2011 and supported an estimated 2.4 million jobs.
Energy and mineral development on Interior-managed lands and offshore areas generated more than $275 billion of this economic activity and supported 1.5 million jobs.
Recreation and tourism on Interior lands contributed $48.7 billion and supported nearly 403,000 jobs. Water supply, forage and timber activities, primarily on public lands in the West, contributed nearly $41 billion.
The 2014 budget for Interior would eliminate or reduce lower priority and underachieving programs, defer project start-ups, shift costs to others who have the ability to pay a fairer share of administrative expenses, restructure operations and capture administrative and efficiency savings.
The budget proposal includes more than $600 million in programmatic reductions to offset support for operational requirements. The proposal also sustains three years of targeted administrative cost reductions that will achieve $217 million in savings from travel, contract services and supplies and equipment by the end of 2013.
For the first time, the 2014 Interior budget includes a proposal to authorize permanent mandatory funding for Land and Water Conservation Fund programs, with full funding at $900 million annually beginning in 2015.
The request for 2014 includes $400 million in discretionary funds, supplemented by an additional $200 million in mandatory funds. Land and Water Conservation Fund programs are funded from oil and gas development revenue and used to conserve lands and support outdoor recreation within the Interior Department and the U.S. Forest Service.
The total 2014 request for the Land and Water Conservation Fund is $255 million above the 2012 enacted level, including an additional $184 million for Interior programs.
In 2012, more than $42 million in grants from the Land and Water Conservation Fund enabled partners in 338 communities to establish or expand parks, build or refurbish recreational facilities and undertake other projects to enhance outdoor recreation, the National Park Service said today in its annual report on the program.
The grants helped leverage an additional $48 million in contributions by the partners, according to the 2012 Land and Water Conservation Fund Report.
"For nearly 50 years, the Land and Water Conservation Fund has played a vital role in providing outdoor recreational opportunities for the public," said Salazar. "These grants, which include no taxpayer funds and are matched by partners, connect people to the great outdoors while stimulating local economies and supporting jobs in nearby communities."
In the 2014 budget, the Obama Administration proposes targeted funding for an Interior-USDA Collaborative Landscape component that aligns both agencies' land acquisition efforts to support "community-driven conservation goals in key landscapes" – the Crown of the Continent in the intermountain west, the southwest desert, longleaf pine lands in the southeast, and National Trails.
The 2014 budget requests $963.1 million for research and development in all Interior Department agencies, a $143.6 million or 18 percent increase over FY2012.
Program increases will support the application of science to address critical challenges in energy and mineral production, ecosystem management, invasive species, oil spill restoration, climate adaptation, and Earth observations, such as satellite and airborne land imaging and water and wildlife monitoring.
The U.S. Geological Survey, USGS, budget request is $1.2 billion, an increase of $98.8 million above the 2012 enacted level. Funding would support the development of domestic energy, protect critical water resources, respond to natural disasters and advance climate change adaptation strategies.
Included is $14.5 million for WaterSMART, which leverages expertise within USGS and the Bureau of Reclamation to address complex national water challenges and develop a sustainable water strategy.
The 2014 budget requests an increase of $16.6 million for priority ecosystem science, including research on controlling and managing invasive species, such as Asian carp in the Great Lakes, and the Burmese python in the Everglades.
This also includes support for ecosystem restoration in the California Bay Delta, Chesapeake Bay, Columbia River, Everglades, Great Lakes, Klamath River, Puget Sound, and Upper Mississippi River, as well as understanding and accounting for ecosystem services in decision making.
The budget proposes $2.5 million to improve rapid disaster response, which will enable USGS to provide more timely and effective science to minimize hazard risks to populations and infrastructure from hurricanes, wildfires, earthquakes, floods and other natural catastrophes.
The budget request includes $71.7 million for climate science programs. Funding will enable the USGS National Climate Change and Wildlife Science Center and eight Interior Climate Science Centers to improve understanding of climate impacts on specific regional areas.
Funding will also be used to improve methodologies and models needed to complete the national biological carbon sequestration assessment, and support land management applications on Interior's wildlife refuges and national parks, and on tribal lands.
To better understand and address potential adverse environmental, health and safety impacts of oil and gas development with hydraulic fracturing, or fracking, the USGS proposed budget would provide $18.6 million, an increase of $13.0 million, for research collaboration with the Energy Department and the U.S. EPA.
An increase of $4 million would support alternative energy development through the exploration of geothermal resources on federal lands as well as research on the impacts of wind energy to wildlife.
Renewable energy is a growing component of the administration's energy strategy, and the 2014 budget includes $29.1 million for onshore renewable energy programs administered by the Bureau of Land Management and $34.4 for offshore renewable development managed by the Bureau of Ocean Energy Management.
Another $36.4 million in four other Interior agencies will be used for their renewable energy programs.
Since 2009, Interior has approved 37 onshore renewable energy projects on or affecting public lands, including 20 utility-scale solar facilities, eight wind farms and nine geothermal plants, with associated transmission corridors and infrastructure to connect to established power grids.
These projects could provide more than 11,500 megawatts of power, or enough electricity to run about 3.8 million homes, and support an estimated 13,500 construction and operations jobs.
Offshore, Interior has created the nation's first regulatory system for permitting renewable energy on the Outer Continental Shelf, issued two non-competitive commercial wind leases off the Atlantic coast and is preparing the first competitive lease sales for wind energy areas off Virginia and Rhode Island.
These auctions are expected to offer 278,000 acres for development, with associated projects producing enough energy to power up to 1.4 million homes.
The 2014 budget request for the Interior Department's Wildland Fire Management program is $776.9 million.
The net program increase of $194.2 million includes an increase of $205.1 million split between Suppression Operations and the FLAME Fund to fully fund the 10-year average, and $3 million for the Burned Area Rehabilitation program.
These program increases are partly offset by a cut of $88.9 million in the Hazardous Fuels Reduction program. This net reduction includes an increase of $2 million to conduct a research study on the effectiveness of hazardous fuels treatments.
The Department of the Interior's 2014 budget request is online at: www.doi.gov/budget.
Copyright Environment News Service (ENS) 2013. All rights reserved.