FORT YATES, North Dakota, April 20, 2021 (ENS) – LaDonna Tamakawastewin (Good Earth Woman) Brave Bull Allard (1956-2021), Native American Dakota and Lakota historian, genealogist, and a matriarch of the water protector movement, has passed away.
Allard died on April 10 at her home in Fort Yates, after a battle with brain cancer. She was 64. Her family announced her death online.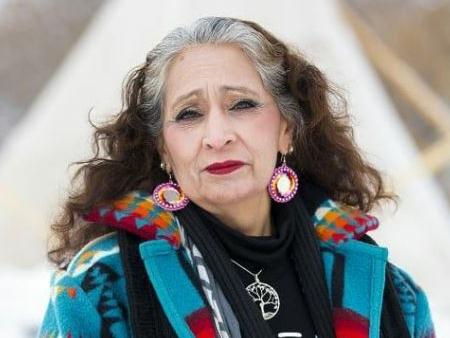 A member of the Standing Rock Sioux Tribe, Allard became widely known for her opposition to the Dakota Access Pipeline, DAPL, from early 2016 when construction of Energy Transfer Partners' 1,172-mile-long underground oil pipeline across the northern United States was approved by the Obama administration.
Back in 2016, Allard donated her family's land to serve as the Sacred Stone Camp, a base for protestors. Thousands of Tribal members, environmentalists and spiritual leaders from across the globe traveled to the North Dakota pipeline construction site to put their bodies on the line as water protectors acting in solidarity with the Standing Rock Sioux Tribe in one of the largest gatherings of Indigenous peoples decades.
Allard opposed the pipeline for both personal, environmental and spiritual reasons. It runs past her son's grave, a deeply personal offense. The pipeline poses threats to Indigenous rights and public health, cultural survival, and the global climate, too, she believed. She worried that any spill would contaminate water sources and desecrate sacred lands.
DAPL, now built, begins in the Baaken shale oil fields of northwest North Dakota and runs through South Dakota and Iowa to an oil terminal in Illinois, where the oil is piped onward to refineries on the Gulf Coast. It is operating without a federal permit at this time.
Representatives from the Biden administration's U.S. Army Corps of Engineers told a federal judge on April 9 that the agency will not shutter the Dakota Access Pipeline, despite the ongoing threats it poses to the Standing Rock Sioux Tribe and the fact that it is operating without a federal permit.
"This pipeline is unsafe and operating in violation of federal law. Meanwhile, Energy Transfer is seeking to double capacity, which would make DAPL twice as dangerous. Yet the Biden administration's decision here is to do nothing," said Earthjustice attorney Jan Hasselman, who has represented Standing Rock in its legal challenge against DAPL for more than four years.
Allard told a 2019 hearing on the pipeline, "I have a moral obligation to protect the land and the water for future generations. I am from the Cannonball River and the Missouri River. The camps were established in my backyard, as they put this pipeline next to my son's grave. Who does that? I will not stop until this pipeline is out of the ground."