North Atlantic Right Whales to Get Expanded Critical Habitat
WASHINGTON, DC, October 6, 2010 (ENS) – In response to a lawsuit filed by conservation groups, the NOAA's Fisheries Service agreed Tuesday to revise critical habitat designations for North Atlantic right whales. The critically endangered species numbers fewer than 400 whales after centuries of commercial whaling.
The move comes after a federal lawsuit was filed by The Humane Society of the United States, Defenders of Wildlife, Center for Biological Diversity and the Whale and Dolphin Conservation Society.
The lawsuit challenged the agency's failure to respond to the groups' August 2009 petition, which sought to expand current critical habitat protections.
The agency designated three critical habitat areas in U.S. waters for these whales in 1994 – calving grounds off Florida and Georgia and feeding grounds in Cape Cod Bay and the Great South Channel, both off Massachusetts.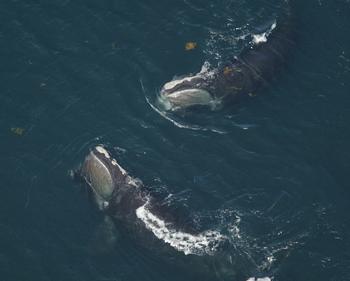 North Atlantic right whales (Photo courtesy NOAA Fisheries Service)
The groups argue that these protected areas are inadequate to allow the whales to recover.
The Endangered Species Act requires that the government respond to petitions within 90 days after they are received, but the Fisheries Service did not respond to the August 2009 petition until this week, after a lawsuit was filed to compel the agency's response.
In its announcement the Fisheries Service said it received the petition "while conducting an ongoing analysis and evaluation of new information available since the 1994 designation that indicates the designation should be revised."
The Service said it expects to propose the critical habitat changes in the second half of 2011.
"We are delighted the administration is moving to protect critical habitat for right whales without further delay," said Jonathan Lovvorn, vice president and chief counsel for The Humane Society of the United States. "This is a crucial step forward on the path to recovery for one of the world's most endangered animals."
Sierra Weaver, attorney for Defenders of Wildlife, said, "Critical habitat ensures precautions are taken when potentially dangerous activities like oil drilling and commercial shipping are being planned and carried out."
Right whales are large baleen whales that grow to between 45 and 55 feet in length and can weigh up to 70 tons. Calves are 13 to 15 feet in length at birth.
Right whales migrate from their calving grounds off the southeastern United States to their feeding grounds off the northeastern United States and Canada. Adult female right whales reach reproductive maturity at around nine to 10 years old and give birth to one calf every four years.
The only known calving ground for North Atlantic right whales is in shallow waters off the coast of Georgia and Florida, yet the groups point out that births occur outside of the area currently designated as critical habitat.
In 2008, 18 of the 19 newborn calves documented were born in areas just outside of the protected area.
"Protecting key calving and migration habitat is essential to the continued survival of this species," said Sarah Uhlemann, staff attorney with the Center for Biological Diversity. "With a population of only 400 animals, every whale – and every square mile of protected habitat – counts."
Every year female right whales die from being hit by ships or entangled in commercial fishing gear in unprotected areas of the busy Atlantic Coastal waters.
The Fisheries Service explains that "critical habitat is an area that contains physical or biological features that may require special management and that are essential to the conservation of the species."
"You can't protect a species without also protecting what it needs to survive," said Regina Asmutis-Silvia, senior biologist for the Whale and Dolphin Conservation Society.
"Current critical habitat boundaries are akin to protecting our children in certain areas of their schools and specific rooms in their homes with no protection for them as they move between home and school. What we need is full protection in the areas where right whales feed, calve and the migratory route between those areas."
The Fisheries Service has taken both regulatory and non-regulatory steps to reduce the threat of ship collisions to whales, including:
Mandatory vessel speed restrictions in Seasonal Management Areas
Voluntary speed reductions in Dynamic Management Areas and a seasonal Area To Be Avoided
Recommended shipping routes
Modification of international shipping lanes
Aircraft surveys and right whale alerts
Ship speed advisories
Mandatory Ship Reporting Systems
Outreach and Education
To address entanglement in fishing gear, the Service has established the Atlantic Large Whale Take Reduction Team. This team developed a plan to reduce the incidental serious injury and mortality of right, humpback, fin, and minke whales in gillnet and lobster trap fisheries.
Copyright Environment News Service (ENS) 2010. All rights reserved.