Federal Trade Commission Advises: Define What Green Really Means
WASHINGTON, DC, October 6, 2010 (ENS) – The Federal Trade Commission today proposed revisions to the Green Guides that it gives marketers to help them avoid making misleading environmental claims. In the first revision since 1998, the proposed Guides also have been reorganized and simplified where possible so they are easier for businesses to read and use.
The changes to the Green Guides include new guidance on marketers' use of product certifications and seals of approval, "renewable energy" claims, "renewable materials" claims, and "carbon offset" claims.
"In recent years, businesses have increasingly used green marketing to capture consumers' attention and move Americans toward a more environmentally friendly future. But what companies think green claims mean and what consumers really understand are sometimes two different things," said Federal Trade Commission Chairman Jon Leibowitz.
"The proposed updates to the Green Guides will help businesses better align their product claims with consumer expectations," Leibowitz said.
The revised guides caution marketers not to make blanket, general claims that a product is "environmentally friendly" or "eco-friendly" because the FTC's consumer perception study confirms that such claims are likely to suggest that the product has specific and far-reaching environmental benefits.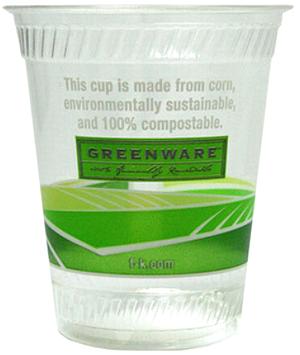 Clear, specific labeling is the key, the revised Green Guides advise. (Photo by The Earth Awards)
Very few products, if any, have all the attributes consumers seem to perceive from such claims, making these claims nearly impossible to substantiate, the FTC said.
The new guides also caution marketers not to use unqualified certifications or seals of approval – those that do not specify the basis for the certification. They advise marketers that the qualifications they apply to certifications or seals should be clear, prominent, and specific.
The EcoLabel Index, which lists 88 ecolabels used in North America, says the FTC's revised Green Guides strengthen the position of ecolabels.
EcoLabel's Anastasia O'Rourke comments, "The guides as they are written here represent a realtively low threshold, and appear designed to curb outright misrepresentation. Unlike some previous anxiety, we can see that the FTC is far from taking ecolabels and seals off the shelf. Rather they are insisting that even if you have a product that has been certified, you back it up – and fair enough too."
The proposed revised guides advise marketers how consumers are likely to understand certain environmental claims, including that a product is degradable, compostable, or "free of" a particular substance. For example, if a marketer claims that a product that is thrown in the trash is "degradable," it should decompose in a "reasonably short period of time" – no more than one year.
Mike Lawrence, chief reputation officer and environmental vice president at Cone, LLC a strategy and communications agency in Boston, said the revised guides are a step in the right direction.
"We know first-hand from doing environmental communications for companies and from our research that consumers are interested in environmental messages, but are confused about and often misunderstand what those messages mean," Lawrence said.
"By requiring companies to provide proof of claims, and to provide it at point of purchase, the FTC is taking a step toward helping consumers better understand whether something is good – or just less bad – for the environment and whether the benefit can actually happen when they dispose of the package," he said.
But Lawrence says the FTC could have gone farther. "They did not directly take on the word 'sustainable,' one of the most overused and poorly understood environmental marketing terms," he said.
The FTC said in its announcement today that the proposed guides do not address use of the terms "sustainable," "natural," and "organic" either because "the FTC lacks a sufficient basis to provide meaningful guidance or because the FTC wants to avoid proposing guidance that duplicates rules or guidance of other agencies.
Organic claims made for textiles and other products derived from agricultural products are currently covered by the U.S. Department of Agriculture's National Organic Program.
The American Center for Life Cycle Assessment suggests that the FTC revisions do not go far enough.
The Center has been working to promote life cycle analysis, which asseses the entire environmental impact of one product over another, among the clothing, food, energy, and building industries.
"The FTC's draft rule found it too 'complex' to undertake such a system, which would be akin to the FDA's Nutrition Facts labeling program," the Center said today.
Click here for a summary of the FTC's proposed revisions.
The Green Guides were first issued in 1992 to help marketers ensure that the claims they are making are true and substantiated. The Guides were revised in 1996 and 1998.
The proposed changes were developed using information collected from three public workshops, public comments, and a study of how consumers understand certain environmental claims.
Now the FTC is seeking more public comments. People can submit comments on the proposed changes until December 10, before the Federal Trade Commission decides which changes will become part of the final version of the Green Guides slated for release by the middle of 2011.
Copyright Environment News Service (ENS) 2010. All rights reserved.
© 2010 – 2012, Jim Crabtree. All rights reserved.