Cape Wind, Government Sign Nation's First Offshore Wind Farm Lease
ATLANTIC CITY, New Jersey, October 6, 2010 (ENS) – U.S. Interior Secretary Ken Salazar and Cape Wind President Jim Gordon signed the first lease for an offshore wind farm in the federal waters of the United States this morning at the American Wind Energy Association's Offshore Wind Conference in Atlantic City.
"This is the beginning of a new era for our nation in offshore energy production," Secretary Salazar told conference delegates. "Responsibly developing this clean, renewable, domestic resource will stimulate investment in cutting-edge technology, create good, solid jobs for American workers, and promote our nation's competitiveness, security, and prosperity."
The lease authorizes Cape Wind to construct the 130 turbine offshore wind farm on Horseshoe Shoal in Nantucket Sound, and to operate the facility for a period of 25 years.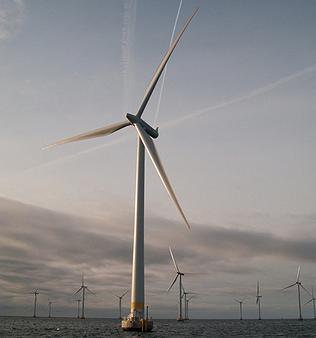 Siemens offshore wind turbines similar to those that Cape Wind has purchased for the Massachusetts wind farm. Lillgrund, Sweden, 2009. (Photo by Psyx)
The project site is about five miles from the mainland shoreline, 13 miles from Nantucket Island, and nine miles from Martha's Vineyard. Built by Siemens, the turbines are expected to have a maximum electric output capacity of 468 megawatts, enough to supply power for about 200,000 homes in Massachusetts.
"The signing of this lease sends an important market signal to the offshore wind industry that the United States is ready to move forward and that Cape Wind will be the first of many offshore wind projects in this country," Gordon said.
In September, the U.S. Department of Energy unveiled a draft plan that calls for the United States to install 54,000 megawatts of offshore wind power capacity by the year 2030, which would require more than 100 Cape Wind-sized projects.
"This is the first chapter of what we hope will be a continuing story of offshore renewable energy development that will allow us to expand the nation's energy resource portfolio," said Michael Bromwich, director of the Interior Department's Bureau of Ocean Energy Management, Regulation and Enforcement, BOEMRE, the agency that reviews proposed renewable energy projects on the Outer Continental Shelf.
It has taken Cape Wind nearly 10 years from the time the project was first proposed to get this lease approval.
"As we move forward, we hope to expedite the process of reviewing and approving such applications," Bromwich said.
"We're ready to roll up our sleeves and get to work building America's first offshore wind farm that will create hundreds of jobs, increase our energy independence and promote a healthier and more hopeful energy future," Gordon said.
"This important day for our region and our nation would not have arrived without the continuous support of the governor and legislature, a strong majority of the public across Massachusetts including Cape Cod and the Islands, the leading environmental organizations in the region and nation, organized labor, health and trade organizations, and Clean Power Now which has mobilized local grassroots public support," Gordon said.
But Cape Wind opponents say the project is still far from final approval. There is an ongoing state investigation of the cost of electricity produced by the wind farm, and four lawsuits cases have been filed to block the project in federal court in Washington, DC.
A coalition of groups, including the Public Employees for Environmental Responsibility, filed suit in June against federal agencies responsible for approving the proposed Cape Wind turbine farm on the grounds that the project will kill federally protected migratory birds and critically endangered North Atlantic right whales.
Lawsuits also have been filed by the Town of Barnstable, Massachusetts, and the Martha's Vineyard/Duke's County Fishermen's Association.
A separate lawsuit was filed in June by the project's implacable enemy, the Alliance to Protect Nantucket Sound, which is suing under multiple federal laws to bar the Cape Wind wind project from Nantucket Sound.
In motions filed in the four cases, the U.S. Justice Department cautions that the project has not been federally approved and the Record of Decision authorizing a commercial wind lease does not allow for construction of the project.
Cape Wind must still complete a Construction and Operating Plan, including an oil spill response plan, that must go through a review process and secure approval from BOEMRE.
BOEMRE "has reserved full discretion to approve or deny a request to approve construction and operation of a wind energy facility in Nantucket Sound. Further there are several regulatory steps left to be taken before BOEMRE can consider approving a COP (Construction and Operating Plan)," the Justice Department argued.
On the cost issue, Audra Parker, president and chief executive officer of the Alliance to Protect Nantucket Sound believes that if Cape Wind is built, Massachusetts taxpayers will have to cover a minimum $3.2 billion tax on the wind farm's high-priced power.
"Cape Wind is far from the done deal that the developer or Governor Patrick would have voters believe," Parker said today. "With a multi-billion dollar price tag, Cape Wind is a bad deal for Massachusetts ratepayers and taxpayers."
The Massachusetts Department of Public Utilities is currently holding hearings to investigate the cost of the Cape Wind-National Grid power purchase agreements.
If the Cape Wind power purchase agreements are approved by the Department of Public Utilities, they would be some of the highest priced energy contracts anywhere in the country, argues Parker.
Another group that includes the American Lung Association of New England, national environmental groups and labor unions points out, "The contract price, initially set at 20.7 cents per kilowatt hour, is an 'all-in' price that includes not just the price of the electricity but also the transmission, renewable energy incentives that are required by law, the project's capacity to contribute to the regional electric supply, and other environmental benefits. It is inaccurate to compare this price to the stand-alone price of traditional electricity."
The 28-year lease for the area off the coast of Cape Cod will cost the company $88,278 in annual rent prior to production, and a two to seven percent operating fee during production. The fee is based on revenues from selling the offshore wind energy in regional markets.
Copyright Environment News Service (ENS) 2010. All rights reserved.