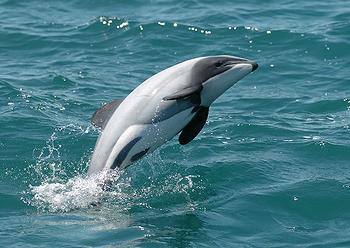 WELLINGTON, New Zealand, July 30, 2014 (ENS) – Ahead of the 2014 New Zealand general election set for September 20, the Green Party today launched its plan to protect the world's smallest and most endangered dolphin, the Maui's dolphin. Just 55 of these dolphins survive in the wild – all in New Zealand waters.
"New Zealanders love our Maui's dolphin, and the Green Party has a plan to save it," said Green Party Co-leader Metiria Turei.
The plan is the third component of the party's environmental priority this election – clean rivers and beaches.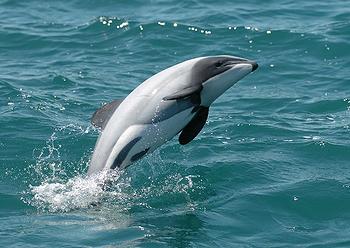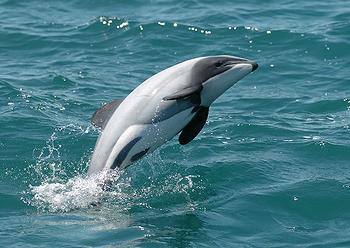 The Green Party would protect Maui's dolphins from being killed in the West Coast North Island Marine Mammal Sanctuary established to protect them in 2008 under the Labour Government of then Prime Minister Helen Clark.
In June, New Zealand's National Government, headed by Prime Minister John Key opened more than 3,000 square kilometres of the marine mammal sanctuary for oil and gas drilling.
The move came less than a week after the International Whaling Commission urged the government to do more to save the critically endangered species.
Minister of Energy and Resources Simon Bridges justified the government's move, saying, "I think primarily once you go from exploration right through to production, you're not jeopardizing the wildlife."
Then, on July 16, the government issued mineral mining permits in one third of the endangered Maui's dolphin sanctuary. There have been hundreds of dolphin sightings in the areas where the mineral mining permits were granted.
The permits, five of which have been granted within the North Island Marine Mammal Sanctuary, are for a range of minerals, but all include ironsand.
"This is another yet example of National sacrificing the last remaining 55 Maui's dolphins in order to give the mining industry a leg-up, and showing a total disregard for the things New Zealanders care about," said Green Party oceans spokesperson Gareth Hughes.
"National's sham sanctuary allows dangerous oil drilling, seismic surveying, seabed mining, and fishing methods which are lethal to Maui's dolphins. It's closer to a slaughter house than a safe house," said Turei.
But Conservation Minister Nick Smith said today, "The Green Party's dolphin plan to prohibit any new oil and gas developments off the North Island's West Coast and to ban fishing in areas where there is no record of the Maui's dolphin does not make sense."
"There has not been a single incident involving Maui's dolphin and Taranaki's $3 billion oil and gas industry in over 40 years. The prohibition on any new oil and gas exploration in this large area will come at a huge economic cost long-term not just to Taranaki but more widely to New Zealand. The Government introduced compulsory regulations for protecting marine mammals from exploration activities in 2010 that ensures no harm to Maui's," Smith said.
For support of the Green Party policy, Turei quoted Canadian biologist Dr. Lindy Weilgart of Dalhousie University, who has served on numerous expert panels and committees. "Seismic surveys can cause dolphins to avoid important habitat, can interfere with their food-finding, reproduction, resting, and hearing sounds vital to their survival, and can cause stress effects."
"Dolphins can go rigid and catatonic and drown in the wake of seismic surveys," says Weilgart.
New Zealand environmental groups are strengthening their efforts to safeguard the imperiled dolphins.
Today, the World Wildlife Fund delivered to Parliament a 102,000 signature petition, which calls for urgent action to save the dolphins.
The Royal Forest and Bird Protection Society of New Zealand is urging all political parties to adopt the recommendations of scientists and the International Whaling Commission to save to save the Maui's dolphin from extinction.
The Green Party plan would extend fishing protections to the entire Maui's range, prohibiting set nets and trawl nets, as recommended by expert scientists.
The International Whaling Commission's scientific committee, the International Union for the Conservation of Nature, and the Society for Marine Mammology, have all called for set nets and trawl nets to be prohibited throughout the Maui's dolphins range.
The scientists define the Maui's range as being on the West Coast of the North Island from Maunganui Bluff to the Whanganui River, out to the 100 metre depth contour, including harbors.
In recognition of the hardship that fishers will face as a result of the new fishing rules, the Green Party would spend up to NZ$20 million over three years to help them transition to alternative dolphin-friendly fishing gear, technology-led research and appropriate permitting.
Conservation Minister Smith said, "Set net fishing is the major risk for the Maui's dolphin and has been responsible for every recorded human-caused death. The National Government doubled the set net ban area to 6200 square kilometres in 2012 to cover all areas where there had been confirmed sightings. There has not been a single incident or fatality since we introduced these new protections."
"We also required 100 percent observer coverage on all fishing vessels beyond this area and in over 900 trips not one Maui's dolphin has been sighted," said Smith, who promised to review the set net ban area if any Maui's dolphins are sighted.
Going into the election, the Green Party holds 14 seats in Parliament, the third largest bloc. The National Party has 59 seats, the opposition Labour Party has 34 seats. New Zealand First has seven seats. The Maori Party holds three seats and the United Future New Zealand Party holds one – both work together with the National Party. Mana holds the remaining seat in New Zealand's 120 member Parliament.
Copyright Environment News Service (ENS) 2014. All rights reserved.
Environment News Service (ENS) © 2014 All Rights Reserved.