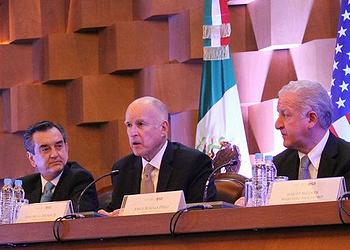 MEXICO CITY, Mexico, July 28, 2014 (ENS) – The governments of Mexico and California today agreed to work together to battle climate change and on joint fire emergency response along the 136-mile (220 km) border they share.
On the first full day of California's Trade and Investment Mission to Mexico, California's governor and Mexican environment and forestry officials signed the agreement to help fight fires, reduce greenhouse gas emissions and combat climate change.
"California can't do it alone and with this new partnership with Mexico we can make real progress on reducing dangerous greenhouse gases," said California Governor Jerry Brown, who urged "heroic efforts" to battle climate change.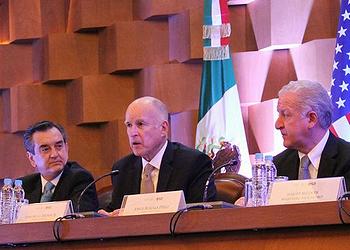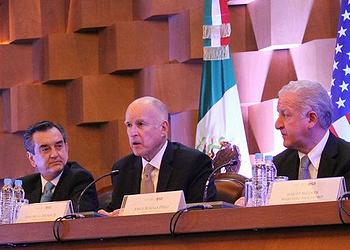 "In line with the priorities of the Mexican government for the forestry sector, the Memorandum of Understanding signed today with the State of California lays down the conditions and excellent opportunities for mutual cooperation to strengthen our capacity to prevent and respond to forest fires, a key issue in our common border," said Mexican National Forestry Commission Director General Jorge Rescala Pérez.
California and Mexico formally agreed to cooperate on a range of climate change and environment issues from pricing carbon pollution to reducing deforestation and promoting clean vehicles during an event co-sponsored by the nonprofit Environmental Defense Fundand Mexico's Ministry of Environment and Natural Resources, SEMARNAT.
Under the new agreement, California and Mexico will align their greenhouse gas reduction programs and strategies. They will cooperate to improve air quality, reduce pollution and expand markets for clean energy technologies.
The two jurisdictions also will strengthen fuel and truck efficiency standards and support green freight initiatives.
"Mexico and California have a long and rich history of environmental cooperation, and recognize each other as strategic partners in coping with climate change challenges and protecting and preserving our natural resources," said SEMARNAT Undersecretary Rodolfo Lacy.
"The agreement signed today will take our joint work to a whole new level of cooperation, which will reflect in tangible and concrete results that will inure to our mutual benefit," said Lacy.
"The deepening collaboration between Mexico and California is exactly the sort of leadership the world needs on climate change," said Nathaniel Keohane, EDF's vice president for international climate, who spoke alongside senior government officials from California and Mexico in a panel discussion preceding the MOU signing.
"California and Mexico can give a crucial boost to the growing global momentum on key policies like carbon pricing that can achieve ambitious reductions in climate pollution, drive clean energy innovation, and promote low-carbon prosperity," Keohane said. "In doing so they can demonstrate concrete progress on practical solutions to address the common challenge of climate change."
The agreement with Mexico parallels agreements signed in 2013 with the governments of British Columbia and the states of Oregon and Washington.
California also signed a similar agreement with China's National Development and Reform Commission, the first agreement of its kind on climate change between the commission and a subnational entity.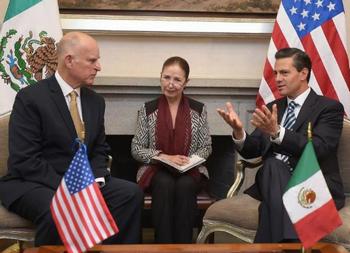 For the past several years, the California Air Resources Board and Quebec have worked together to fully harmonize their cap-and-trade programs.
Governor Brown first announced the Trade and Investment Mission to Mexico in his 2014 State of the State address and met with Mexican Consuls General from cities across California in March.
Following meetings with Mexico's President Enrique Peña Nieto and Secretary of Foreign Affairs José Antonio Meade Kuribreña today, Governor Brown announced that Mexico's President has accepted his invitation to visit California later this year.
Governor Brown is joined on the Trade and Investment Mission to Mexico by a delegation of state legislators and senior administration officials.
A delegation organized by the California Chamber of Commerce with the help of the California Foundation for Commerce and Education that includes 90 business, economic development, investment and policy leaders from throughout California is participating in the trade mission.