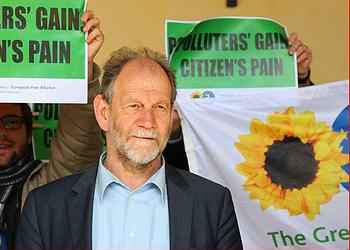 BRUSSELS, Belgium, July 31, 2014 (ENS) – Europe's transportation future has a chance to grow greener now that the European Parliament's Committee on Transport and Tourism is chaired by Greens/European Free Alliance MEP Michael Cramer.
The German politician is an MEP for Alliance '90/The Greens, which is part of the European Greens. A serving member of the Transport and Tourism Committee, Cramer was elected chairman on July 7 for a two-and-a-half year term.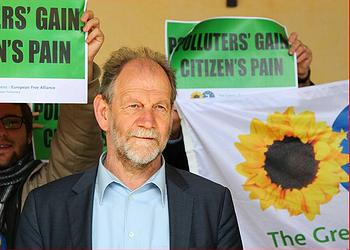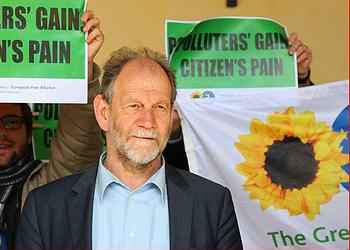 "My goal is to be a positive force in ensuring the committee pushes for sustainable, safe and affordable transport across Europe and that our work is carried out in as transparent and fair a manner as possible," said Cramer, commenting after his election as EP transport committee chair earlier this month.
"Strengthening the role of the European Parliament vis-à-vis the other EU institutions and EU governments will also be a priority over the coming term," he said.
From 1989 to 2004 Cramer was a Member of the Abgeordnetenhaus of Berlin, the Berlin House of Representatives. He worked mainly on Berlin's transport policy, and served as spokesman for transportation issues for Alliance '90/The Greens in Berlin.
In 2004 Cramer was first elected to the European Parliament, and was re-elected in 2009 for the Green Party. Cramer has been serving as a member of the European Parliament's Committee on Transport and Tourism.
"My daily work for the Committee of Transport and Tourism in the European Parliament shows me: without a change in transport policy, we will never be aible to stop climate change!" says Cramer on the Green Party website.
"Mobility is crucial for the fight against climate change," says Cramer on his Green Party website: http://www.michael-cramer.eu/en/home/
"Transport is still the most rapidly growing source when it comes to CO2 emissions. It is responsible for around 30 percent of all CO2 emissions in the EU, road and air transport having the biggest part in it," he said.
Cramer believes that improving technology cannot be humans' only response to climate change.
"We need a new 'soft mobility' concept," he said. "That means changing radically our mobility behavior and avoid as much as possible the use of climate damaging transport modes."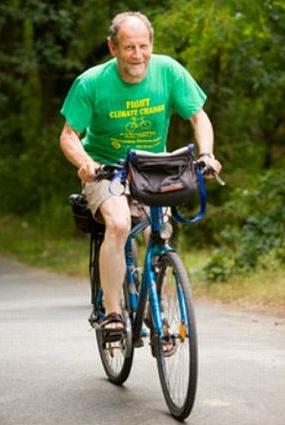 "One-sided subsidies for road and air transport should be stopped, the train as a competitive alternative should be enhanced. A single European rail market is the goal," Cramer said.
Cramer is taking up his chairmanship during the current Italian Presidency. Italy has identified as a priority the talks on fourth railway package that are to start soon.
The Presidency aims to start negotiations with Parliament on the fourth railway package 'technical pillar' files and will press for progress in the Council on the 'political pillar' too," Italy's Infrastructure and Transport Minister Maurizio Lupi told the Transport and Tourism Committee on July 22 at its most recent meeting.
MEPs on the committee emphasized that the Italian Presidency must find ways to place transport policy at the core of efforts to combat climate change.
Cramer relies on his bicycle and public transportation, and says that he "has enjoyed living without a car" since 1979.
Cramer gives regular tours along the former route of the Berlin Wall.
He was one of the members of the Abgeordnetenhaus to push for the Berlin Wall Trail, a memorial trail with steles and explanations along the former wall that divided West Berlin from East Berlin and surrounding East Germany from 1961, when it was built by the German Democratic Republic, until its destruction in 1989.
Cramer is also the founder of the Iron Curtain Trail, a project to complete a long-distance cycling route following the old border of the Iron Curtain in Europe.
He has issued an open invitation to everyone to discover the former divisions of Europe by bicycle, a sustainable mode of transport. "Alongside beautiful landscapes and historically interesting monuments, visitors explore Europe's past and enjoy its re-unification," Cramer said.
"European transport policy should support above all Europe's unification after the fall of the Iron Curtain, to connect East and West," said Cramer. "Ecological and social criteria must be respected."
Copyright Environment News Service (ENS) 2014. All rights reserved.
PHOTO: MEP Michael Cramer wears his "Fight Climate Change" t-shirt as he cycles in Berlin (Photo courtesy Michael Cramer)