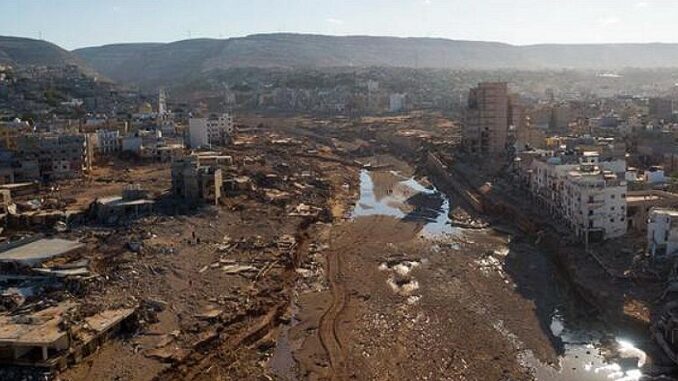 GENEVA, Switzerland, October 9, 2023 (ENS) – Two huge disasters have hit northern African countries in the past month – a major earthquake in Morocco and devastating flooding in Libya caused by Storm Daniel.
In the magnitude-6.8 quake and its aftershocks that struck Morocco's High Atlas mountains on September 8, more than 2,900 people died and 5,500 were injured.
Just three days later, on September 11, ferocious flooding in Libya caused the collapse of two dams that spewed torrents of water and mud into the city of Derna, population 90,000. The first aid convoys arrived the next day, but an estimated 42,045 people have been displaced by the flooding.
At least 4,333 people are reported dead there and about 8,540 others are missing.
The World Health Organization reports that more than 100 doctors, nurses and paramedics lost their lives, and up to 63 percent of the hospitals they have assessed are only partially operating or not functioning at all.
Roughly 930 migrant workers are among the dead and missing. As many lived in some of the worst flood-affected areas of the city of Derna, authorities expect the death toll to rise. 
The International Organization for Migration, IOM, is calling for donors to fund the estimated US$22 million to urgently accelerate early recovery efforts in the areas leveled by Storm Daniel, but only 30 percent of the required funding has been secured.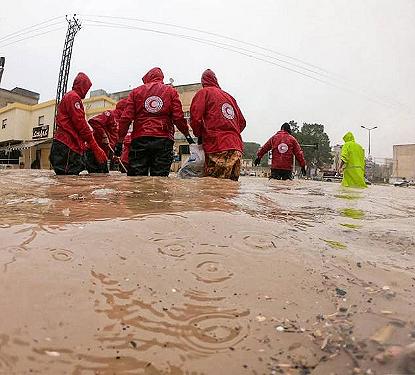 "There are massive humanitarian needs in the areas devastated by the storm," IOM Director General Amy Pope declared.
"More than 80 IOM staff in northeast Libya are working closely with our national and international partners to respond to the situation, and the UN Rapid Response Mechanism was activated to coordinate the response and ensure the quick distribution of relief items to affected populations," Pope said.
Many of the casualties from the devastating floods in Libya could have been avoided if the divided country had a functional weather service able to issue warnings, the head of the World Meteorological Organization pointed out.
WMO Secretary-General Petteri Taalas told reporters in Geneva that Libya's biggest challenge in managing the floods that have killed and displaced tens of thousands of people was that the government was "not functioning normally."
"If there would have been a normally operating meteorological service, they could have issued a warning," Taalas said.
"The emergency management authorities would have been able to carry out evacuation of the people. And we could have avoided most of the human casualties," he said.
Now, the IOM, together with other UN partners, is asking Libyan national and local authorities as well as Libya's international partners to create a unified national mechanism that can direct recovery and reconstruction efforts. Such a mechanism is needed to ensure transparency and accountability based on an objective assessment of the situation and needs on the ground, the IOM says.
Some people have begun moving back home according to IOM's latest Displacement Tracking Matrix report. Hundreds have sought shelter in schools, but with the imminent start of the school year, addressing the situation so that schools can reopen is an urgent priority.
The provision of health care in northeast Libya, which has been hampered by a decade of conflict, is further compromised at a time when thousands of cases of poisoning due to water contamination have been reported.
Shelter, water, and sanitation, and mental health and psychosocial support, MHPSS, continue to be priority needs. IOM teams including 84 national and international staff are providing multi-sector assistance in close partnership with the other UN partners and the Libyan Red Crescent.
Medical and MHPSS teams are supporting the two Derna hospitals that are still up and running, and almost 10,000 people have been reached so far by care teams, receiving protection, direct assistance, primary health services and psychosocial support.
"I visited the affected areas in Libya and witnessed firsthand the devastation and the Libyan community's resilience and unity supporting those affected," said Othman Belbeisi, IOM Regional Director for the Middle East and North Africa. "There is an urgent need to accelerate early recovery and reconstruction efforts on the ground."
Storm Daniel hit parts of the central and eastern Mediterranean, too, making life difficult in Greece, Türkiye and Bulgaria. Record-breaking rain fell in Greece on September 5-6, with a reported 750 mm falling in 24 hours, the equivalent of about 18 months of rainfall. In Thessaly, central Greece, many stations received 400 to 600 mm of rainfall in 24 hours. Thessaly is Greece's agricultural heartland, and the economic impacts are expected to be serious.
Scientists Blame Climate Change
What happened in Derna should be a 'wake up call for the world' on the increasing risk of catastrophic floods in a world changed by climate change, said Jagan Chapagain, secretary general of the International Federation of Red Cross and Red Crescent, after a group of scientists warned that climate change made the disaster in Libya much more likely.   
Rapid analysis by the World Weather Attribution group of scientists, who are supported by the IFRC, analyzed climate data and computer model simulations to compare the climate as it is today, after about 1.2°C of global warming, with the climate of the past.
The scientists found that human-caused climate change has made heavy rainfall in north-eastern Libya up to 50 times more likely to occur than it would have been in a world not experiencing human-caused climate change. They found that there was up to 50 percent more intense rain than there would have been in a comparable rainstorm in a pre-climate change world. 
The scientists are clear that, even in a 1.2°C 'warmed' world, the rainfall that fell on Libya was extreme. It was an event that would only be expected to occur once every 300-600 years. 
Rainfall alone did not make the Derna disaster inevitable, the IFRC said. Enhanced preparedness, less construction in flood-prone regions and better infrastructure management of dams would have reduced the overall impact of Storm Daniel. Still, "climate change was a significant factor," they said.
Moroccan Earthquake Triggers Race Against Winter
A month after the 6.8 magnitude earthquake in Morocco, the International Federation of Red Cross and Red Crescent, IFRC, highlights urgent humanitarian needs as winter approaches. Immediate requirements include latrines and showers, and warm shelter for those whose homes have been destroyed or damaged.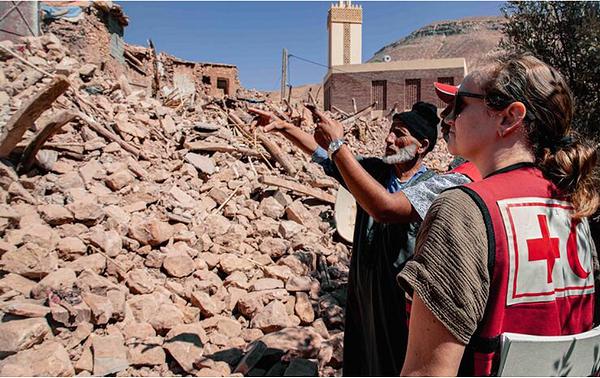 From the start, the Moroccan Red Crescent Society has been on the ground. With IFRC support, the teams are closely collaborating with local authorities to assess needs and deliver assistance. Active in the four most impacted provinces – Taroudant, Marrakech, Chichaoua, and Al Haouz – the Moroccan Red Crescent has reached over 50,000 people, and currently has 290+ volunteers engaged in providing relief.
They have supported search and rescue operations, organized medical caravans and established makeshift medical tents, conducted blood donation drives and offered psychosocial support.
"The earthquake has devastated thousands of families, exposing them to harsh conditions, Gwendolen Eamer, head of Emergency Operations for the IFRC, said.
"Our teams are working tirelessly, but the scale of the need is overwhelming, particularly as winter is closing in on the High Atlas Mountains. Time is of the essence. We are racing against the clock to provide insulated shelters and winter essentials. Our appeal targets not just immediate needs but is intended to prepare these communities for a harsh winter and build their resilience for the years to come."
Given the region's high altitude of between 1,500-2,000 meters (4,921-6,562 feet) the cold is especially piercing for those without adequate shelter. While initial relief provided some basic shelter, the pressing need for insulated shelters and winter provisions is escalating.
Sami Fakhouri, head of delegation with the Moroccan IFRC, said, "Coordination with local authorities has been pivotal in sustaining our response efforts. Our volunteers are the lifeblood of these operations, often reaching places others can't. Yet, as winter approaches, some families are worried not just about the cold but about living in dignity and reuniting with their loved ones."
The IFRC Emergency Appeal is seeking CHF 100 million Swiss francs to support the Moroccan Red Crescent's response. Funding to date amounts to CHF 19 million, with a current funding gap of about 80 percent. Continued support and funding are desperately needed to enable the survivors to rebuild their lives and contribute to local economies.
"We are actively seeking solutions to upgrade or adapt shelters for the winter months," Fakhouri said. "The real test lies ahead, and failing is not an option."
Featured image: