NASA's Newest Satellite to Boost Weather, Climate Insights
VANDENBERG AIR FORCE BASE, California, October 28, 2011 (ENS) – NASA's NPP Earth-observing satellite soared into space early today aboard a Delta II rocket from Vandenberg Air Force Base. On schedule, the satellite separated from the rocket, sent its first signal back to NASA's tracking system and deployed its solar array, which powers the satellite in orbit.
NASA scientists say the two-ton satellite is on course to reach its Sun-synchronous polar orbit 512 miles (824 km) above Earth where it will be able to see every part of the planet.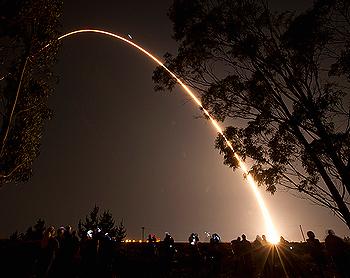 Liftoff of the NPP aboard a Delta II rocket at Vandenberg Air Force Base, 2:48 am PDT, October 28, 2011 (Photo by Bill Ingalls courtesy NASA)
Scientists will use data from the National Polar-orbiting Operational Environmental Satellite System Preparatory Project, or NPP, to extend the continuous satellite record needed to detect and quantify global environmental changes.
These Earth-observing satellites provide insights into the dynamics of the entire planetary system, including clouds, oceans, vegetation, ice, land and atmosphere.
"NPP is critical to our understanding of Earth's processes and changes," said NASA Deputy Administrator Lori Garver. "Its impact will be global and builds on 40 years of work to understand our complex planet from space."
Five science instruments are aboard NPP, including four new state-of-the-art sensors, to help scientists understand the dynamics of long-term climate patterns and help meteorologists improve short-term weather forecasts.
The mission will extend more than 30 key long-term datasets NASA has been tracking, including measurements of the ozone layer, land cover, and ice cover.
"The measurements from NPP will benefit science and society for many years to come," said Michael Freilich, director of NASA's Earth Science Division. "NPP will help improve weather forecasts, enable unique scientific insights, and allow more accurate global environmental predictions."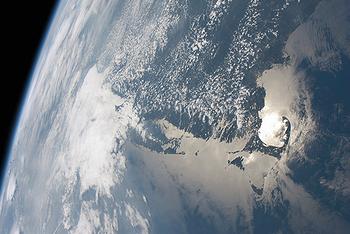 Massachusetts coastline with sunlight glinting on Cape Cod Bay, June 27, 2011 (Photo courtesy NASA)
NPP project scientist James Gleason says the mission has two goals. "One is to get the data for the weather forecasts, environmental observations and take a whole suite of observations that continue our satellite data records which span from measuring aerosols, you know, dust particles in the atmosphere, how have they changed over the past decade?" Gleason said.
"Is the ground greener or browner over time? Has the sea surface temperature changed? Has the ozone changed? These are all data sets that we have that we have multi-decades sets of data sets and we just want to keep adding to that so we can answer the question, is the climate changing?" he said.
"NPP data will be used by virtually all of the national weather services for all the nations of the world," Gleason said. "And then there are the scientific users who are trying to understand the individual phenomena both at home and abroad."
The NPP project serves as a bridge mission between NASA's Earth Observing System of satellites and the next-generation Joint Polar Satellite System, a program of the National Oceanic and Atmospheric Administration, NOAA, that also will collect weather and climate data.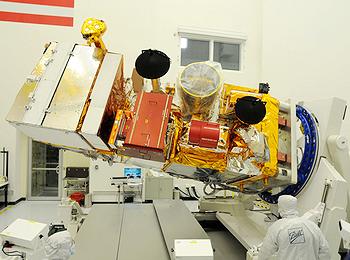 The NPP satellite is prepared for launch at the Ball Aerospace facility in Boulder, Colorado. (Photo courtesy NASA)
"I'm confident that the strong partnerships forged in the NPP program between NASA and NOAA, industry, and the research and applications communities will ensure the success of the mission," said Freilich.
NASA will operate the new satellite for the first three months to ensure the satellite and instruments are working as designed. NPP operations will then be turned over to NOAA and the Joint Polar Satellite System program for the remainder of the mission.
Data from the new satellite will be transmitted once every orbit to a ground station near the North Pole in Svalbard, Norway, and also to direct broadcast receivers around the world.
The data will be sent back to the United States via fiber optic cable to the NOAA facility in Suitland, Maryland.
NPP data is then processed into data records that NASA and NOAA will make available to scientists and the general public through various data archives.
"The timing of the NPP launch could hardly be more appropriate," said Louis Uccellini, director of NOAA's National Centers for Environmental Prediction in Camp Springs, Maryland. "With the many billion dollar weather disasters in 2011, NPP data is critical for accurate weather forecasts into the future."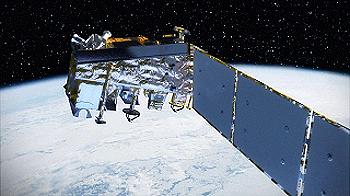 Artist's concept of the NPP satellite orbiting the Earth (Image courtesy NASA)
The Delta II launch vehicle that delivered NPP into orbit also deployed auxiliary payloads called CubeSats.
The five small CubeSat university student research payloads are the third in a series of NASA Educational Launch of Nanosatellite missions, known as ELaNa missions.
Students at Auburn University created a CubeSat as the first of several missions with the goal of achieving formation-flying CubeSats for collecting space weather data. Its mission is to measure fluctuations in Earth's magnetic field in low-Earth orbit.
University of Michigan students sent up two CubeSats. One will analyze the distribution of naturally occurring ionosphere irregularities and provide insight on how those irregularities degrade the performance of communication and navigation satellites.
The other Michigan CubeSat will advance technology required for real-time, high-data-rate instrument processing relevant to future Earth science.
Montana State sent up a CubeSat with a miniature Geiger tube to measure intensity and variability of electrons in the Van Allen radiation belts.
A pair of CubeSats designed by students at Utah State will study ionospheric variability during solar storms, which affects radio frequency systems.
Garver said, "NPP is part of an extremely strong slate of current and future innovative NASA science missions that will help us win the future as we make new discoveries."
Copyright Environment News Service (ENS) 2011. All rights reserved.